5 Valentine's Day Gifts If You Want Her to Break Up With You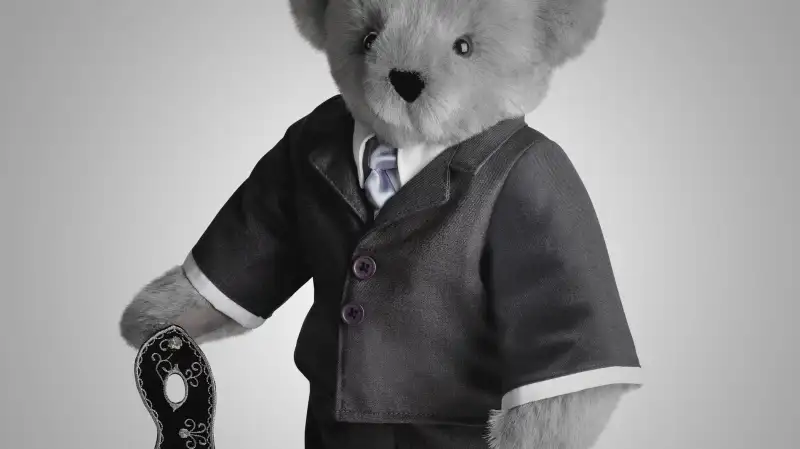 We've seen all of the ideas below promoted in earnestness as good gift options for your sweetheart on Valentine's Day this year. And sure, for the right recipient, these gifts could be seen as hilarious, romantic, charming, and perhaps even deeply thoughtful. But you better be 100% sure you know your significant other well enough to foresee her reaction, because these oddball ideas also come with the serous risk of misfiring, to put it mildly.
S&M Teddy Bear
Falling somewhere along the spectrum of amusing to downright creepy, the Vermont Teddy Bear Company is selling a bear with "smoldering gray eyes, a suit and satin tie, mask – even mini handcuffs," based on the erotic novel and movie Fifty Shades of Grey. "She can't help but submit to loving him," gushed the company's description of the limited-edition bear, which retails for $89.99.
A warning at the bottom of the bear's web page states "Contains small parts. Not suitable for children." And, well, to state the obvious, the fact that it contains small parts is hardly the only reason this bear, made with "the silkiest fur we can get our paws on," isn't a good idea for kids.
Clearance Sale Lingerie
According to a survey conducted on the behalf of Offers.com, the top two items that women DON'T want to receive from their sweethearts are stuffed animals (presumably, especially not stuffed animals that come with handcuffs) and lingerie. In a separate survey, from BeFrugal.com, nearly 90% of women (and 79% of men) said it was OK to look for ways to save on Valentine's Day gifts.
Still, buying lingerie is a risky proposition for guys, seeing as the recipient could be insulted if the article in question is deemed too slutty, too prudish, or the wrong size. And if the main reason the buyer decided to go with a certain article of lingerie is that it was 80% off, then you'll certainly give the impression you're too cheap. So let's hope the only folks following the advice to buy deeply discounted lingerie for Valentine's Day are women making the decisions for themselves.
Candle-Lit White Castle
In what has become an annual tradition, the blue-collar mini-burger chain White Castle is welcoming customers to "enjoy a romantic evening with tableside service" at select locations around the country on February 14. Reservations are required. Dozens of Waffle House locations are doing the same, with special Valentine's Day dinners including normally unheard-of amenities such as candlelight and tablecloths.
On the one hand, with the right dinner partner it could be an absolute hoot to mock-celebrate Valentine's Day at a down-and-dirty fast food joint, or perhaps a so-called "breastaurant" like Tilted Kilt. On the other, bringing an unsuspecting date expecting a fancy romantic Valentine's dinner to such an establishment could be a recipe for getting a drink thrown in your face.
Animal Sex Lecture & Dinner
On February 14, the Detroit Zoo is hosting the fourth annual "Love Gone Wild," a three-and-a-half-hour long adult-only event that includes a champagne welcome drink, passed hors d'oeuvres, a sit-down dinner, a commemorative gift, and, most interestingly, "a candid and entertaining look at how zoo animals do the 'wild thing,'" according to promotional materials.
Yes, the $85 event's focus is animal sex at the zoo, which ranges from "prolonged public bouts of coitus to brief clandestine assignations," a press release explained. And yes, the lecture is quite detailed and graphic. "We not only talk about [sex], we name names, show pictures and critique performance."
Vacant Lot in Newark, N.J.
Let's just say it's probably unwise to buy a vacant lot in Newark and promise to live on the property for five years without consulting your significant other. That goes even if the property is being sold for a mere $1,000, which is the special "lovebirds" Valentine's Day offer on the table on February 14. Couples who are interested in any of the 1,000 available vacant lots should go to Newark City Hall on Saturday morning with a $500 down payment, as well as proof you and your partner can cover construction costs needed to make the property inhabitable within 18 months of closing.