Meet the Japanese Billionaire Who Just Bought the $110.5 Million Basquiat Painting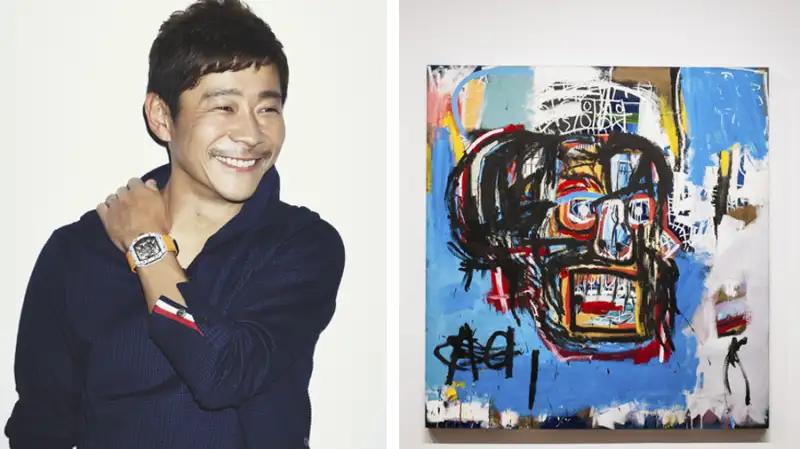 Maezawa: Courtesy of Yusaku Maezawa—Sotheby's/AP; Basquiat: Sipa/AP
Yusaku Maezawa is one of the richest men in Japan, and he just spent $110.5 million on a Jean-Michel Basquiat painting, the highest price for a piece of artwork by an American artist.
Besides being an is an avid art collector, Maezawa has a net worth of $3.6 billion, according to Forbes. Here's what to know about Maezawa.
How did he make his money?
Maezawa made his billions by creating the Start Today company, which is in the electronic commerce industry, in 1998, according to Forbes. Maezawa serves president and representative director of the company, Reuters reports. He also created the company Zozotown, Forbes reports, who notes it is Japan's largest online fashion mall.
What other art has he bought?
The Basquiat piece Maezawa bought is the most expensive painting sold in by an American artist, according to CNN Money, but it was not the Japanese billionaire's first big art purchase. Maezawa previously purchased another untitled painting by Basquiat for $57.3 million, the BBC reports. His other art purchases include works from Jeff Koons, Christopher Wool and Richard Prince at prices varying in the millions of dollars, according to the BBC. The Japan Times reported that he spent $98 million on art within just two days in 2016.
Maezawa told Forbes in April that he started buying and collecting art 10 years ago and that he especially enjoys collecting contemporary art.
What does he do with the art?
The BBC reports that he is the founder of the Contemporary Art Foundation in Tokyo, which puts on two shows a year. He is also planning to build a museum in Chiba, Japan, just outside of Tokyo, according to Forbes.
CNN Money reported that Maezawa plans to loan his latest painting out around world before putting it in his personal museum.