Ben & Jerry's Free Cone Day Is Tuesday, April 14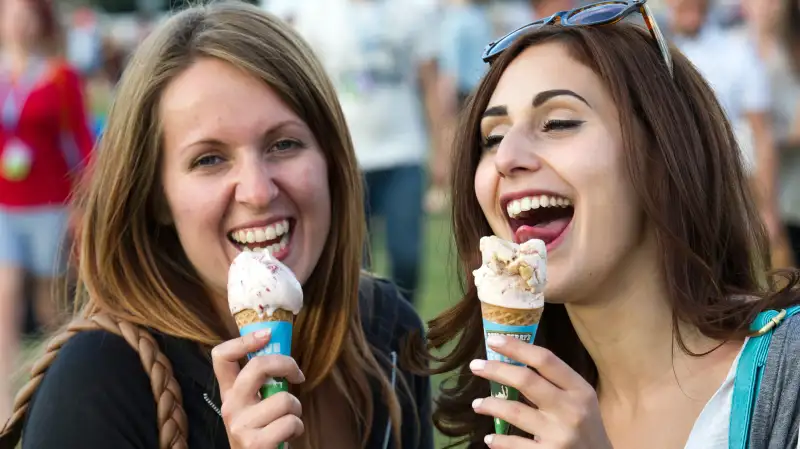 Tuesday, April 14, is Free Cone Day at Ben & Jerry's shops all over the globe. Starting at noon, customers at participating Ben & Jerry's locations are welcomed to choose their flavor of ice cream, on the house. In an online poll on the company website, Chocolate Chip Cookie Dough is beating Chocolate Fudge Brownie and Cherry Garcia as the favorite flavor people will pick on the big giveaway day. Ben & Jerry's anticipates that shops will give away more than one million scoops on Tuesday.
What's particularly surprising—in an awesome way—about this freebie event is that Ben & Jerry's apparently has no problem with folks coming back for second helpings of free ice cream. Normally, giveaways come with fine print stipulating that customers limit themselves to a single freebie. A recent Free Cone Day at Dairy Queen, for instance, was a strict "limit one per customer" deal. That's pretty much the standard when it comes to freebies.
But Ben & Jerry's Free Cone Day promotion includes no such fine print. What's more, Ben & Jerry's posted the video below on YouTube and its own website, in which customers bask in the glory of their free ice cream—and a few explain that one freebie simply doesn't cut it. "You get to get ice cream, and then get to get back in line and get more ice cream," says one customer. Others tell the camera that they're on their second, fourth, fifth, or seventh cone of the day.
Apparently, the only things that'll limit how many free ice cream cones you'll get on Tuesday is how many times you're willing to wait in line—and how much your stomach can handle.