Subway Is Bringing Back the $5 Footlong and It's Already Controversial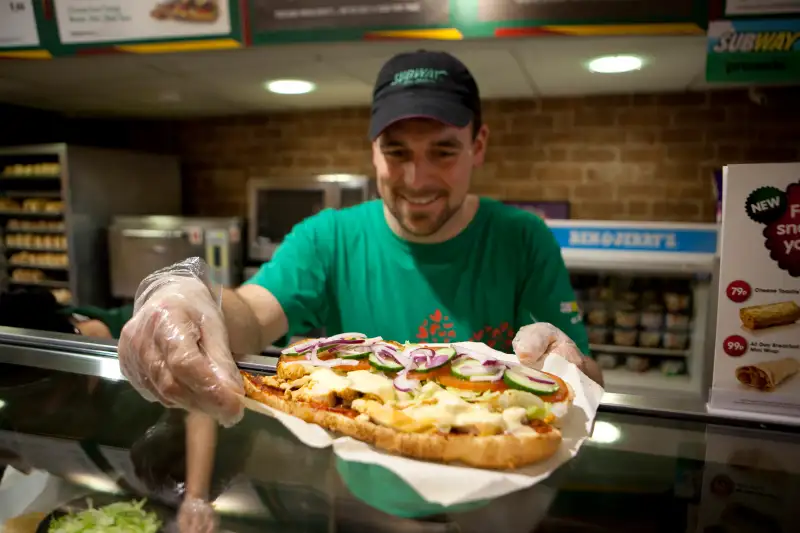 Newscast—UIG via Getty Images
Subway is bringing back one of the most popular fast food promotions ever: the $5 Footlong.
The Subway $5 Footlong sandwich deal, which featured one or more 12-inch subs each day at a special $5 price, was a mainstay for years before being killed off in early 2016. The promotion was then replaced by the $6 Footlong special, which didn't generate nearly as much excitement—or business—as the magic $5 price point.
The New York Post reports that Subway, which has faced plummeting sales and heightened competition, plans on boosting sales by bringing back a limited-time $4.99 Footlong sandwich promotion nationwide starting in January 2018.
Subway did not respond immediately for a request for comment and more details about the forthcoming return of the $5 Footlong deal.
The main reason that the $5 Footlong deal was discontinued two years ago is that the low price point hurt franchisee profits. The Post notes that hundreds of franchise owners have signed a petition to Subway protesting the return of the cheap promotion.
Yet if anything might drive customers into Subway again, it's the $5 Footlong. As a 2009 BusinessWeek story explained, the $5 deal was born around 2004 as a weekend promotion in a pair of Miami Subway locations. The deal was a huge hit with customers locally, and it became a tremendous business success nationally during the Great Recession, thanks to the flat $5 price tag and a catchy marketing campaign.
Over years, the big players in fast food have developed love-hate relationships with cheap promotions. (See also McDonald's, which has announced that it will be introducing a new Dollar Menu in 2018, with items like cheeseburgers and McChicken Sandwiches priced at $1 apiece.)
Selling a 12-inch sub for $5, or offering a variety of menu items for only $1, is great for increasing customer traffic. Yet it's also horrible for the restaurant operators, because these items tend to reduce the amount each customer spends. Hence, Subway's decision to do away with the $5 Footlong deal a couple of years ago, and McDonald's repeated (but unpopular) moves to raise "Value Menu" prices to $2, or perhaps two items for $5.
For the time being, however, it appears as if McDonald's and Subway are both willing to accept the tradeoff of lowering prices in order to attract more customers.