All the Places With Food and Drink Deals for St. Patrick's Day 2018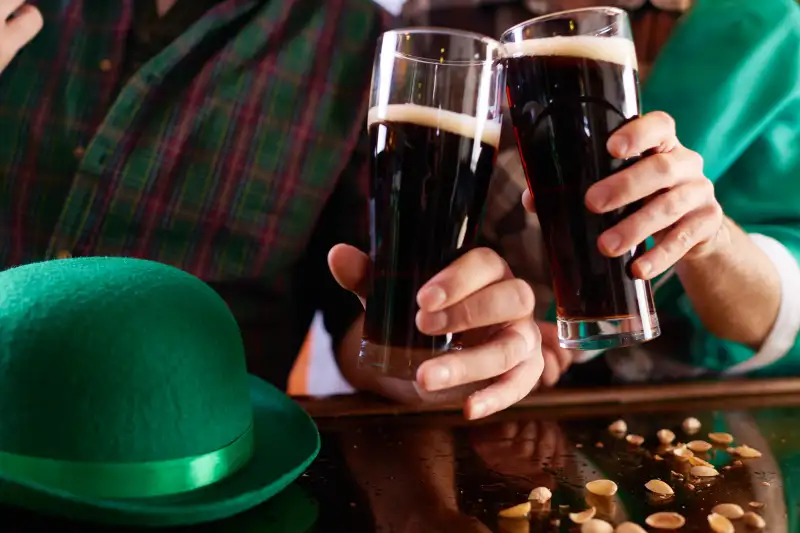 mediaphotos—Getty Images/iStockphoto
It's March 17, and St. Patrick's Day 2018 is upon us! That means parades and parties all around the country—with plentiful supplies of drinks, food, and fun.
How can you enjoy St. Patrick's Day 2018 to the fullest without spending what seems like, well, an entire pot of gold? We've scoured through restaurant and bar promotions to gather the best St. Paddy's Day deals, including specials on mint milkshakes, corned beef, green beer, and even green doughnuts. (Who cares if most of these items aren't remotely Irish in origin?)
There are St. Patrick's Day drink specials at local bars almost everywhere you go, including big metropolitan areas like New York City, Chicago, and Phoenix, as well as smaller destinations such as Dayton, Ohio, and Pensacola, Florida.
Here's where to find St. Patrick's Day deals at major restaurant chains around the country.
St. Patrick's Day 2018 Food & Drink Deals
Baskin-Robbins: From 3 p.m. to 7 p.m. on March 17, all customers can get a free sample of the new Mint Chip n' Oreo cookies milkshake.
Bruegger's: Bruegger's is selling special green bagels for St. Patrick's Day, and there's a coupon for $2 off a bundle that includes a baker's dozen bagels and two tubs of cream cheese.
Carvel: Use the linked coupon for $2 off orders of the Cookie O'Puss cake, through March 18.
Chili's: Special margaritas made with Jameson Irish Whiskey are $5 each at Chili's through the month of March, including St. Patrick's Day.
PDQ: The PDQ restaurant chain (short for: People Dedicated to Quality) has mint Oreo shakes on sale at the special price of $2 each on St. Patrick's Day. Also, all shakes are 50% off every day from 3 p.m. to 5 p.m.
Sonic Drive-In: Corn dogs are on sale for $0.50 all day on March 17 at Sonic.
TGI Fridays: For St. Patrick's Day, participating Fridays have drink specials like $3 green beer and $5 shots of Jameson Irish Whiskey.
St. Patrick's Day 2018 Food & Drink Special Promotions
Arby's: For a limited time, Arby's is selling Andes Candy mint chocolate shakes.
Cracker Barrel: Corned beef and cabbage is on the menu through March 17 to celebrate St. Patrick's Day.
Dairy Queen: The special Blizzard flavor of the month in March is Mint Oreo Cookie, in honor of St. Patrick's Day.
Dunkin Donuts: Dunkin introduced a new mint brownie donut in March, and also has Girl Scouts Thin Mints frozen chocolate drinks on the menu.
Krispy Kreme Doughnuts: Original glazed doughnuts are being dyed a bright shade of green for St. Patrick's Day.
McDonald's: Like most items in this roundup, the McDonald's Shamrock Shake was created as a marketing gimmick with no real Irish roots. But it is green and minty and is back on McDonald's menus nationwide for a limited time.
Mimi's Café: You can order an entrée of corned beef and cabbage for $14.99 at Mimi's on St. Patrick's Day.
99 Restaurants: The special St. Patrick's Day menu includes Boston lager tater tots, the Irish Reuben burger, green beer, and the Jameson Irish mule.