Here Are the Best Backpacks for Your Money — and Where to Get a 40% Off Deal Right Now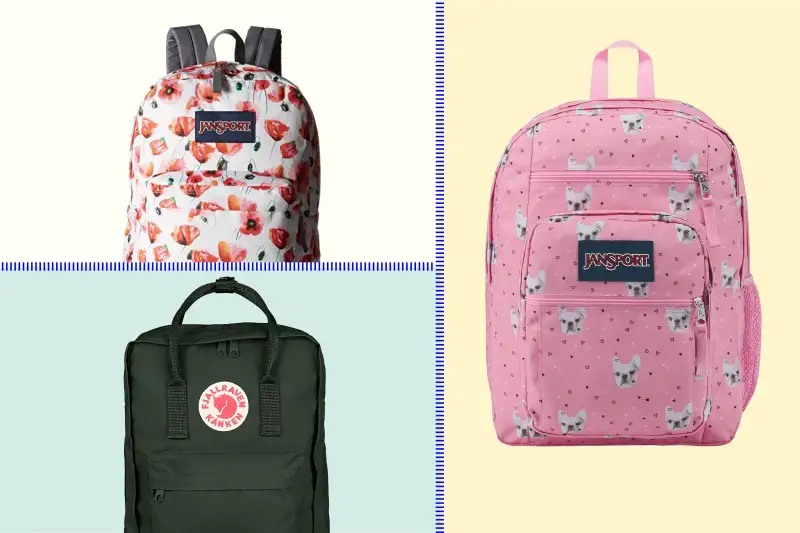 Courtesy of Amazon and eBags
If you're in the midst of sifting through back to school sales, scouting out the best backpacks is probably high on your agenda. With no shortage of backpack models, from classic and sport-inspired styles to sleek laptop cases that will transition from classroom to commute with ease, there are a head-spinning number of options out there.
To figure out what's the best backpack for your child (or for yourself), it's important to think about how the bag will be used, and it's wise to go with a high-quality brand that will hold up over time. Sure, everyone wants to get a good deal, but it's highly unlikely that a $10 backpack is going to survive the school year, especially not considering how many books and supplies kids come home from school with nowadays.
Our advice is to figure out the best backpack (brand and model) for you, and then browse online and in stores to get the lowest price possible. Through Sunday, August 18, for example, eBags.com is offering an extra 40% off many backpacks when you enter the code PACKS at checkout. If you miss out on this deal, don't worry; there will surely be another big backpack sale or discount coupon code coming soon.
Consumer Reports no longer updates its backpacks category with new recommendations, but the site has some good advice for how to evaluate a kid's school backpack.
You'll want to buy a backpack with wide, padded straps that will distribute weight evenly and won't strain their neck or shoulders. Get them one that starts about two inches below their shoulders and goes to their waist. And avoid single-strap backpacks and those drawstring-style bags, which don't offer enough support to keep heavy loads from causing pain.
Here are some more tips for buying a backpack, including the best backpack brands that rise to the top of many users' reviews, and the best backpacks for young kids and college students alike.
Best Backpack Brands
To figure out the best backpack brands, we looked at lots of online retailers' bestseller lists, and took note of the top-rated and most reviewed bags.
If you're looking for a sturdy bag with a classic or retro look, some brands that won't steer you wrong are Fjällräven, JanSport, Patagonia, and The North Face. If you're looking for something for a rising college senior that can double as a good commuter bag, top backpack brands to check out include SwissGear and Timbuk2, which make multitasking backpacks (many with theft-deterrent features) that are grown-up enough to bring to a job interview.
Best Backpacks for School-Age Kids
We found that one of the top backpack brands is outdoor clothes and gear retailer L.L. Bean, and we're not alone: The pro reviewers at The Wirecutter can't say enough good things about L.L. Bean's classic Original Book Pack ($36.95, with some in fun prints on sale for $29.95), and Junior Original ($29.95) for younger kids. Both of these models turn up at or near the top in their reviews on a regular basis.
For older kids, the dozens of glowing reviews for the L.L. Bean Deluxe Book Pack ($49.95) also caught our eye. And for really little kids, the North Face Youth Sprout Backpack ($34.95) is diminutive at less than 12" high, but just as solidly built as its larger cousins.
If your kid has a ton of personality and wants a backpack to match, this number-one bestseller on Amazon, the JanSport SuperBreak (starts at $27.50), comes in a a slew of fun and poppy prints.
A similar option, the JanSport Big Student backpack ($47.90), has a 96% approval rating and more than 7,000 reviews — and we can't resist the adorable French bulldog print.
If Frenchies aren't your thing — although we can't imagine why not — there are solid colors and other prints of the Big Student backpack available here.
Best Backpacks for College Students
The best backpacks for college need to be sizable enough to carry a day's worth of gear. The Wirecutter dubbed this super-roomy Patagonia Arbor Classic backpack ($99) the best "black hole" backpack; that is, one of the best backpacks to give your high school or college kid who's going to need room for everything from a laptop to gym clothes and a water bottle.
For the college kid who's career-bound, the best backpacks are laptop bags that will double as commuter bags after they graduate. The SwissGear Scansmart laptop backpack ($64.99), exclusive to eBags.com, has an astonishing 5,600 reviews and 94% satisfaction rating, thanks to features like
For a top-of-the-line option, check out the top-rated and bestselling Authority Pack from Timbuk2 ($129) or the Fjällräven Kanken Classic backpack ($79.45). Both marry minimalist design and rugged, ready-for-anything construction. (In our opinion, Fjällräven oozes enough Swedish chic that you can get away with wearing a backpack in urban settings without looking like a hiker or student who wandered onto the subway straight off the trail or out of the lecture hall.)
If those strike you as a little pricey, this travel-friendly laptop backpack costs a mere $32 on Amazon and has a whopping 5,300-plus reviews, most of them glowing.
We've included affiliate links into this article. Click here to learn what those are.