This Is the Best Barbecue Joint in Every U.S. State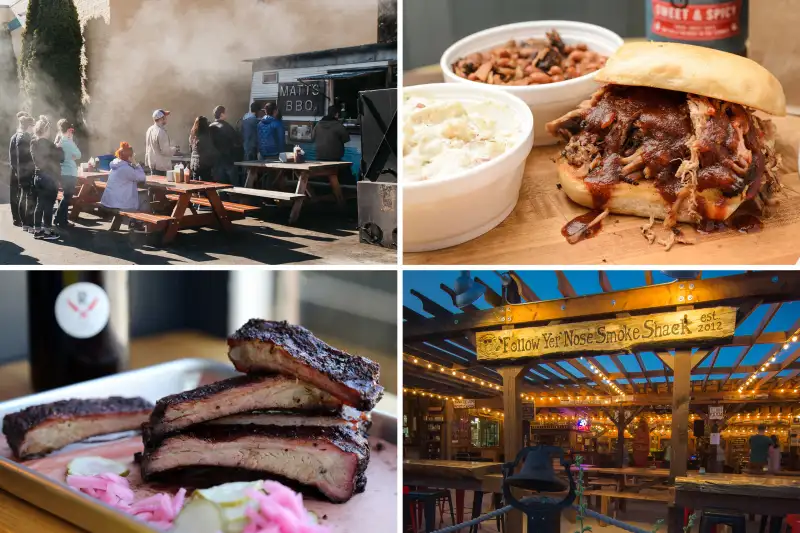 (clockwise from top left) courtesy of Matt's BBQ; courtesy of Meat Boss; courtesy of Follow Yer Nose Smoke Shack; courtesy of Revenge BBQ
Beef or pork? Wet or dry? Vinegar- or tomato-based sauce? No matter the particular debate, barbecue riles up Americans like no other food.
Different American regions created their own flavors and specialties over the years. North Carolina boasts the "Lexington Style" — pork shoulder slathered in a tomato-based sauce — while South Carolina uses mustard-based sauces for the whole hog. Central Texas gives you slow-cooked brisket, while Kansas City will deliver the cut's burnt ends. And Brooklyn, well, offers something entirely different.
To toss a little salt in the fire, Money partnered with Yelp to find the best-loved barbecue joint in every state. All the businesses on this list are in the "BBQ" category on Yelp, and "Best" is measured using an algorithm that looks at the number of reviews and star rating for a business.
Here is the best place to get barbecue in every state.
---
Mobile
---
Soldotna
---
Phoenix
---
Johnson
---
Salinas
---
Littleton
---
Wallingford
---
Wilmington
---
Miami
---
Blairsville
---
Photograph by Thomas Obungen—Frolic Hawaii
Wahiawa
---
Lewiston
---
Palatine
---
Indianapolis
---
Des Moines
---
courtesy of Joe's Kansas City BBQ
Kansas City
---
Frankfort
---
Port Allen
---
Ogunquit
---
Windsor Mill
---
Marlborough
---
Flint
---
Minneapolis
---
Jackson
---
courtesy of Scott's Kitchen
Kansas City
---
Emigrant
---
courtesy of Smokin Stan's BBQ
Norfolk
---
Reno
---
Concord
---
courtesy of Welcome to the South
Pleasantville
---
Tucumcari
---
Irvington
---
courtesy of Haywood Smokehouse
Dillsboro
---
Mandan
---
courtesy of Midwest BBQ & Creamery
Camp Dennison
---
courtesy of Rustler's BBQ
Henryetta
---
Portland
---
courtesy of Jesse Barbecue & Local Market
Souderton
---
Newport
---
Manning
---
Custer
---
Gatlinburg
---
Santa Fe
---
Tropic
---
Morrisville
---
Norfolk
---
courtesy of Country Boy's Southern Style BBQ
Cashmere
---
Charleston
---
Wauwatosa
---
Cody