The 10 Best Margaritas in America, According to Yelp Reviewers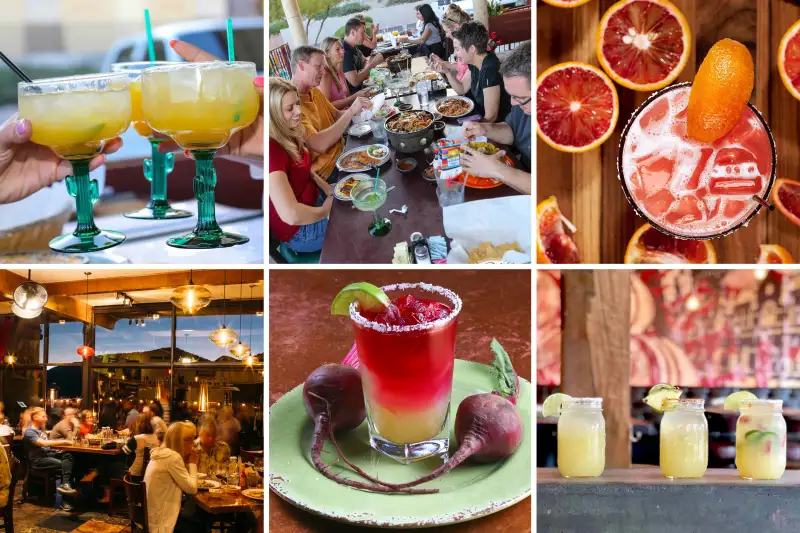 (clockwise from top left) courtesy of Juan's (2); LImones (1); Bakersfield (1); Elote (2)
Nothing pairs better with warm weather and delicious Mexican food like an ice-cold margarita with a salted rim.
This weekend's Cinco de Mayo holiday commemorates the Battle of Puebla (where the Mexican army unexpectedly beat the French). But in the U.S., it's become more of a celebration of Mexican-American culture—and for many, that means eating Mexican food and knocking back a margarita or two.
To help you pick your drinking and dining spots, Money partnered with Yelp to find restaurants with both the highest ratings and ample positive reviews that mention "margaritas."
Here's where you can find the best margaritas across the U.S.
---
Ana Studios—courtesy of Juan's Flaming Fajitas & Cantina
1. Juan's Flaming Fajitas & Cantina
Las Vegas, Nevada
Juan's Flaming Fajitas & Cantina offers not just the best-reviewed margaritas on this list, but also some of the cheapest: During happy hour, you can get the house margaritas for $3.95 for a 12-ounce size or $4.95 for the 16-ounce glass. The restaurant's diverse list of margaritas includes the Spicy Mango margarita with Tanteo habanero tequila and a chili salt rim; the Picante Watermelon margarita with watermelon, basil and jalapeno tequila; and the Guava Goodness Margarita with El Jimador, guava and sauvignon blanc. Those extra drinks may make the restaurant's namesake menu item—fajitas that are set aflame tableside—all the more enjoyable.
---
2. Bakersfield
Nashville, Tennessee
Steps from the Johnny Cash Museum and Music City Walk of Fame, Bakersfield's Nashville location serves up authentic Mexican street fare along with some much-loved tequila drinks. The restaurant's namesake margarita ($8 per glass/$32 per pitcher) is made with el Jimador Blanco tequila, triple sec, agave nectar, and fresh lemon or lime. Other options include a seasonal margarita—currently the Olmeca Altos Plata, with Licor 43, pineapple, agave nectar, and fresh lime ($10 per glass/$38 per pitcher)—as well as a wide choice of whiskeys.
---
3. Zacatecas Restaurant
Hawthorne, California
Just a short drive from Elon Musk's SpaceX headquarters, this no-frills, diner-style Mexican joint offers authentic food priced at just $10 to $12 per meal. Although Zacatecas offers only two margarita styles, lemon and strawberry, for $7, Yelp reviewers did not have one bad thing to say about its drinks.
---
Jill Richards Photography
4. Elote Cafe
Sedona, Arizona
Elote Cafe lets you dine on dishes inspired by Mexican markets while looking out at Sedona's iconic red-rock formations. Entrees like Buffalo Mole Poblano and Smoked Brisket Enchiladas pair nicely with the seven margaritas on the menu. Check out the El Mezcalero, made with mezcal, Torres orange liqueur, agave, and lime ($10). Or go for spicy with the Chile Serrano margarita, which has Diamante Tequila, Triple Sec, and chili blended with a fresh lime.
---
5. Pepe Osaka's Fishtaco
Winter Park, Colorado
This Latin Asian fusion restaurant warns it's not the "traditional taqueria"—and its margaritas are similarly offbeat. Pepe Osaka's offers four variations, including the Margarita Azul made with blue Curacao, and the Tequitini, which the restaurant calls "the original margarita martini." To soak up the booze, try the eatery's varied fish tacos, whether Baja style or with ahi poke. (The restaurant is actually closed for a couple of weeks, reopening May 16, 2018—so no Cinco de Mayo drinks this year.)
---
6. Red Iguana
Salt Lake City, Utah
Featured twice on the Food Network's Diners, Drive-ins and Dives, Red Iguana offers eight signature margaritas (starting at $6.25), as well as virgin varieties for non-drinkers ($3.99). But if you're in the mood for something different, Red Iguana will make you a custom margarita—you pick the tequila and the bar will blend it with fresh lime juice, simple syrup, Cointreau and Presidente brandy.
---
7. Meso Maya Comida Y Copas
Dallas, Texas
Chef Nico Sanchez pairs traditional cooking techniques he learned in Mexico with upscale dining and unique presentation. Meso Maya Comida y Copas' margarita selection includes the $12 Avocado margarita, a mixture of muddled fresh avocado, pineapple juice, lime juice, triple sec and Casa Noble Crystal tequila, and the $9 Serrano Berry margarita, which pairs muddled strawberry and serrano chili peppers with Ambhar tequila blanco and lime juice.
---
8. Mazunte
Cincinnati, Ohio
Just outside downtown Cincinnati, Mazunte keeps it simple with food that it says is designed to evoke the "streets, markets and home kitchens of southern and central Mexico." Sample its Tacos Dorados (four per order, $8.50), which are stuffed with braised chicken, salsa roja, avocado salsa, fresh spinach, crema, queso fresco. And keep it classic with Mazunte's margarita on the rocks ($6.75).
---
9. Limones Restaurant
Asheville, North Carolina
With daily specialty margaritas as well as the classics, Limones in downtown Asheville is a great pick for Cinco de Mayo and beyond. The restaurant's brunch menu includes a small plate of churros and hot chocolate. But the margaritas are the real draw: The menu currently features varieties like Peach-Chipotle, Carrot-Habanero, and even a Moonshine Margarita, made with Troy and Sons Platinum Heirloom Moonshine, Cointreau, lime juice, and apple juice.
---
10. Fogón Cocina Mexicana
Seattle, Washington
At Fogón, you can find the so-called "Ultimate Margarita" — Sauza Conmemorativo Añejo tequila mixed with fresh lime, orange liqueur and simple syrup. This "perfect" margarita, as the restaurant puts it, sells for $10 during dinner or $7 at happy hour. Other unique mixes include the spicy El Toro with muddled jalapeño, the Bartender's margarita with Grand Marnier and fresh orange, and the Mint Mango margarita.
---
Methodology
To find the best restaurants serving up margaritas, Money partnered with Yelp, which identified businesses in the "restaurant" category that had a significant number of positive reviews mentioning the word "margarita"; it then ranked those spots using a number of factors including the highest reviews and total volume of ratings. To ensure the geographic diversity of the list, we included only one business per state.