Patriots Tight End Rob Gronkowski Just Retired From the NFL. Here's Everything We Know About His Money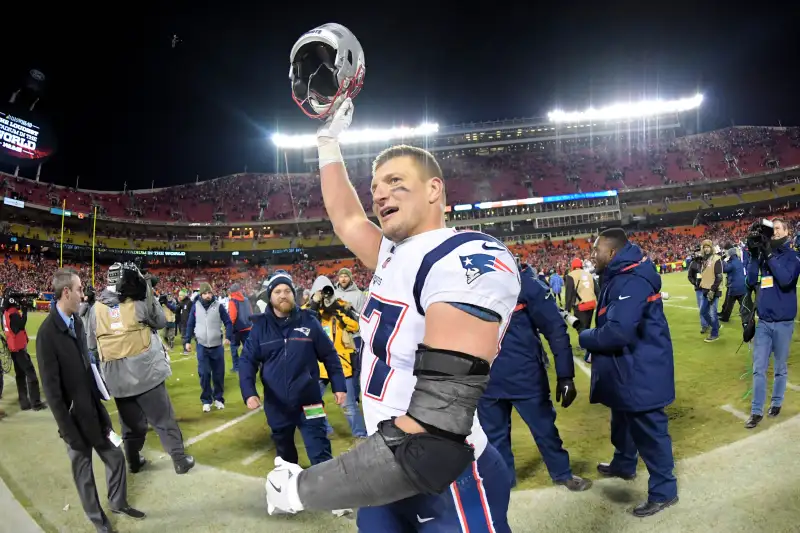 Kirby Lee—USA TODAY Sports/Reuters
Sorry, Pats fans: Beloved tight end Rob Gronkowski played his last game ever on Sunday, February 3, at Super Bowl LIII.
Over the weekend, exactly seven weeks after the Patriots won the Super Bowl, Gronkowski announced his retirement. After playing nine years in the NFL and winning three Super Bowl championships, Gronkowski said he is calling it quits before he turns 30.
In an Instagram post, Gronkowski said, "I will be retiring from the game of football today." Gronkowski said he was "so grateful for the opportunity that Mr. Kraft and Coach Belichick gave to me when drafting my silliness in 2010." He graciously thanked the Patriots organization, all of his current past teammates, and "all of Pats Nation around the world for the incredible support since I have been apart of this 1st class organization.
After suffering from various injuries and declining efficiency over the last few years, the 29-year-old New England Patriots star hinted in early 2018 at possibly retiring. After another round of ankle and back issues that kept him benched for multiple games this season, Gronkowski may finally end his NFL career in 2019.
If he does retire, Gronkowski (or "Gronk"), will go out as one of the best tight ends in football history. He averages the most receiving yards per game among all tight ends in NFL history, according to ESPN, made first-team All-Pro four times, and collected two Super Bowl victories. Gronkowski recently became the first tight end ever to reach 1,000 receiving yards in the postseason.
Rob Gronkowski should be in very good shape financially in retirement. The hulking superstar is well-known for his love of partying, women, and, surprisingly, his frugality. Gronkowski hasn't touched any money he made from his NFL contracts, he wrote in his book It's Good to Be Gronk, choosing instead to spend money made through endorsements. (Of course, that doesn't mean Gronk hasn't splurged on the occasional private jet.)
Here's everything else we know about Gronk's money.
One of the most lucrative football careers for a tight end ever
Gronkowski was among the highest paid tight ends in the NFL, but initially was close to never seeing a single earning.
Gronk suffered a back injury after his sophomore year at the University of Arizona. He required extensive surgery and physical therapy, and wasn't guaranteed a full recovery. Luckily, his father took out insurance that would pay Gronk a principal of $4 million — earning $160,000 in annual interest — if he chose to retire at 19.
That wasn't in the cards. Gronk took his chances and declared for the draft after recovering from his injury, going on to sign a rookie deal with the Patriots worth $4.4 million over 4 years with a $1.7 million signing bonus. Two years into his contract, he impressed the Patriots front office enough to earn a major contract extension for six years, worth $54 million — then the richest contract for a tight end in NFL history.
The Patriots later extended the deal again through 2019 for an additional $10 million. Sports contract website Spotrac estimates Gronk will have made over $53 million in cash earnings from the NFL at the end of the 2018-2019 season.
A suite of major endorsements
Gronkowski's older brothers Chris and Dan, as well as his dad Gord, manage Rob's sponsorships and endorsement contracts via their family business, InSite Media Services. Gronk had 10 active sponsorships as of 2017, and has worked with major brands like Dunkin' Donuts, Tide, JetBlue, and Monster Energy.
Though Gronkowski keeps the financial terms of his various sponsorships largely under wraps, sports analyst Darren Rovell estimated his career endorsement income was at $3.5 million in 2015.
One of Gronk's more lucrative deals may have been the multi-year contract he signed in 2015 with Monster Energy, the second-largest energy drink brand in the U.S. Monster even released a custom Gronk energy drink inspired by the tight end.
"Monster Energy just fits my personality," Gronkowski said in a statement. "The brand is great and just like the Monster [brand], I like beautiful girls, too."
One infamous party cruise
Gronk may not spend a lot on himself, but he's not shy about showing his friends and fans a good time.
In February 2016, the fun-loving party animal hosted a three-day cruise called Gronk's Party Ship for 2,500 fans. Tickets reportedly cost $225 each and cruise ship cabins ranged from $600 to $950. The Gronkowski clan didn't disappoint. The cruise featured live performances by Wacka Flocka Flame and Flo Rida (with Gronk dancing shirtless on stage). A couple got engaged during the festivities, and Gronk apparently offered a man and woman $10,000 to, in his words, "bang in front of everybody." (They declined.)
Even though he could have turned it into an ongoing cash machine, unfortunately Gronk only hosted a single cruise ship party because it was "too wild to do again."
The occasional splurge
But no matter how many millions he has in the bank, Gronk refuses to buy new jeans.
Upon signing his blockbuster $53 million contract extension, Gronkowski's dad remained confident the money wouldn't change him: "No, Rob is Rob. He still to this day will wear jeans that he had in high school, and shirts that he had in high school," Gord said. "We're not flashy people. And that's Rob all the way. The money, it's nice, don't get me wrong, but it will not change him. Rob will always be Rob the goofball."
The six-foot-six tight end has largely stuck to that mentality. He told GQ he typically wears the same pair of jeans for seven days straight, and won't get rid of shirts unless he spills a drink on them.
That's not to say he doesn't occasionally splurge. In 2012, Gronkowski bought a 4,781-square-foot mansion in Tampa for $1.6 million, complete with an infinity pool, spa, built-in fish tanks, and a boat dock. He later flipped and sold the house for $2 million after not being able to spend much time away from practice in Massachusetts.
Gronkowski claims his biggest guilty pleasure is spending on private jets, and recently revealed his flashiest purchase was a diamond chain he bought last year.
"This is my first thing I've ever gotten, and I love it," Gronkowski said on the internet show Kneading Dough. "It feels good. Now I know why people got jewelry."
With Gronk's impressive riches earning interest every day, one can only imagine the number of chains he'll buy now that he is retired.