Meet Asia's New Richest Man, an Indian Mogul Who Lives in a 27-Story Home and Hired Beyoncé for His Daughter's Wedding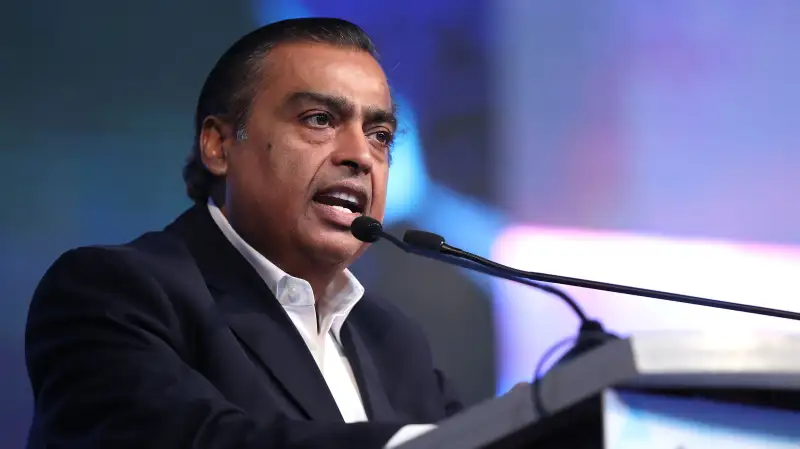 Raja T. Gupta—EPA-EFE/REX/Shutterstock
Indian oil and gas magnate Mukesh Ambani has dethroned Jack Ma to become Asia's richest man—and his rise to riches was so dramatic it inspired a Bollywood movie.
The 61-year-old billionaire is the head of Reliance Industries, a textile and energy conglomerate. Reliance owns the largest oil refining complex in the world, and is India's largest publicly traded company. The company's success—and a healthy inheritance—led Ambani to amassing an incredible net worth: $48.4 billion as of January 2019.
As one of the world's wealthiest people, Ambani doesn't shy away from spending his cash. The businessman lives in one of the world's most expensive houses: a 27-floor skyrise with multiple helipads, swimming pools, and a spa. Recently, Ambani made headlines for hosting a wedding so lavish that Beyoncé and Hillary Clinton dropped by.
Here's everything else we know about Asia's richest man.
When Ambani's dad began making millions with Reliance Industries, he homeschooled his children to teach them about "normal" life, like how to take public transportation.
While Mukesh Ambani's wealth is mostly inherited, his father, Dhirubhai, built Reliance from the ground up.
Dhirubhai grew up in the sprawling middle-class tenements known as chawls in India, raised by two school teachers. Instead of attending college, he started to work as a clerk in Yemen. He eventually moved back to India and opened a business trading yarn, a commodity that had become sparse after the India-Pakistan partition in the late '40s. It was a good bet. Fast forward to 1977, and Reliance went public as one of the highest-selling fabric brands in the country, later expanding the business into telecommunications, infrastructure, and energy.
In the late 1960s, Dhirubhai moved his family from the chawls to one of the best neighborhoods in Mumbai. To make sure his children didn't grow up spoiled, Dhirubhai hired a tutor to give Mukesh and his siblings "hands-on life experience" like riding public transportation, buying train tickets, and visiting villages.
"We never studied," Ambani told The New York Times. "We went out and learned how to play hockey. And we went by bus, and we went by train, and we said, 'This is what life looks like.'"
Dhirubhai made his eldest son a board member at Reliance around the time he turned 18. Mukesh told the Times his dad gave him full responsibility as a board member, once handing him $100 million to build a polyester plant.
Ambani got into an epic feud with his brother after their dad died—and the Indian government got involved.
After Dhirubhai's death in 2002, a fight broke out between Mukesh and his brother Anil over who would gain control of the family empire.
In the years following Dhirubhai's death, Mukesh attempted to oust Anil from the board and remove his name from corporate brochures, before their mother, Kokilaben, split the company and gave each brother separate ownership. Mukesh, the more conservative, quieter brother, was given the oil and petrochemical flagship business, while his more outgoing younger brother took over the newer telecommunications division.
At the time of the company's split in 2005, Anil's endeavors seemed more profitable: India's mobile-phone market was taking off, as crude oil prices were high. However, Mukesh ended up as the more successful businessman, expanding the oil business and making India one of the fastest-growing oil-consuming countries in the world.
Anil did not take his brother's success lightly, arguing that Mukesh violated the terms of their non-compete agreement. The younger brother posted ads on the front pages of Indian newspapers accusing the government of colluding with Mukesh's company to raise gas prices, according to The Economist, and filed a whopping 100 billion rupee (1.4 billion dollar) defamation lawsuit against his brother in 2008.
During this bitter feud, a technician reported Anil Ambani's private helicopter had been tampered with in what was "clearly an attempt to murder" the CEO, according to experts. The murder attempt had no links to the feud with Mukesh, but, bizarrely, the technician who first noticed the tampering was found dead on railroad tracks in Mumbai a week later.
The fight between the two brothers grew so heated the country's finance minister feared that a prolonged fight would impact the Indian economy. This eventually led the brothers to finally make amends in 2010, after Anil withdrew his defamation suit and the brothers pledged to work toward "an overall environment of harmony, cooperation and collaboration."
Nearly a decade later, Anil has lost half of his personal wealth and cut company stock after taking on enormous amounts of debt that the company is struggling to pay off. Meanwhile, Mukesh built up his own telecommunications business, which was such a success it acquired his brother's company.
Ambani bought the largest house in India: a 27-floor skyscraper with room for 168 cars, 600 servants, and three rooftop helipads.
In 2010, Ambani, his wife, Nita, and three kids moved into one of the most opulent houses in the world called Antilia. Property surveyors estimate the mansion's value to be $400 million, and is rumored to have cost more than $1 billion to build.
The skyscraper is 550 feet tall and covers over 400,000 square feet. The house has enough room for 600 servants and parking for 168 cars on six separate floors. There's a movie theater, yoga studio, spa and fitness center, and even an 'ice room' that makes artificial snow to help residents escape India's oppressive summer heat.
Critics consider Antilia's over-the-top display of wealth immodest when considering the country's widespread poverty. The average Indian earns barely $1,700 a year and wealth inequality increased sharply in the last 30 years: The richest 1% earn 22% of the country's wealth, while the bottom 50% earn just 15%. As many as 1.77 million Indians are homeless.
"You walk around the streets of this city, and the rage at Antilia has to be heard to be believed," anti-corruption campaigner Meera Sanyal told The Guardian.
Ambani hosted a lavish wedding for his daughter attended by the biggest names in Bollywood—and Beyoncé.
After decades of celebrity status in India, the Ambanis made a global statement by throwing a wedding for their daughter that reportedly cost $100 million, and the guest list ranged from CEOs to Beyoncé.
Mukesh's daughter, Isha, attended Yale and Stanford, and sits on the board of directors for India's largest retailer and its largest 4G network. She married Anand Piramal, the founder of one of India's largest real estate companies in early December.
To help guests navigate the wedding festivities in the 27-floor Antilia, the family created a phone app just for the event. Though the total number of guests at the wedding is unclear, local media reported the Ambanis used more than 100 chartered flights to fly guests to and from the airport.
High-profile attendees included former Secretaries of State Hillary Clinton and John Kerry, Arianna Huffington, newlyweds Nick Jonas and Priyanka Chopra, as well as almost every major Bollywood star. Beyoncé performed a private concert at the wedding, and shared numerous behind-the-scenes Instagram photos during her stay in India.
But it wasn't all party time. The Ambani family also used the occasion of the wedding to give back to the local community in Udaipur and donated enough food to feed 5,100 people for four days. They also set up a bazaar at the venue to showcase traditional Indian textiles from local artisans.
Isha was the first child of Mukesh Ambani to get married. One can only imagine what's next.