This Smart Saver Paid Off $25,000 of Debt in 5 Years. Here's Her Best Advice If You're Living Paycheck to Paycheck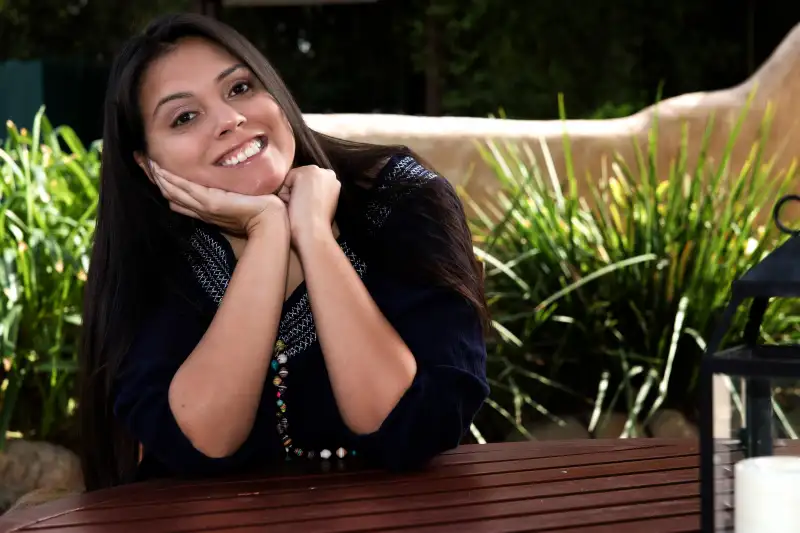 Athena Lent knows what it's like to have no money.
At the age of 16, one year after her mom passed away, Lent became homeless, surviving through couch surfing and offering up her social security check for rent. In college, she racked up tens of thousands of dollars in student loan debt due to a shopping problem. Later, she was diagnosed with cancer and had to undergo costly surgery.
By 2012, she had racked up about $60,000 debt through loans and medical bills — debt she knew she could never pay off on her $900-a-month job. She knew she had to make a change. "I realized, Yes, this bad stuff happened to me when I was younger, but I don't have to bring them into my future," she says now.
Starting in 2013, Lent got serious about her finances — paying off 25% of her loans and all of her cancer treatment bills, and saving enough money to purchase a new car. Now an active member of the personal finance blogging community, Lent runs the site Money Smart Latina to help other low-income Latina women struggling with similar financial issues.
Here is how Athena paid off her debt and became a personal finance influencer, plus her best money advice when you're living paycheck to paycheck.
Athena says that first you have to face your demons.
Instead of dealing with the grief from losing her mom, Lent says she developed a shopping addiction fueled by taking out student loans. She remembers having an anxiety attack, and dealing with it by spending the money earmarked for her car payment on scrapbook supplies instead. "It was like a high," she says.
To get out of debt and poverty, Lent realized she needed a mindset shift. Instead of playing the victim to her circumstances, she says she took responsibility for her own reckless spending and debt.
Her first step—and advice to others—is to figure out exactly where your income is coming from and where it's going. Lent recommends creating an Excel spreadsheet and tracking each monthly bill and each expense, no matter how large or small. From there, you can decide where to reallocate your money, according to your priorities.
For instance, Lent says if you realize you've been spending $200 a month on coffee at Starbucks, you could buy a $50 gift card and make that your caffeine budget for the month — and then put the remaining $150 into paying down your debt. This way, she explains, you don't need to get rid of your coffee completely, but you can start paying off your loans.
Then you should find a supportive community.
When Lent decided she was going to change her lifestyle and get serious about paying her debt, she sought support from friends. Not everyone was onboard, however. Lent found some people were offended when she started socializing less in an effort to put more money towards her debt. But the friends who did stick around helped Lent stay on track and supported her financial goals.
Now, the greater personal finance blogging community serves as Lent's support system. She attends the FinCon conference every year to learn from and network with other personal finance influencers—and she even met her boyfriend there.
Following other bloggers on social media can help you feel more supported in paying off debt or making lifestyle changes, Lent says.
Assess other ways you can make more money.
Of course, saving comes easier when you have extra money, Lent says. But when you're living paycheck to paycheck as she was, you may not be able to make your savings goals and might get discouraged. As she says, "How am I going to tell you to stop eating out if you can't even afford to do that?"
Lent recognized in 2013 she was not making enough money, and decided to go back to school for her bachelor's degree to earn more at work. After saving up for her degree and graduating, her salary tripled from what it was five years ago.
Aside from going back to school—which, of course, can be a large financial investment—Lent also recommends diversifying your income streams. Parents can't easily work two jobs, but Lent suggests looking for any pockets of time that might be free. "I can't save money if I'm not earning it," she says. "I'm not going to say everybody can go and make extra money easily, but usually you can find a way to put a couple hours aside for it." Jobs like online transcribing or freelancing can be done anywhere and usually at your own pace. She also says not to be afraid to ask for help; Lent set up a GoFundMe account to help pay her college tuition.
Never stop advocating for yourself.
Even after following this advice, Lent says barriers to money run deeper in low-income communities. For instance, when Lent was working at a Title 1 school in Phoenix, Arizona, she recalled teaching her eighth-grade students about budgeting. After she told the class you don't need to pay taxes on food, they retaliated and said, "That's impossible because you don't pay taxes with food stamps" — implying they didn't understand not all people use food stamps to buy food.
Lent realized then the broad confusion about personal finance for poor communities of color—and wanted to help. Latina women earn 54 cents for every dollar earned by their white male counterparts, the least of any other demographic: "To me, that's not okay," Lent says. Now, she encourages Latinas to understand that because on average they make less money, there is more urgency for them to negotiate for higher pay.
Her message seems to resonate: She says one of her followers discovered she made $5 less per hour than two of her male coworkers, and promptly asked for more money.
Along with negotiating, Lent recommends familiarizing yourself with your legal rights as an employee. She explains that in her culture, women typically work as caretakers to multigenerational households, meaning they may have to take time off to care for sick relatives. She has heard of managers who tell these women doing so will result in their firing — which is illegal by federal law.
Lent wants everyone to pay off their debts and earn more money—and be smart about their expectations at the same time.