NFL Star Rob Gronkowski Is a Genius for What He Does With His $54 Million Pay
Money is not a client of any investment adviser featured on this page. The information provided on this page is for educational purposes only and is not intended as investment advice. Money does not offer advisory services.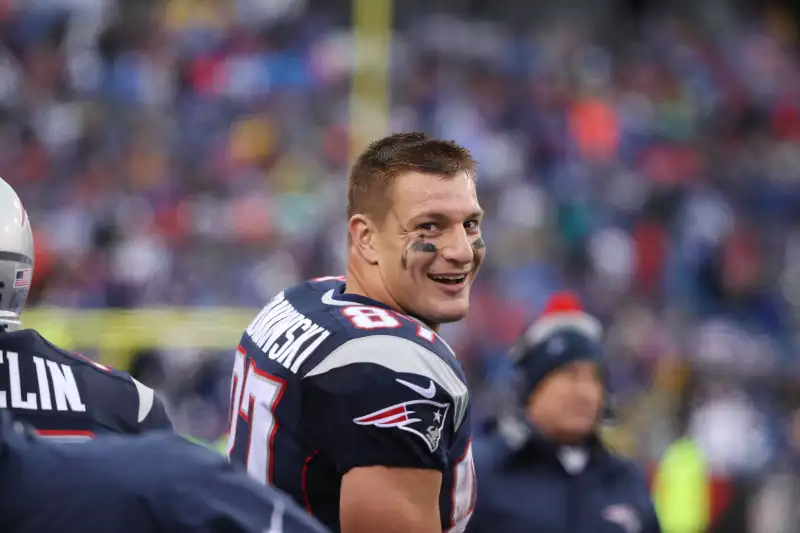 Tom Szczerbowski—Getty Images
Rob Gronkowski, the superstar tight end for the NFL's New England Patriots, earned $10.5 million last season, including a $2.5 million bonus for being named an All-Pro — the fifth time in his career that "Gronk" has achieved the honor.
But Gronkowski hasn't spent a penny of his contract money from last season. In fact, he says he hasn't touched any of his career NFL earnings, including the six-year $54 million contract he signed in 2012.
Gronkowski is perceived as a bit of a lovable knucklehead — he was lampooned as the hulking dimwit "Bonkowski" in a memorable episode of "The Simpsons" — but he is savvy with money and incredibly careful about how he spends it. In his 2015 memoir, It's Good to Be Gronk, Gronkowski revealed that he hadn't "touched one dime of my signing bonus or NFL contract money." Instead, he wrote, "I live off my marketing money and haven't blown it on any big-money expensive cars, expensive jewelry or tattoos and still wear my favorite pair of jeans from high school."
This week, Gronkowski appeared on the Uninterrupted online video series "Kneading Dough" and said that he still lives by the same code — spending only the money he earns from endorsement deals with brands like Dunkin' Donuts, Nike, and BodyArmor sports drink. Instead of blowing his Patriots pay, he says, he's been investing it — and he's happy with the results.
"If you see my NFL money, how much I've made, I've got way more than that baby," said Gronkowski.
In other words, Rob Gronkowski is sitting on a fortune worth tens of millions of dollars, and his wealth is growing all the time. This is particularly exceptional for someone in the NFL, where careers tend to last only a few years — and bankruptcies are notoriously common among retired players.
Gronkowski says he will make some big purchases at some point. "There is one thing" he wants, he says in the video. "It's really, really pricey. It's the private jets."
For now, though, the only way Gronkowski has treated himself was by splurging on a nice necklace, which he bought as a personal reward for hitting all of his contract incentives last season. "I never had jewelry in my life," said Gronkowski. But after borrowing a similar chain from a friend, he relented and purchased one for himself. "It's been eight years; I hadn't really bought anything in my career."
At one point about a year ago, it was reported that Gronkowski and his brothers had run up a $100,000 bar tab at a casino. But Gronkowski, who prides himself on being the opposite of a spendthrift, said the reports simply weren't true — and that he'd sooner donate that $100,000 to charity rather than blow it on drinks.
Over the years, Gronkowski has even become something of a financial counselor for younger players. On "Kneading Dough," Gronkowski said that one teammate came to him asking if he should buy a used Hummer for $22,000. Gronk asked the player what he was driving at the moment.
"Oh, I got a rental," the player responded.
After finding out the player was paying $400 a week to rent a car, a flummoxed Gronkowski advised his teammate to buy a car and stop wasting money on a rental. "I was like, Dog, hurry up and buy that Hummer," said Gronkowski.