Why NFL Players Are So Likely to Declare Bankruptcy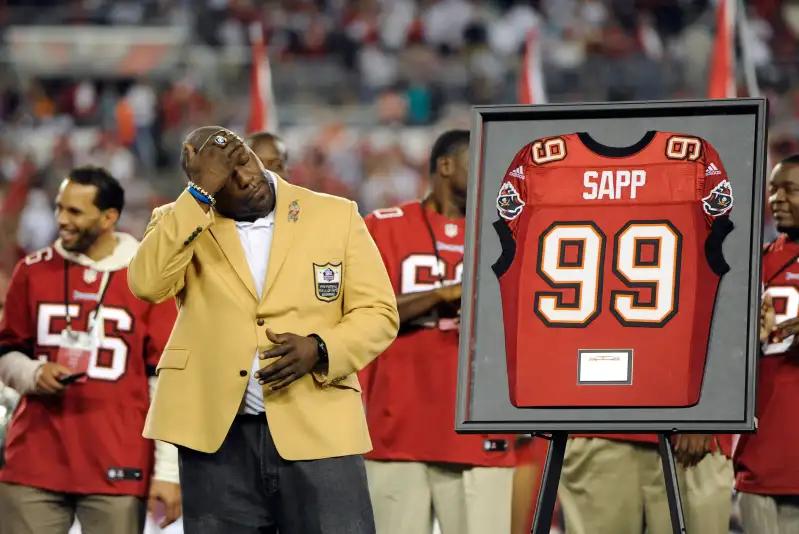 According to a new study in the National Bureau of Economic Research (NBER), former NFL players go broke at an alarmingly high rate considering how much money they make as pro athletes.
The median NFL player is in the league for six years and during that time earns $3.2 million in 2000 dollars—more than a typical college graduate makes in a lifetime, noted this Quartz post. And yet, nearly 16% of the players included in the study—everyone drafted from 1996 to 2003—filed for bankruptcy within 12 years of retirement.
A 2009 report from Sports Illustrated found that "78% of former NFL players have gone bankrupt or are under financial stress because of joblessness or divorce" after they'd been retired only two years. Some of the stories of pro athletes losing their fortunes, chronicled in the ESPN documentary "Broke" and elsewhere, are astonishing. Warren Sapp, the seven-time Pro Bowler and Hall of Fame defensive tackle, earned $82 million during a 13-year career that ended in 2007. By the spring of 2012, however, he filed for bankruptcy, even though he was still pulling in $116,000 per month at the time as a TV analyst.
What is it about so many professional athletes—and football players in particular—that causes them to go broke in swift and dramatic fashion, despite their lofty salaries? Here are some the key factors--several of which can potentially screw up the retirement plans of anyone, not just a pro athlete.
NFL careers (and peak earning years) are short. The average annual salaries and career lengths for NFL players are smaller than their counterparts in other big-time sports. A 2013 study showed that the average (as opposed to the median noted above) NFL player earned $1.9 million per year and was in the league for 3.5 years. Both are much lower than the averages in Major League Baseball ($3.2 million annually, 5.6-year career) and the National Basketball Association ($5.15 million, 4.8-year career).
Not only do NFL players tend to earn less overall, their careers are over much more quickly. The typical NFLer is out of the game and done with his peak earning years well before he's even turned 30. This is when the typical worker's earning potential is just taking off.
They ignore sound investing advice. "If they are forward-looking and patient, they should save a large fraction of their income to provide for when they retire from the NFL," the NBER study explains. But many NFL players are neither forward-looking nor patient, and they don't save much, if anything. That goes even for players with good careers, per the study: "Having played for a long time and having been a successful and well-paid player does not provide much protection against the risk of going bankrupt."
In the opening anecdote of the Sports Illustrated story, Raghib (Rocket) Ismail, the Notre Dame superstar who played in the CFL and NFL and earned as much as $4.5 million per year, recalled how impervious he was to financial advice early on in his career. "I once had a meeting with J.P. Morgan," he said, "and it was literally like listening to Charlie Brown's teacher."
They get bad advice and make bad decisions. Ismail blew money on a wide range of sketchy investments, including a religious movie, a music label, and various high-risk restaurant and retail endeavors. Many players have sued their advisors after allegedly being scammed out of millions. In one suit filed in 2013, a group of 16 former and current NFL players claimed they were collectively bilked for more than $50 million based on the actions of an advisor who had allegedly invested the money in an illegal casino.
"Regulated or not, shady advisors have made quite a mark on the NFL financial scene," the authors of the 2014 book Is There Life After Football? Surviving the NFL wrote. "Before closer scrutiny was instituted, at least 78 players lost more than $42 million between 1999 and 2002 because they trusted money to agents and financial advisors with questionable backgrounds."
More recently, seven-time Pro Bowler Dwight Freeney sued Bank of America for $20 million, because a former adviser from the bank supposedly defrauded him by (illegally) wiring millions of dollars out of Freeney's account. In another recent case, it is a former NFL player who is himself being accused of operating a sketchy investing scheme. In early April, the SEC filed a federal fraud complaint against former NFL player Will Allen and a business associate, who together allegedly ran a Ponzi scheme, using money from some investors to pay off others. The operation was supposed to be loaning money to athletes who were short of cash, but the suit claims roughly $7 million raised from investors was used instead for personal expenses of Allen and his associate.
They get used to a certain lifestyle. Warren Sapp reportedly had 240 pairs of collectible sneakers, including 213 sets of Air Jordans, which wound up selling for more than $6,000 at auction. Former standout wide receiver Andre Rison famously blew $1 million on jewelry and routinely walked around clubs with tens of thousands of dollars in cash in his pockets, he recalled in the "Broke" documentary. Troubled cornerback Adam "Pacman" Jones has said that he once dropped $1 million in a single weekend in Las Vegas.
Extravagant spending is ingrained in NFL culture, insiders say. "Around the locker room, players' cars, clothes, houses and 'bling' are constantly scrutinized. If they're not up to par, they're ridiculed," former Green Bay Packers' George E. Koonce, Jr. and his fellow authors explained in Is There Life After Football? "Players don't see their bills or keep track of their payments. They're in the dark about taxes. They lose touch with their own money."
Once they retire and the millions stop flowing into their bank accounts, many players find it impossible to dramatically shift gears and adapt to life on a limited fixed income. It's all the more difficult because they're still relatively young and aren't anywhere near ready to embrace the sensible, low-key, downsized lifestyle of the typical 70-year-old retiree.
They're often crippled, mentally and physically. The consensus is that of all the major pro sports, football takes the largest toll on the minds and bodies of its combatants—making it exceptionally difficult to make a living once their (short) athletic careers are over. Studies show that players suffer concussions at disturbingly high rates, and that the frequent brain injuries of players cause a wide range of neurological problems down the road. The high level of former NFL players committing suicide (Junior Seau among others) has been tied to concussions in football games as well.
Even if players retain their cognitive skills, they often live with chronic pain in knees, hips, and joints. Debilitating pain, debilitating brain disease, or both obviously hamper one's ability to make a living outside of football.
UPDATE: An earlier version of this story included widely disseminated information regarding the likelihood of lower life expectancy among former pro football players. Harvard researchers working on a multi-year project with the NFL concerning the medical risks of playing football say the information is outdated and inaccurate. The NFL disputes the data indicating that its players have shorter life expectancies as well, pointing to a 2012 National Institute for Occupational Safety and Health study in which researchers "found the players in our study had a much lower rate of death overall compared to men in the general population. This means that, on average, NFL players are actually living longer than men in the general population."
The same study also found that NFL "players may be at a higher risk of death associated with Alzheimer's and other impairments of the brain and nervous system than the general U.S. population. These results are consistent with recent studies by other research institutions that suggest an increased risk of neurodegenerative disease among football players," though the report noted that the "findings do not establish a direct cause-effect relationship between football-related concussions and death from these neurodegenerative disorders."