Here Are the Average Ticket Prices for the 2018 NBA Finals — Plus the Insane Costs to Sit Courtside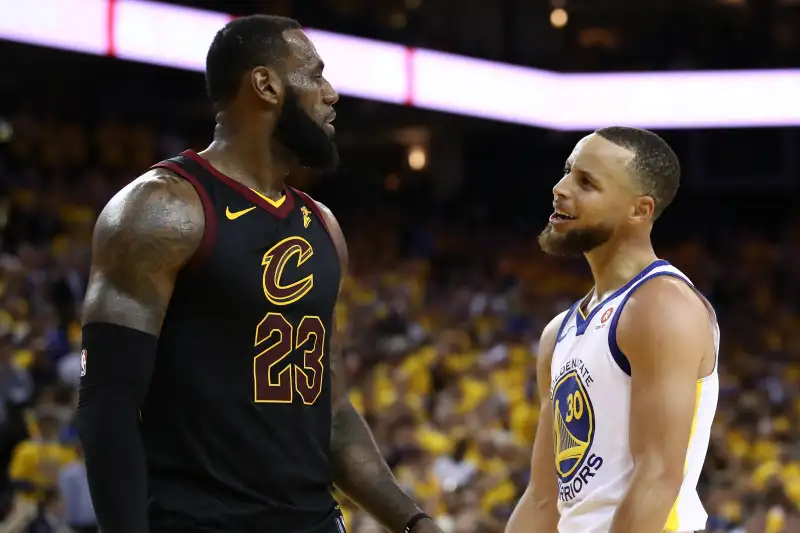 The 2018 NBA Finals are officially underway, with the Golden State Warriors facing the Cleveland Cavaliers in a historic fourth consecutive showdown for the championship.
After a thrilling Warriors overtime victory in Game 1— featuring controversial calls by the referees, a 51-point performance by LeBron James, and a meme-worthy blunder by his Cavaliers teammate J.R. Smith—fan excitement is heating up.
Game 2, scheduled for Sunday, June 3, at 8 p.m. ET at Oracle Arena, in Oakland, California, is sure to draw viewers eager to watch the 2018 NBA Finals to see what happens next. ABC is broadcasting all 2018 NBA Finals games, and there are multiple options for live streaming the series.
What if you want to see the games in person? What are 2018 NBA Finals ticket prices looking like? And if money is no object, how much do courtside NBA Finals tickets cost? Here's all the info you need.
Average Price of 2018 NBA Finals Tickets
Relatively speaking, 2018 NBA Finals tickets are actually pretty cheap. As the Warriors-Cavaliers series began, ticket resale and research sites like TicketIQ and SeatGeek reported that the lowest "get-in" ticket prices were less expensive than they'd been in years.
According to SeatGeek, the average 2018 NBA Finals tickets get-in price—meaning: the cheapest ticket on the secondary market that will get you into the game—for the first four games was $418.50. That's nearly $100 less than the 2017 NBA Finals average get-in ticket price for the first four games ($514.50).
The cheapest 2018 NBA Finals tickets overall are for Game 3, scheduled for Wednesday, June 6, in Cleveland. Get-in ticket prices for that game currently range from $220 to $280 at resale sites like StubHub, Vivid Seats, TicketIQ, and SeatGeek, though fans should expect to pay a bit more after fees are added in. The cheapest get-in ticket prices for any game in the previous three NBA Finals series, meanwhile, were $395 (2017), $502 (2016), and $461 (2015), according to TicketIQ.
In terms of the overall average of NBA Finals ticket prices, as you'd guess they're significantly more expensive than the get-in price. TicketIQ data shows that the average asking price of 2018 NBA Finals tickets on the secondary market is currently $1,894. That's actually higher than the overall average ticket price for NBA Finals in 2017 ($1,767) and 2015 ($1,604), but cheaper than it was in 2016 ($1,931).
2018 NBA Finals Front Row Ticket Price
How much do courtside NBA Finals tickets cost? Be prepared to shell out serious cash if you to watch the 2018 NBA Finals in the front row.
Using data from the reseller TicketCity, Forbes reported that the most expensive 2018 NBA Finals tickets for courtside seats ranged from $15,896 (for Game 7) up to a whopping $76,956 (Game 2). Mind you, those were merely asking prices before the series began—and not necessarily what people will ultimately pay for them.
But if someone does decide to bite at the high end, they'd break the mark set during the 2017 NBA Finals, when someone paid $90,000 for two floor tickets for Game 5, and another pair of seats went for a record-high $133,000.
As of Friday, we were able to find far cheaper 2018 NBA Finals VIP tickets if you're willing to sit slightly further back from the action. For example, courtside seats near the baseline in Row A5 (fifth row) for Game 2 on Sunday, June 3, in Oakland were listed at $3,493 at SeatGeek. After more than $1,300 in fees, a pair of those tickets would run "only" $8,351. And floor tickets in the third row for Game 3 in Cleveland were listed starting at $2,532 each, or $6,053 for a pair, after fees. What a bargain!