These Are the 10 Best Hot Dog Joints in America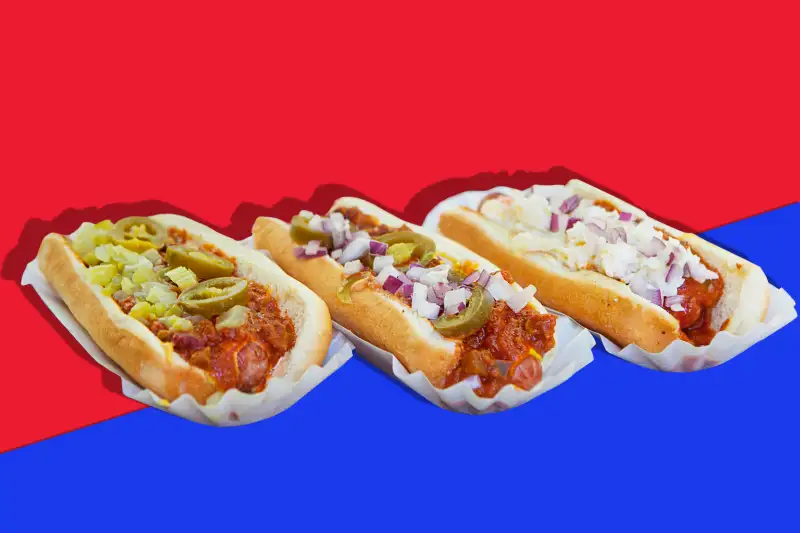 Courtesy of David Saunders
Hot dogs are a time-honored summer snack for those who've been lounging at the beach or walking around in the heat all day. You may enjoy yours fresh off the barbecue, etched perfectly with charcoal grill marks, during the July 4th holiday. But plenty of eateries deliver hot dogs that take it up a notch, whether lavished with cream cheese or topped with sweet relish. (But please, no ketchup — at least if you're from Chicago.)
Money teamed up with Yelp to find the hottest places for a go-to dog. All the businesses on this list are in the "hot dogs" category on Yelp. "Best" is measured using an algorithm that looks at the number of reviews and star rating for a business; we included only one business per state, in order to ensure geographic diversity.
Here are the 10 best places in the nation to get a hot dog:
---
1. Chili Man
Charlotte, North Carolina
Chili Man holds the top spot in part due to its charismatic owner, Vic Werany. Regulars describe Werany as a "nut ball," frequently wearing a Captain America T-shirt to work amid the bankers in downtown Charlotte. Charlotte Magazine named Werany the Charlottean of the Year last year for his help creating a nonprofit to support a neighbor with spina bifida.
Chili Man's specialty hot dogs include the Naco Dog (part hot dog, part nacho, part taco) — a hot dog with with grilled cheddar cheese, chili and taco sauce. For all dogs, you can choose between beef, bratwurst or tofu dogs — price is $2.50 to $4.50, depending on the meat — and get unlimited toppings.
---
2. Wild Dogs
Benson, Arizona
Wild Dogs is a traditional diner-style hot dog joint in the small, southeast Arizona town of Benson. Wild Dogs uses Vienna beef hot dogs in creations like the traditional Chicago Dog, which comes with onion, relish, pickle spears, tomato and mustard for $4.99. Wild Dogs also offers the Best Deal meal: a basic hot dog, potato salad, "ranch beans" and a drink for just $4.39.
Wild Dogs also offers plenty of diner staples, including hamburgers starting at $4, hot sandwiches (like the BBQ Beef Brisket, served on a toasted roll for $7.50), and chili cheese baked potatoes for $3.99.
---
3. International House of Hot Dogs
Anchorage, Alaska
International House of Hot Dogs puts some special twists on typical wiener-in-bun concoction. Try the Alaskan Breeze, which gets you a Reindeer Polish dog with mayo, salsa and sauteed pineapple for $7.50 — or the Monte Cristo Dog, with strawberry jam and Swiss cheese for $7. Your pescatarian friends can skip the dog and try the Smoked Salmon Quesadilla, which wraps the fish, two types of cheese, and chipotle cream in a flour tortilla for $4.50.
---
4. Happy Dog Hot Dogs
Santa Cruz, California
This California hot dog cart has a simple offering: You can get a beef dog, Polish sausage, or Corralitos sausage for $4-$7, and then lay on a rich range of condiment choices — including onion, sweet, and deli relish; jalapenos, sriracha and tabasco sauces, and homemade mustards and aiolis. All sausages are locally sourced.
---
5. Harley's: A Hot Dog Revolution
Littleton, Colorado
The creations are endless at Harley's: A Hot Dog Revolution. Spice lovers can try the N'Orleans dog, with Andouille sausage and sauteed onions for $6.45, or the Death Vader, an "extremely spicy" brat covered with cheddar cheese and bacon for $7.45. Other creations include the $7.95 Toga Dog, which mixes gyro seasoning with the beef dog and includes a drizzle of tzatziki, and the Eddie Spaghetti Dog, which pairs the dog with pasta and serves it on a garlic toasted bun.
---
6. T-Loc's Sonora Hot Dogs
Courtesy of T-Loc's Sonora Hot Dogs
Austin, Texas
You'll find the T-Loc food truck at 5000 Burnet Food Park, one of Austin's many "food truck trailer parks." The park is BYOB, and kid and dog friendly; it also includes joints like Jewboy Burgers and Budare's Venezuelan Food.
T-Loc's offerings include the Sonoran style "con todo" hot dog — a hot dog with "everything," including mayo, mustard, onions, tomato, beans, and bacon, for $6. Non-meat eaters could also get a veggie dog with vegan mayo for a dollar more.
---
7. Holydog
Middletown, New York
Holydog is a no-frills hot dog joint with a more traditional approach. Try the $3.50 NY "Brooklyn" Dog with mustard, onion sauce and kraut, or the Southwestern Dog with refried beans and chorizo. You can get a make-your-own hot dog with unlimited simple toppings for just $3, but you'll have to add a dollar for special add-ons like bacon, chili or melted cheese.
---
8. Sweet Dogs
Miami, Florida
There's no shortage of options at Sweet Dogs. You can get your dogs either boiled, grilled, or deep fried, and toppings include banana peppers, olives and Mozzarella cheese. For $7.95, you could also choose from one of the specialty dogs named after Miami-area sports teams: There's the Heat, with beef chili and guac, or the Dolphins, with grilled ham, bacon, and pineapple.
---
9. The Fried Onion
Courtesy of The Fried Onion
Portland, Oregon
Red Sox fans beware: This New York-style joint will tack $1.25 onto Sox fans' bills, simply for existing. Some transplanted East Coast favorites include the $6.75 Pastrami Dog with Swiss cheese and sauerkraut, and the $6 Rover with peppers and muenster. The Fried Onion even offers bodega-style pastrami deli sandwiches, like the Moussa with peppers and fried onion, and the Spicy Russian with muenster, for $8.50 each.
---
10. Lucky Louie's Beer & Wieners
Erie, Pennsylvania
If you consider yourself a competitive eater, Lucky Louie's Beer & Wieners has your next challenge: the two pound Moby Dick. It stuffs a loaf-sized "bun" with garlic ring bologna, pierogis, Greek sauce, fried eggs, cream cheese, ketchup, hot sauce, and more. The $60 dog comes with a free T-shirt, but if you finish — that's a big "if" — the food is on the house.
On the smaller scale, try one of the many Lucky Louie's creations, like the Asian Invasion with sweet chili sauce and crunchy rice noodles for $5.50, or the Italian Job, with pepperoni, mozzarella and pizza sauce for $6.50.