This is the Best Big Bank in America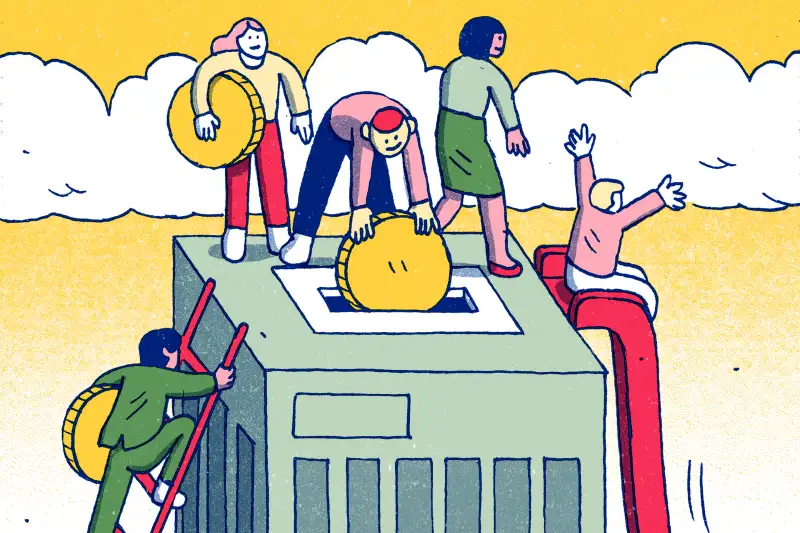 Illustration by Wren McDonald for Money
Online banking may be going mainstream, but only a small share of Americans are willing to give up physical branches altogether. More than a third of bankers still rate access to a brick-and-mortar location as "very important," according to a recent survey conducted for Money by market research firm Morning Consult.
If you fall in that group, you might be best served by one of the country's biggest banks. Money's annual analysis of accounts found that while national banks have higher-than-average fees and below-average interest rates, they're tough to beat on convenience, especially if you frequently travel around the U.S.
For this year's bank ranking, Money partnered with FindABetterBank.com to review account terms at more than 175 financial institutions, picking winners to serve a variety of banker preferences. For the big bank category, we considered banks with a national footprint—those with at least 1,000 branches or presence in at least 12 states. As with all of our Best Banks winners, we paid attention to how easy it was to waive fees. Yet here we focused more closely on the number of branches and their geographic reach, and we used data from Yelp to see which bank's branches were open most often—so you can swing by before work or on the weekend. Finally, we reviewed what customers said about each bank's mobile apps, and weighed how each was rated in J.D. Power's 2018 Retail Banking Customer Satisfaction Study.
Winner: Chase
Why it wins: Chase branches are open an average of 50 hours a week—second only to TD Bank, according to Yelp. Yet Chase also has above-average customer service scores in every one of the 11 regions surveyed by J.D. Power, and it scores in the top three places in four regions. Its mobile app is rated higher than competitors'. Finally, Chase has one of the highest branch counts, with more than 5,000 in 25 states. It also has 16,000 ATMs nationwide.
Caveat: If you can't waive them, monthly account fees are high. And the interest rate on the basic savings account is practically nonexistent.
Where you can find it: Ariz., Calif., Colo., Conn., D.C., Fla., Ga., Idaho, Ill., Ind., Ky., La., Mass., Mich., Nev., N.J., N.Y., Ohio, Okla., Ore., Pa., Texas, Utah, Wash., W.Va., Wis.
Key Chase Accounts
Total Checking
Monthly service fee: $12, waived with a $500 direct deposit or $1,500 minimum daily balance
Outside ATM fee: $2.50
Chase Savings
Monthly service fee: $5, waived with a $300 daily balance or a reoccurring monthly transfer of at least $25 from a Chase checking account.
Interest rate: 0.01%
---
Money partnered with FindABetterBank.com to produce this year's Best Banks rankings. FindABetterBank.com provided account terms for more than 175 financial institutions, and our team reviewed account minimums and qualifications, ATM fees, overdraft fees, and interest rates. When selecting finalists, priority was given to checking and savings accounts with no or easily waived monthly fees, free ATMS, and higher interest rates. In some categories, we used data from Yelp to measure how many days and hours bank branches are open each week, and we used mobile app ratings from the Google Play and iTunes stores. Money's edit team independently fact-checked information in August and September.