These Are the 10 Best Burger Joints in America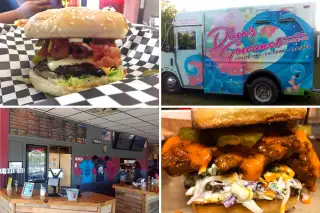 Nothing rings in the summer better than the smell of burgers on the grill.
Getting a ground beef patty between two sesame buns is easy enough, but some folks have mastered the art in ways the rest haven't — winning awards or becoming local legends for their juicy burger meat, or for sauce and condiment combinations.
Money partnered with Yelp to find the best-loved burger joints in the country. Their menu offerings range from sloppy barbecue burgers to fried bologna burgers and diner-style standards — there's even a burger with peanut butter and jelly in the middle. (The Yelp algorithm factors in both the number of positive reviews and an eatery's star rating; to ensure that we had winning burgers from around the country, we limited the picks to one per state.)
Here are the 10 best places to get a burger this summer:
---
1. Manny's Restaurant
Victorville, California
Manny's Restaurant offers customers the best of two worlds. Fans of simple, no-nonsense burgers can enjoy beef patties flavored with carne asada and traditional fixings, while Instagrammers in search of their next quirky food post can dig into one of the wilder burger creations — including the, ahem, Peanut Butter Jelly and Creamy Burger.
Yep, Manny's Restaurant dared to go there. They stuffed a whole wheat bun with two quarter-pound beef patties, cream cheese, bacon, peanut butter, and strawberry jelly. The burger sounds insane, but at $9.25, one of the shop's best-selling items.
If peanut butter and beef isn't your cup of tea, try the equally perplexing $9.75 Lasagna Burger, which stacks lasagna on beef patties inside of garlic-coated sesame buns.
---
courtesy of Dino's Gourmet On-The-Go
2. Dino's Gourmet On-The-Go
Kahului, Hawaii
Head over to this food truck next time you're vacationing in Maui. Dinos Gourmet On-The-Go blends flavors from the Mediterranean, Polynesia, France, and the U.S. to get its burger combinations, Dino's partner Kellina Zagouras tells Money.
Try the Big Hawaiian Big Blue Cheese Burger, topped with sautéed onions, peppers and habanero chipotle mayo for $13. You can even get Solo Comfort Fries with your burger, which come with a the food truck's "special dipping sauce."
---
courtesy of Bros Sandwich Shack
3. Bros Sandwich Shack
Avon, North Carolina
Bros Sandwich Shop takes its name from the two brothers who teamed up to open their own small restaurant on North Carolina's Outer Banks. After hitting the beach, head over to Bros for one of the shop's signature creations, such as the Carolina Bro (with chili, coleslaw and American cheese) for $11.25, or the Cowboy Bro (with Sriracha barbecue sauce, gouda, and peppered bacon) for $10.25.
Vegetarians also have a place at the table: Try the Quinoa Bro, a patty made with red quinoa with all the burger fixings, for $9.65, or the $2.55 Sweet Potato Waffle Fries with any 10 of the BroMade custom dipping sauces.
---
4. Papa's Burgers
San Antonio, Texas
Movie lovers will enjoy Papa's Burgers for its takes on classic films. Take The Godfather: an Italian-influenced dish that pairs a beef patty with grilled salami, mozzarella, and marinara sauce, serving it between two garlic toast slices for $7.50. The Raging Bull Burger has the protein and calories fit for a boxer — you get six fresh grilled patties with triple cheese all for $20.95.
Some of the more traditional burger combinations include the $7.50 Chili Burger, with beef chili and pickles, and the El Caliente, with pepper jack and sliced jalapenos for $7.25.
---
5. PDX Sliders
Portland, Oregon
PDX Sliders started out as a food truck in 2014, specializing in beef, pork, chicken and veggie sliders. They found fans quickly: Culture Trip named PDX Sliders one of the 12 best places for American street food in the nation, and Yelp reviewers helped National Geographic name it one of the Best Burgers in America in 2016.
PDX's Sellwood burger is named after the neighborhood PDX Sliders originated in, and contains a beef burger, bacon, aged cheddar, onions, and aioli on a brioche bun. You can get a big burger for $9.50 or three sliders for $4.75. Other PDX creations include the $11 Tilikum — buttermilk fried chicken with barbecue sauce on a ciabatta — and the Burlington, with pecan-smoked pork and Carolina mustard barbecue sauce for $11.
---
6. Fox Smokehouse BBQ
Boulder City, Nevada
If you're looking for the smoky, tangy flavor of barbecue on your burgers, Fox Smokehouse BBQ has you covered. Named the premier smokehouse in Southern Nevada by Las Vegas Now, Fox Smokehouse BBQ is a member of the Kansas City Barbeque Society, a national community for the top barbecue joints in the country.
The popular Smokehouse Burger mixes Angus Beef with Brisket and uses their homemade BBQ mayo for $12. If you want to taste more of Fox Smokehouse's meats, try getting a sliders combo for $11; you can mix and match the chicken, pork and brisket sandwiches on toasted buns.
---
7. Zorbas Gyros Burgers And More
Lafayette, Louisiana
You might not associate ground beef burgers with more typically lean, veggie-heavy Greek cuisine. Zorbas, however, manages to blend American and Greek flavors to offer delicious Greek and gyro burgers.
"It's just so tasty, and it gives people the feeling — the Greek taste, the Mediterranean taste," store owner Mustafa Ozen told The Daily Advertiser. "You can eat burgers everywhere, but you can't get gyros everywhere."
The $8.99 Greek Burger comes dressed with feta cheese, red onions and tzatziki, while the Gyro Burger has the same fixings over slices of beef and lamb gyro instead of beef patties. Another popular burger is the Guacamole Burger, which includes pepper jack cheese and jalapenos, to give it a kick, plus red bell peppers.
---
8. Hate Mondays Tavern
Miami, Florida
Unlike many burger cooks in the Miami area, Hate Mondays Tavern owner Karl Hayden shapes each of his burgers by hand, seasoning them with his custom blend of spices. That's the reason his burgers stand out, Hayden tells Money.
Hayden has been the cook, owner, and founder of Hate Mondays Tavern for 23 years after deciding to leave a job in retail, he says. Most of his customers are regulars: "I strive on both the customers service and to make sure the food is out there and it's quality."
One of Hayden's most popular burgers comes with pulled pork and a fried egg on top for $12.95. Yet ever since Hayden won Hamburger House Party, a local competition, the prize-winning burger — the Mondays Remedy, with beef brisket, bacon, and cheese on a sweet bun for $13.50 — has taken the top spot among customers.
---
9. Around the Corner
Henrico, Virginia
Around the Corner is a small diner just outside of Richmond, marked by a cartoon-style mural of smiling food and animals. The simple, diner-style burgers are easily customizable and among the most affordable on this list: A single quarter-pound burger is just $3.80, with cheese and tomato available for 50 cents each, a fried egg for $1.25, or bacon or chili for $1.50. Or you can try one of the specialty burgers, like the Fried Bologna Burger for $5.25 or the Big BLT with a whopping 10 pieces of bacon for $9.
---
courtesy of Lucky's Burgers & Shakes
10. Lucky's Burgers & Shakes
Phoenix, Arizona
After watching their parents manage two successful burger joints, Yolanda Chalabi and her sister thought they'd try their hands in the restaurant industry. The risk paid off — Lucky's Burgers & Shakes became known across Phoenix for its clean store, helpful customer service, and affordable grub.
Try a quarter- or half-pound charbroiled hamburger for $3.79 or $4.99, respectively, paired with the homemade Thousand Island or ranch dressing. Wash down your food with either the popular fresh squeezed lemonade, for $2.99, or a $3.89 milkshake and malt — flavors include butterscotch, cherry, peanut butter, pineapple, and cinnamon.