Best Car Insurance for Young Drivers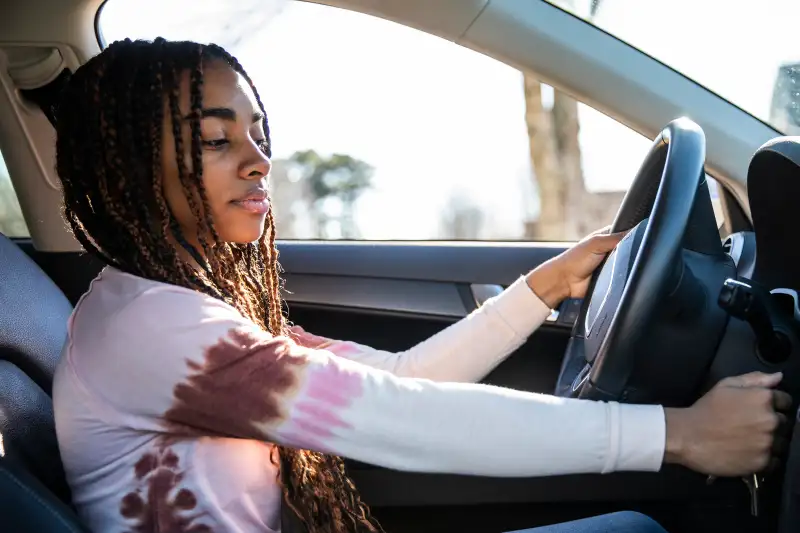 Our Top Picks for the Best Car Insurance for Young Drivers
As they take to the road, younger drivers need to be properly insured. While rates for this demographic are generally higher, young drivers also have access to unique options like student discounts and perks that more mature drivers might not have. In this article, we've compiled a list of the best car insurance companies for young drivers.
The 7 Best Car Insurance for Young Drivers Reviews
Why we chose it: With discounts and options to spare, Nationwide offers the most customization possibilities with its insurance plans. Depending on your circumstance, this could mean substantial savings. However, the company isn't available in every state, and not every offering is available everywhere.
Pros
Good Student discount available
Safe Driver rewards after five years
Offers usage-based insurance through SmartRide
Cons
Claims satisfaction lower than average
Not available in Alaska, Hawaii, Louisiana or Massachusetts
Nationwide offers a wide variety of coverage options, backed by strong financial performance and very few reported customer complaints. A.M. Best gave Nationwide an A+ (Superior) rating for financial stability, while the National Association of Insurance Commissioners (NAIC) noted "minimal" complaints.
Nationwide's five main coverage options are highly customizable versions of classic coverage types:
Collision: pays for damage to the teen's vehicle
Liability (required): pays for damages to other cars and drivers
Comprehensive: pays for damage that occurs during non-driving incidents (like theft or weather damage)
Underinsured/uninsured motorist: pays for damage caused by someone without applicable insurance
Rental car reimbursement: covers alternate transportation if the car can no longer be driven
However, Nationwide realizes the needs, liabilities and price points of younger drivers might be different, and has adjusted its discount offerings to target this group. The five main discounts afforded to young drivers are:
SmartRide: tracks driving in real time to offer discounts
SmartMiles: cuts down the cost of your coverage depending on how much you drive
Good Student discount: available for drivers 16-24 with a B average or better
Safe Driver discount: available for drivers with five years of safe driving
One-time discount for signing up for automatic payments
There's also the benefit of usage-based insurance, which more and more providers are offering. In this arrangement, a device in your car tracks your mileage and driving habits to more precisely assess your risk and therefore your payments. Nationwide's version is SmartRide, which comes with its own 10% discount just for using it, then up to 40% more on specific kinds of coverage as it tracks acceleration, braking, nighttime driving and mileage.
Why we chose it: The younger population is comfortable with digital technology and may gravitate towards a company with user-friendly online options. Progressive offers a great app and digital experience that can appeal to the tech-savvy younger driver and auto owner.
Pros
Great app and online options
Good Student, Teen Driver discounts
Offers usage-based insurance through Snapshot
Cons
Lower than average J.D. Power satisfaction score
More expensive for young drivers than average
Lower loyalty rating according to J.D. Power
Progressive's online interface includes an app and a mobile-responsive website. You can file claims online, chat with an agent or a customer service representative and even attach photos of your accident within the app to help speed up your claims process. Claims payouts are also online, with an auto-deduction feature linked to your bank account.
In addition to its digital features, Progressive offers discounts and bundling options geared toward the younger driver. They've developed the Snapshot program, which monitors bad driver habits like distracted driving and rewards safe driving with coverage discounts. Progressive also offers cost-cutting bundles for families, offering home, life and auto insurance as a package.
Although its premiums aren't the lowest you'll see on this list, the discounts and digital convenience may appeal to a young driver. The mobile app offers account management and payment, roadside assistance, claim reporting and quotes. The website itself is also helpful, offering a digital user portal and lots of other information on Progressive quotes, claims and frequently-asked questions.
Why we chose it: Allstate is our choice for competitive discounts for young drivers. With a usage-based insurance option and ample discount opportunities for everything from a high GPA to choosing automatic payments, Allstate is a smart choice for the young driver on a budget.
Pros
Usage-based insurance available through MileWise
Variety of options, add-ons and discounts
Smart Student and automatic payments discounts
Cons
One of the most expensive without discounts
Smart Student discount has conditions
Car insurance companies have found that offering discounts is an effective way to drive business with a younger demographic, and Allstate is no exception. The company promotes multiple discounts, programs and incentives geared towards the younger driver.
Top discount options include:
Multiple policy/bundling discounts for different kinds of coverage, like home or renters insurance
New car discount, if you're the first owner of your new vehicle
Anti-lock brakes and anti-theft device discounts
EZ pay plan and eSmart discounts when you set up automatic withdrawal and/or opt for paperless billing
FullPay or Early Signing discounts when you pay in full or sign your policy a week before it goes into effect
Responsible Payer discount if you have paid on time for the past year
Safe Driving Bonus for drivers who go 6 months or more without an accident
While some of these discounts can appeal to drivers of any age, they can be especially valuable for drivers who are just starting their on-the-road experience. Allstate has also developed a Smart Student discount geared towards younger drivers enrolled in an educational institution. You can qualify if you're unmarried, under 25 years of age and meet one of the following criteria:
You have at least a B- average
Your GPA is at least 2.7
You complete the teenSMART driver education program
Your school is at least 100 miles away from where your car is
Allstate's discounts also include MileWise, their version of usage-based, out-of-pocket insurance. MileWise could be a helpful option to the young driver who is away at college without a car and only needs insurance when visiting home, or a driver who keeps a car on campus and doesn't drive very often. Allstate also offers the teenSMART driver education program, an online training program that teaches driver safety. Successful completion of the teenSMART program can earn a young insured driver additional discounts.
The drawbacks to Allstate come down mostly to price. If you don't or can't qualify for discounts, either because of your driving record, student record or the condition of your car, you might find that Allstate's coverage is not as affordable as its competitors'. But if you can satisfy the requirements and qualify for the discounts Allstate offers, it can be an affordable and comprehensive option for car insurance.
Why we chose it: Agents take claims live over the phone, which adds a level of customer service that can be particularly helpful to young drivers unfamiliar with the insurance claims process. The "deductible fund" is a great innovation, as is the "better car replacement" feature, which will replace a totaled car with a newer and better-rated one.
Pros
Offers usage-based insurance through RightTrack
Great discounts and online/digital services
Deductible fund feature reduces out-of-pocket expenses
Cons
Below average claims satisfaction rating
Accident forgiveness must be earned and is unavailable in CA
Liberty Mutual tops the customer service charts due to its helpful agents. Customers can file claims over the phone, 24/7. Liberty Mutual also offers a variety of specific and unique discounts for everything from getting a quote before your current policy expires to going on autopay or paperless account management.
Another customer-friendly feature is Liberty Mutual's deductible fund, which makes contributions to deductible payments. Liberty Mutual contributes $70 per year, while you add $30. If you have an accident, whatever has been built up in the fund goes toward your deductible. There's also RightTrack, the usage-based insurance gadget and app that can lower your rates based on mileage and driving habits.
Like others in the industry, Liberty offers a variety of discounts targeted at different ages, demographics and driving records. Liberty Mutual customers also have the opportunity to bundle their car insurance with other kinds of policies, including homeowners and renters insurance.
Why we chose it: Geico is our selection as the best option for affordable car insurance. On average, it's more than 30% cheaper than its counterparts while offering similar policies.
Pros
Lower than average rates for young men
Great customer service
Cons
Rates may not apply in every circumstance or every state
Lower loyalty rating than most large companies according to J. D. Power
Geico advertises itself as the best car insurance for young drivers, and in many cases, that may be true. The company offers lower rates for young men than most of its competitors, which could make it more attractive on a per-quote level, depending on your needs.
In addition to lower premiums, you can customize your policy with discounts like:
Good Student discount: requires a B average or better
Good Driver discount: requires five years of accident-free driving
Driving class discount: requires taking a defensive driving class
Membership discounts: for belonging to various student organizations
Geico also receives an A++ financial stability rating from A. M. Best and offers in-person agents in addition to a robust app and website. In the J.D. Power Carrier Switching Trends study, Geico was the most popular option for those switching providers.
Although Geico's rates can be low, qualifying for them might be difficult depending on several factors, including where you live, your age, your driving record and even the kind of car you drive.
Why we chose it: State Farm is known for its personal approach, with a large network of local agents and better-than-average customer service reviews.
Pros
Large, 19,000-agent network
Up to 37% cheaper than average in some cases
Cons
Not available in Massachusetts or Rhode Island
Drivers 20-25 years of age pay more than average
One of the most affordable insurance providers is also one of the most well-known, with a huge network of in-person agents and a best-in-class roadside assistance program that offers jumpstarts, gas delivery, locksmithing and towing.
According to the J.D. Power Carrier Switching Trends study, State Farm was the third-most-popular outlet for those switching providers, picking up business from Nationwide, Allstate and Travelers.
State Farm relies on the local touch, with on-the-ground agents across the country. This is helpful to customers looking for a face-to-face connection with their provider.
Why we chose it: USAA is often the first choice for auto and health insurance for military families. They also inspire loyalty; among J. D. Power's loyalty metrics, USAA placed second among all insurance companies.
Pros
Lower rates for members of the military
Highly rated customer satisfaction
Cons
Only available to military families
Collision repairs rating only slightly above average
USAA lives up to its goals, providing great insurance rates for military families. If you're a young driver in ROTC or the armed forces or come from a military family, your USAA quote might be lower than if you opted to purchase from another company. Their personal touch with local agents makes USAA known for customer service, ranking ahead of 18 of its competitors, according to J. D. Power's 2021 Claims Satisfaction Study. USAA also came in second in J. D. Power's LoyaltyIQ rating system.
The SafePilot program monitors driver habits, and its app comes with a crash detection suite that can help with emergencies and starting quick claims. SafePilot checks in with the driver in case of impact and calls 911 if there's no communication. It also provides the ability to file a claim on the scene of the accident.
Other Car Insurance for Young Drivers We Considered
The following providers are still recommended but didn't make the list for one reason or another: either they're unavailable in large parts of the country, or their low prices come with customer service or claims complaints. However, they may still be solid options for young driver insurance, so don't forget to include these companies when searching for quotes.
Pros
Cheapest car insurance for young drivers
Highest ranking in J. D. Power customer satisfaction
Cons
Only available in a quarter of the country
While Erie is the top company in several categories, including being the cheapest car insurance for young drivers overall, it is only available in DC, IL, IN, KY, MD, NY, NC, OH, PA, TN, VA, WV and WI — just 13 states in all. However, Erie can be 43% cheaper than the average insurance, and it has the third-highest loyalty rating among major insurers. Discounts are available for those under 21 who live with their parents, complete a special training program and leave their car at home.
Pros
Good rates for those with a DUI or poor credit
Lower than average rates for teen drivers
Cons
Available in less than half the country
Low customer loyalty
American Family has relaxed application rules and requirements. However, families and individuals can expect costlier premiums. This, plus the low customer loyalty rating and the lack of availability in most states, keep American Family off our list.
Car Insurance for Young Drivers Guide
Once you buy a car or otherwise receive one, the next step will be looking at young driver car insurance quotes. What is the best car insurance for young drivers? It's the one that combines the best price and accessibility with the precise array of coverage and discounts that applies to your situation. Use this guide and each company's free online quotes to determine your best option.
Tips for making car insurance more affordable for young drivers
Beyond "How much is car insurance?" and "What is comprehensive coverage, anyway?", one of the most frequently asked questions is how to make your insurance as affordable as possible. There are several things young drivers and their parents should do besides searching for the best rates.
Maintain a clean driving record
The best thing anyone can do to keep their rates down is to drive carefully and responsibly. Beyond the discounts your teen may earn for being a safe driver, a lack of accidents and continuity of coverage are great ways to keep premiums as low as possible. Every at-fault accident, and even some no-fault accidents, adds up. It may help younger drivers to remember that maintaining an excellent driving record isn't just a safety issue; it's a financial one. Younger drivers need every reason to drive safely.
Add young drivers to a parent's policy
With some companies, bundling a younger driver into their parents' policy is worthwhile. You may even be looking to switch car insurance providers, which is a great opportunity to get plenty of quotes. If you are planning to add a young driver to your policy, remember that if something goes wrong, your total premiums will rise, sometimes dramatically. Adding your teen or young adult driver onto your policy is a risk, but it could potentially save you hundreds of dollars each year.
Do away with unnecessary coverage options
The more customizable choices above mean you won't necessarily be paying for more insurance than you're using. Insurance is a balancing act when it comes to predicting what kind of coverage you're likely to need each year. Buy too much, and you're just wasting money. Buy too little, and you may end up paying more in the long run. This is a great reason to get quotes every time you're up for renewal, just to make sure you're giving yourself and your family the best coverage and discounts available.
Claim every discount possible
Going down the list of discounts for each provider and seeing just how much you can save is a great way to sort through your quotes and see who's really offering the best deal. You should also look into usage-based insurance, if available, to see if it makes sense for you and your family.
What to consider when choosing a car insurance policy for a young driver
Here are the top concerns to address as you choose your new insurance policy.
The costs
Cost is a major factor, but it shouldn't be the foundation of your decision. A high-deductible plan or one that doesn't properly account for total loss might be cheaper to start with, but if anything goes wrong, you'll end up paying more. While the insurance company is doing its math and figuring out how high a risk you pose, you should look up quotes for many companies to see what they will offer you.
Your coverage needs
Every young driver's situation is different: Some are teens just learning to drive, some are new car owners and many are away at school but still need coverage when they visit home. Your coverage needs should take priority over most other concerns since settling for a policy that's not quite right will introduce more issues than it solves.
The insurance provider's ratings
Take customer service and claims satisfaction into account, in particular. The reasons for spending on insurance are twofold. First, you buy insurance to meet the requirements of your state and car loan. But second, it's to make sure that when it counts, things are as easy as possible. A cheap plan with bad customer service isn't worse than no plan at all, but it's close. Do bear in mind that there are often more negative customer reviews than positive ones, since satisfied customers often don't think to post reviews. But reviews and ratings can give you a hint at patterns or themes in a company's service offerings.
What's available in your area
It can get confusing, but take care to get quotes only from the companies that actually serve in the state where you're trying to become insured. It's not a simple yes or no — many great rates or discounts may apply only in certain states, so you want to make sure you are very clear on what each company is offering.
Best Car Insurance for Young Drivers FAQ
Unsurprisingly, young and teen drivers have a lot of questions when it comes to getting their first insurance policy. Here are the most common and frequently asked questions that came up during this review.
What is the average cost of car insurance for young drivers?
The average cost for an auto insurance policy for drivers under 20 years of age is $86 a month for minimal coverage and $364 for a more robust policy. These prices depend on your driving record, too, so you can expect a car insurance price increase if there is an at-fault accident or violation in your driving history.
Why do young drivers pay more for car insurance?
Insurance companies' entire business model is calculating and mitigating risk. In the case of young drivers, that risk is heightened by the fact that they haven't been driving as long as more seasoned drivers. There are also indications that young drivers make less responsible decisions overall, so even the most dutiful and careful driver is paying in part for the more reckless among their age group. For example, male teens are twice as likely to die in a car accident as female teens. As a result, a male teen is more expensive to insure.
When does car insurance go down for young drivers?
For most companies and in the majority of circumstances, prices usually stabilize for drivers around the age of 25. Some drivers as young as 20 may see a drop in their rates, but that's dependent on the provider and the state in which they are insured.
How much does having a young driver increase your car insurance?
Adding a young driver to your own insurance policy is one way to save upfront, as it costs on average 44% less than giving them their own policy. However, if anything goes wrong, you'll of course be paying higher premiums as a result. Having said that, the average price for adding a young driver to an existing policy is $580 per month.
How We Chose the Best Car Insurance for Young Drivers
As part of our methodology to create this list of top auto insurance products and companies for young drivers, we looked at:
Better Business Bureau and company website customer reviews
J.D. Power's latest U.S. Auto Insurance Satisfaction Study
A.M. Best financial strength ratings
National Association of Insurance (NAIC) complaints
The selection of insurance plans and related products
Digital and website tools, coverage options, rates and customer service agents
Simplicity of process and ease of use for app and website
Summary of Best Car Insurance for Young Drivers