The Best Black Friday Deals of 2016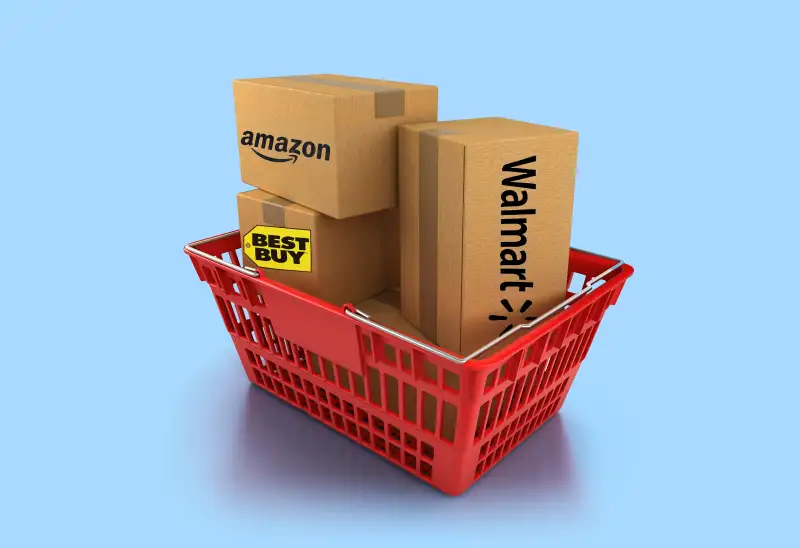 Getty Images—Getty Images
The big retailers launch holiday sales the day after Halloween, and the flow of new deals never really slows down for two months afterward. So it's no wonder that traditional epic sales days like Black Friday have become less meaningful: With week after week of nonstop deals and discounts, it's harder for any individual sales event to stand out.
Nonetheless, Black Friday remains, well, a very big deal. An estimated 44% of American consumers say they'll shop in stores or online the day after Thanksgiving. The percentage of people planning on going to physical stores on Black Friday is decreasing, down to 27% from 31% a year ago. But the crowds will still be substantial, and retailers want to do everything possible to draw them out on to stores Thanksgiving Day and Black Friday, or at least entice them into browsing online for can't-pass-up deals.
Here are some of the most tempting offers we've come across from 16 of the biggest Black Friday players.
Amazon
The world's largest e-retailer may have launched its first early Black Friday deals on Nov. 1, but Amazon always saves some of the best discounts for Thanksgiving and Black Friday. These offers and many others will be rolled out to shoppers during the long, frenetic Thanksgiving-Black Friday weekend:
• Fire Tablet for $33.33 (regularly $50)
• Fire Kids Edition tablet for $75 (regularly $100)
• Amazon Echo for $140 (regularly $180)
• Amazon Tap for $90 (regularly $130)
• 32-inch 720p LED TV for $70
• 32-inch 720p Smart TV for $125
• 50% to 60% off select Disney, Barbie, Hot Wheels, Fisher-Price toys
Best Buy
Most Best Buy stores will open at 5 p.m. on Thanksgiving, with several of the best doorbusters—like a 49-inch LED TV with built-in Chromecast for $200 (normally $450)—available in store only, with a limited supply. Here are a few more sale items at Best Buy that got us excited:
• $7.99 for Blu-ray + DVD + digital copies of movies like "Deadpool" and "Zootopia"
• 50% to 60% off select video games
• Lenovo 11.6-inch 2GB laptop for $100 (50% off)
• HP 15.6-inch 4GB laptop for $170 ($90 off)
• Sharp 55-inch 1080p LED Smart TV for $250 (50% off)
Cabela's
The leaked Black Friday ad for Cabela's features hoodies for $15 (normally $30 and up), weatherproof base layer clothing for $8 (normally $30 and up), and discounts on a a huge range of hunting and outdoors gear.
Dick's Sporting Goods
From 6 p.m. Thursday to 2 p.m. on Black Friday at Dick's stores, and all day on Thanksgiving online, the special sales include 50% off select cardio machines, 50% or more off select fleeces and hoodies, 50% off Gerry winter jackets and vests, and 25% off variety of Nike and Under Armour apparel. Store circulars also offer an extra $15 off clothing purchases of at least $69.99, plus shoppers get a bonus $20 off on future purchase if they spend $100 or more on Thanksgiving or Black Friday.
Five Below
Most Five Below stores open at 6 p.m. on Thanksgiving with $5 price tags on items like sewing machines, wireless stereo headsets, selfie sticks, fleece zip jackets, lounge pants, and Lego Dimensions toys. Similar items are regularly priced at $15 to $20.
Stores open at open at 3 p.m. on Thanksgiving, and virtually everything is on sale—generally for 60% or more off original prices. Be aware, however, that J.C. Penney is notorious for using extremely inflated list prices so that the markdowns seem more impressive. The best deals tend to be sale items that are even cheaper when combined with mail-in rebates. (Just make sure you actually mail in the rebate!) Among the sales:
• $8 blender, coffee maker, or griddle after $12 rebate (items regularly priced from $50)
• $10 Pyrex eight-piece bowl set after $15 rebate (regular price $56)
• $20 Farberware 15-piece knife set after $15 rebate (regular price $80)
• $30 Cooks 12-piece cookware set after $20 rebate (regular price $100)
Kmart
Kmart stores have a rotating list of Black Friday doorbusters, with fresh rounds of deals launching on Thanksgiving morning (many stores open at 6 a.m.!), and then at 7 p.m. on Thanksgiving night stretching into Friday. The doorbusters on Thursday morning include $1.99 fleece throw blankets, $4.99 board games, 50% off Christmas decorations, and a 3.5-cubic-foot freezer for $100 (regular price $230). Starting Thursday night, DVDs like "Spiderman 2" and "American Hustle" are priced at just $1, flannel shirts for men, women, and kids are $8, and Kenmore small appliances (coffeemaker, electric griddle, 4-slice toaster) are $10 after a $10 mail-in rebate.
Kohl's
While some Kohl' Black Friday deals went live at the beginning of this week—like small appliances for less than $7, once rebates are factored in—most of its Black Friday sales are available online at midnight on Wednesday and in stores at 6 p.m. on Thanksgiving. Among the best doorbusters are 49-inch 4K TVs or Sony Playstation 4 or Xbox One S Minecraft game console bundles, each at a price of $250. What makes these deals extra special is that customers get $15 Kohl's Cash for every $50 spent. So each of the items above comes with $75 in Kohl's Cash, which can be spent on anything in Kohl's stores from November 27 to December 5.
Macy's
Macy's Black Friday sales are available Wednesday for online shoppers and on Thanksgiving Thursday at 6 p.m. in stores. The doorbusters include 75% off men's down coats, 50% to 70% off select Nine West and Anne Klein handbags, 60% off Samsonite luggage, seven-piece comforter sets for $48 (regularly $200 and up), and a Dyson DC39 Ball Multifloor Pro Canister Vacuum for $250 (regularly $580). Special coupons could mean you'll save even more.
Michael's
Special deals with discounts up to 70% off will be available starting at 6 p.m. in most Michael's stores on Thanksgiving, and then again at 7 a.m. the next morning. Check out the back of the retailer's Black Friday ad for coupons offering additional discounts too. And arrive early in stores if you hope to snag any Michael's doorbuster deals like these:
• Scented jar candles for $2 (regular price $6)
• Ornament frames for $2 (regular price $5)
• All watches for $5 (regular price $10 to $15)
• 60% to 70% off picture frames
• 7-foot pre-lit artificial Christmas tree for $80 (regular price $230)
Office Depot/OfficeMax
The sales go live for these two retailers at 6 a.m. in stores on Black Friday, and online on Thanksgiving itself.
• Virtual Reality headset for $10 (80% off)
• 16-pack Duracell AA/AAA batteries for 1¢ (after $13.98 back in store rewards points)
• 50% to 60% office furniture, computer monitors, Bluetooth speakers/headphones, Kenneth Cole bags and luggage
Sears
Check out Kenmore appliance pairs discounted by 49% or more, plus a choice of NordicTrack treadmill or elliptical machines for $600 (save $900 to $1,000), jeans for $10 (regular price $24 to $39), and big discounts on many Craftsman tools, mowers, snow blowers, and more. Most Black Friday sales at Sears are available online at 6 p.m. on Wednesday night, with free shipping on all orders. Sears stores around the country open at 6 p.m. on Thanksgiving night or 5 a.m. on Black Friday, according to the retailer's Black Friday ad.
Staples
Staples stores will be closed on Thanksgiving, but most of the retailer's deals will be available online on Turkey Day, and all will be featured in stores starting at 6 a.m. on Black Friday. Availability may be limited for the best deals, like these below:
• Amazon Fire Stick TV for $30 (normally $40)
• Amazon Kindle Fire 7-inch tablet for $33.33 (normally $50)
• Canon Pixma MG3620 printer for $30 (normally $80)
• Google Chromecast for $25 (normally $35)
• 500-sheet ream Staples multipurpose paper for 1¢ (after $7.99 easy rebate)
Target
All online purchases at Target come with free shipping, and the retailer is promising that all of its Black Friday deals will be available online (starting on Thanksgiving morning) and in store (generally starting at 6 p.m. on Thanksgiving night). Among the top deals:
• 50-inch Hisense 4K UHD TV for $250
• Buy one, get one 50% off select Disney, Marvel, Star Wars toys
• iPad Air 2 for $274 (regularly $400)
• Hoover Quest 700 Robotic Vacuum for $200 (regularly $350)
• Powerbeats 2 Wireless Earphones for $90 (regularly $200)
• Xbox One 2 Console Bundle for $250, plus free $40 gift card (normally $300)
Toys R Us
Most Toys R us locations open at 5 p.m. on Thanksgiving, and many online deals are available even earlier, starting at 9 p.m. on the Wednesday before Thanksgiving. From 5 p.m. to midnight on Thursday, there are doorbuster deals available in limited supply in stores only like the Skylanders Imaginators Starter Pack for $37.49 (normally $75), and 50% off certain drones and Cabbage Patch Kids Cuties dolls. For the rest of the weekend, tons of toys are available in stores and online for 30% to 70% off.
Walmart
Most of Walmart's Black Friday sales go live at walmart.com at 12:01 a.m. ET on November 24, a.k.a. Thanksgiving Day. The sales are also available in stores at 6 p.m. on Thanksgiving. They include 11 different deals on TVs, including a 40-inch HDTV for only $125 and a 50-inch HDTV for $225. Among the other Black Friday specials:
• 90 video games on sale starting at $8
• 750 DVD and Blu-ray movies from $2
• Pajamas and slippers from $4.75
• Samsung Chromebook 3 for $119