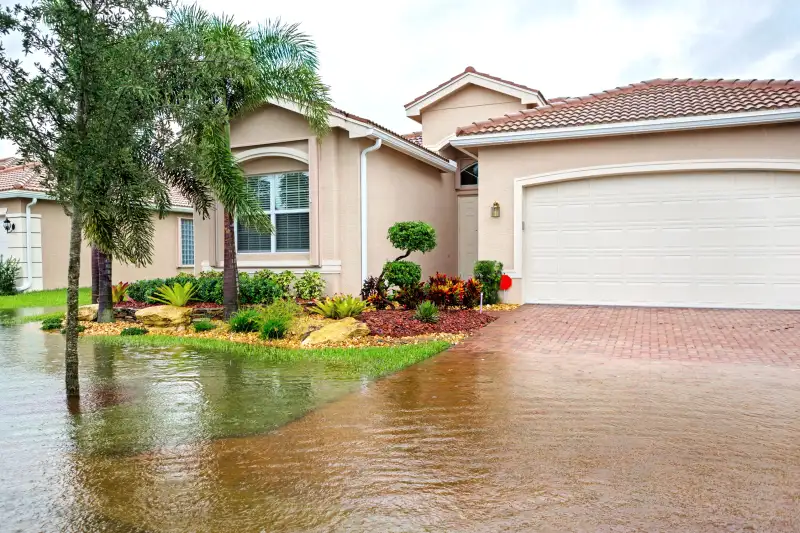 Floods are one of the most damaging and expensive natural disasters, and they're not covered by home insurance policies.
Homeowners and business owners in flood-prone areas should be prepared for the possibility of flooding. And having the right flood insurance policy can provide them peace of mind and financial security if rising waters cause damage to their dwelling or place of business.
The following article reviews some of the best flood insurance providers on the market and the features and benefits they offer. We look at costs, coverage types and availability, customer service, and more to help you decide which flood insurance provider could be right for you.
Our Top Picks for Best Flood Insurance
Best Flood Insurance Reviews
Pros

Online quote tool for quick price comparisons
Sells flood insurance exclusively
Network of well-established flood insurance providers

Cons

Requires more details during application than other providers
Filling out the online form can be time-consuming

Why we chose it: As a broker, Better Flood Insurance doesn't sell policies directly, but has a network of coverage providers that offer both federal policies and private coverage. The company can help you determine which type of policy you need and match you with a provider offering the lowest rates.

Better Flood shops around for policies from different insurers and compares them to find you the best price for the coverage you require. And there are no fees, so you don't pay anything out of pocket for this service. While Better Flood also features plenty of positive customer feedback and testimonials on its site, consumers are advised to take them with a grain of salt, as those tend to be curated to highlight the most positive aspects of a product or service.

To get a quote from Better Flood, you must first complete an online form with information about your property and the coverage you're seeking. The process is thorough, and some customers feel it's too lengthy. Though it does ask for a greater level of detail, once you identify the kind of coverage you need, Better Flood Insurance can provide you with a quick quote or instant estimate. It bears repeating that the company is a broker, so any flood insurance claims must be submitted directly to the insurance provider.

For $250,000 in coverage, Better Flood can find a policy that costs around $900 to $1,000 per year, which can be cheaper than a National Flood Insurance Program (NFIP) policy. However, the actual cost of your policy will depend on several factors, including the amount of coverage you need, your location, the type of home you live in and your insurance history.

Better Flood Insurance has partners in all 50 and offices in three U.S. time zones.

Pros

Provides fast flood insurance quotes via its mobile app
Offers a discount for bundling flood with homeowners or auto insurance
Multiple ways to file claims

Cons

Uses third-party underwriters, complicating the claims process
Costs depend on specific underwriting partner
Few discounts other than bundling

Why we chose it: GEICO maintains a nationwide network of local agents with regional expertise who can help you get the best flood insurance policy for your needs in all fifty states.

Since its founding in 1936, GEICO has maintained solid financial strength and received high customer satisfaction ratings. However, what sets it apart from other flood insurers is its nationwide coverage and local expertise along with its easy online quote process.

GEICO's authorized agents are located all over the country and are familiar with the local flood insurance market, so they may be better qualified to help you find the appropriate coverage for your location. This could be a great option for someone who lives in a flood zone or an area where climate change may be impacting flood risks.

Policy costs vary depending on your home's location, whether it's your primary residence or a rental unit and other specifics. That said, a policy with $150,000 in coverage for a single-family primary residence can cost around $450 annually, though there are discounts for customers who bundle their policy with homeowners or car insurance. Insuring just the contents of your home from flood damage with a replacement value of up to $100,000 would cost about $350 per year.

The average flood claim, which you can make online, over the phone or through GEICO's mobile app, takes approximately two to three weeks to process.

Pros

Coverage available in 48 states
Offers options to lock premium rates
Provides greater coverage than the NFIP for a lower price
Offers instant online estimates

Cons

Won't insure mobile homes or condominiums
Won't cover properties flooded more than once within five years
Coverage isn't available within Coastal Barrier Resource Act (CBRA) areas
Won't cover FEMA-designated Severe Repetitive Loss areas

Why we chose it: The Flood Insurance Agency (TFIA) specializes in commercial buildings and residential investment properties that some agencies won't cover. Its customizable coverage may be especially attractive to those who own multi-unit homes or apartment buildings.

TFIA's online quote tool provides instant estimates and discloses exactly what is and isn't covered under a policy. With it, you can customize and augment your policy limits beyond the NFIP's requirements to get equal or better coverage for less. This includes policy options generally not included in the standard NFIP coverage.

While TFIA offers coverage for properties other companies won't insure, there are some notable restrictions. It won't insure mobile homes, subleased properties like condominiums or any property that has been flooded more than once in a five-year period or sits within federally specified areas.

TFIA's website looks outdated and bareboned, but the company is reliable. Its policies are underwritten by Lexington Insurance, an AIG subsidiary, so they are backed by AIG's considerable financial strength. Moreover, customers can lock in their rates, potentially avoiding costly rate hikes, and handle most policy interactions online, including cancellations. Though you can't submit a claim through its online portal, it supports filing claims by phone or email.

Private market flood policies from TFIA are available in most U.S. states, with the exception of Oregon, Kentucky, New York and Pennsylvania. Coverage is also unavailable in Monroe County, Florida. As a pricing example, a $5 million commercial flood insurance policy could cost around $32,000 per year through TFIA.

Pros

Coverage available in 48 states
Covers assets most insurance providers won't
Provides quick online estimates

Cons

No online claim processing
Primarily phone-based customer support

Why we chose it: With Neptune, you can customize your flood insurance policy to include coverage for an array of assets that the NFIP and other private companies won't insure. Basement contents, their replacement cost, additional living expense coverage and detached structures (like sheds, workshops or garages) are all covered by various Neptune policies.

One of the many reasons Neptune stands out from the competition is its generous policies. Coverage can extend to personal property stored in your basement, in-ground swimming pools (including refilling costs), temporary living expenses and additional structures on your property. These features make Neptune a particularly comprehensive option.

Neptune provides online quotes for residential policies but customers looking for commercial coverage must speak with an agent over the phone. Similarly, while you can pay your premium online without a problem, you must call in if you have any questions or want to make changes to your policy.

Neptune has a quick claims process, guaranteeing a claims adjuster will contact you within two hours after you file a claim. It doesn't require photographs of the property or elevation certificates, and you can report claims by phone or email. Both residential and commercial coverage, as well as flood insurance for renters, is available in most states except Alaska and Kentucky.

If you live in a medium-risk area, a standard residential flood insurance policy with $350,000 in coverage can cost you around $1,500 per year with Neptune.

Pros

Good customer reviews
Online resources like FAQs, guides, a flood zone lookup tool and flood rate maps
Provides instant online quotes

Cons

Not available in AK, AL, HI, LA, MS, ND, SD, VT and WY

Why we chose it: FloodSimple claims to be committed to ensuring customer satisfaction. To that end, it provides online quotes, allows for online claim filing and offers guides, FAQs and other tools to help customers understand their coverage needs. FloodSimple also has very few but highly positive customer reviews on the Better Business Bureau and responds promptly to customer complaints.

FloodSimple's insurance products are backed by financially stable and trusted insurers such as Lloyd's of London. It provides flood insurance for both residential and commercial buildings, including residential investment properties like multi-family homes.

You must speak with an agent to obtain a commercial quote but can get a residential quote online in minutes. And if you ever have to file a claim, an agent can guide you through the process either over the phone or via email.

Flood insurance rates through FloodSimple are among the lowest on the market. $10,000 in residential coverage can cost you around $380 annually. But it's worth noting that FloodSimple doesn't cover the nine states that aren't part of the Federal Flood Insurance Program (FFIP).

Other flood insurance companies we considered

While the following companies offer competitive policies, some had problems or failed to stand out, so we didn't select them for our top picks.

Pros

Online claim filing
Underwrites for other top flood insurance providers

Cons

Higher costs
Customer complaints
Slow claims response time

Assurant Insurance is a good choice if you're looking for an insurance company that offers a primarily online experience. With a long history of providing insurance and excellent ratings from leading industry rating agencies, Assurant has proven itself a stable and reliable company.

It offers 24/7 online services, helpful guides and comparison tools, and the added benefit of a "FlexCash program" to cover additional living expenses if you're displaced due to a flood. Its rates are the same as GEICO's, for which it underwrites.

Unfortunately, it has many complaints and customers report waiting long to hear back from claims adjusters.

Pros

Highly rated customer service
Nationwide coverage

Cons

Available only to active-duty U.S. service members, veterans and their families
No local agents

USAA provides specialized insurance, including flood insurance through the NFIP, for veterans, active duty members and their families. It offers excellent customer service and nationwide coverage and has superior ratings from top rating agencies.

However, it provides no option to work with local agents and is exclusively available for current or former members of the armed services and their families.

Pros

Provides both NFIP coverage and excess coverage policies
Insures secondary structures

Cons

Poor customer reviews citing incorrect policy changes and long waits
Restrictions for detached structures, such as sheds, fences and pools

With an extensive network of agents, nationwide private flood insurance coverage and online policy management, Allstate would be a solid recommendation if it weren't for poor customer service reviews citing long wait times for claims processing. And unlike other providers, Allstate also requires elevation certificates for some zones and additional documentation.

Flood Insurance Guide

This guide covers important information about flood insurance and how it can help protect your property. We'll explain how flood insurance works, what types of coverage you can get and what to keep in mind when choosing a provider so you can make an informed decision when purchasing a policy.

What is flood insurance?

Flood insurance is a type of insurance designed to help protect homeowners from financial losses due to flooding. Floods can be caused by heavy rains, melting snow, dam or levee failures or hurricanes, and they can cause considerable damage to property and belongings.

It's important to know that a standard homeowners insurance policy doesn't cover flood damage. As the effects of climate change lead to more frequent and intense flooding, it's important to research which companies offer flood insurance applicable to your needs.

How does flood insurance work?

Flood insurance can help cover the cost of replacing items damaged by flooding and repairs to your home or business. It can also provide funds to help you pay for temporary housing or interrupt your business operations if your property must be evacuated due to flooding.

To purchase flood insurance, contact an insurance provider to determine if flood coverage is available in your area. If it is, the agent will help you choose the type and coverage amount you need.

Before you purchase flood insurance, know that it typically doesn't cover damage caused by water entering your home through an open window or door or damage caused by water overflowing from a bathtub or sink. Read your policy carefully to understand what's covered and what isn't.

If a flood occurs, contact your insurance provider immediately to start the claims process. Your provider will need certain documents and may request additional proof to assess the damage and provide you with an estimate of how much your policy will cover.

What to keep in mind when choosing a flood insurance provider

Ensure the provider you're considering is reputable and financially stable. You want your insurance company to be reliable and able to pay out claims in the event of a flood. Research the insurer's ratings and reviews, and check if any complaints are filed against them.

You should also consider the coverage limits, rates, and your home's structure and risk of flooding to ensure your policy meets your needs.

Coverage limits

When protecting your home and belongings from flood damage, insurance is essential. However, not all insurance policies are created equal.

Pay special attention to any policy exclusions or potential gaps in coverage and consider your coverage limits, which will determine how much you can be reimbursed after a flood. With that in mind, look for a policy that covers the total cost of rebuilding the structure of your home and replacing its contents.

Premium rates

Compare the cost of different policy premiums. Premium rates vary depending on the size of your home and its location and risk of flooding. To get the best deal on the coverage you require, compare quotes from different companies. And don't forget to ask about discounts and benefits like rate locks, which can save you money in the long run.

The structure of your home

Your home's structure will affect your policy's coverage limits and premiums. The age of your home and its building materials and type of foundation impact its risk of flooding, and higher risk means higher premiums (and potentially more limited coverage options). With that in mind, consider your home's features and look for providers that offer policies or add-ons that may cover them.

For example, not all policies cover additional structures such as detached garages, sheds, swimming pools and fences. If you have any of these, you may require additional coverage beyond what a standard policy provides.

Your risk of flooding

Before selecting a policy, it's important to understand the risk of flooding in your area, as that will affect your annual premiums. If you live in a high-risk area, consider a policy with extensive flood coverage. Even if you don't live in a flood-prone area, consider your risk of flooding due to other factors, such as heavy rains or storm surges.

Customer ratings

Researching customer ratings when selecting a flood insurance provider is always a good idea. Read reviews from other customers to ensure the provider you're considering is reliable and trustworthy. When talking with insurance agents, don't hesitate to ask about issues raised by past customers.

Flood Insurance FAQ

How much is flood insurance?

The average cost of flood insurance depends on your property's features and location and the amount of coverage you purchase. In addition to a premium, you'll also have to pay a deductible, which is the amount you must pay out of pocket before the insurer pays out covered claims.

According to the Federal Emergency Management Agency (FEMA), the average cost of federal flood insurance for single-family homes in 2022 was $888 per year. Now, this pricing was for policies offered by the National Flood Insurance Program (NFIP), which is transitioning to a new risk model that could further increase premiums based on risk. The cost of flood insurance policies offered by private companies varies by insurer.

What does flood insurance cover?

Flood insurance generally covers the cost of repairing any damages to the structure of your home and replacing its contents. Coverage may also extend to your car and other structures on your property. Flood insurance doesn't cover damage caused by other natural disasters, such as earthquakes or hurricanes.

Will renters insurance or homeowners insurance cover flood damages?

Renters and homeowners insurance won't cover damages caused by flooding. Flood insurance is the only policy that explicitly covers flood damage.

Do I need flood insurance?

If the area you live in has any risk of flooding, you should consider purchasing flood insurance. Flooding can cause considerable and expensive damage to your home and its contents and displace you for an extended period. Flood insurance can help protect you from the financial losses resulting from a flood.

You can find out if you live in an area at risk of flooding by contacting your local floodplain manager. You can usually find their contact information on your city or county government website or through your local emergency management office or planning department. You can also learn more about flood insurance by visiting the NFIP website.

How We Chose the Best Flood Insurance

Reputation: We combed through third-party review sites to understand consumer sentiment about each company and considered their history and financial stability when making our selections.
Coverage and cost: We selected insurance providers offering both federal and private policies, several different coverage options to choose from and competitively priced plans. With that aim, we gathered quotes for an average single-family home.
User-friendliness: We prioritized companies offering online quotes, claims filing and several ways to contact customer service.
Other: We focused on factors that set each company apart from other carriers, such as bundling discounts or a market specialization, restrictions and limitations with regard to coverage or service availability.

Summary of Money's Best Flood Insurance