Which Stores Are Offering the Best Holiday Shopping Deals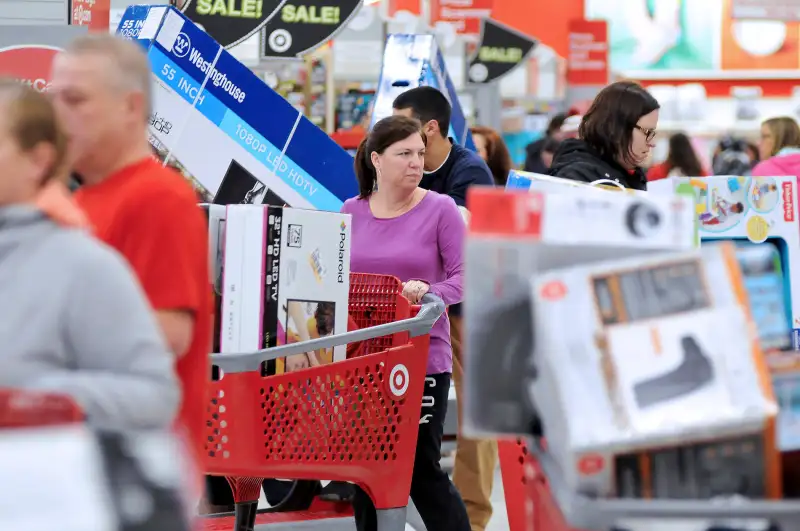 Now that Black Friday and Cyber Monday are in the bag, it's a fine time for shoppers to assess which "deals" they've been seeing are actually deals. Here are some takeaways from the latest 2016 holiday season pricing research—and some strategies bargain-seeking shoppers should use going forward.
Amazon Has Most Deals & Highest Discounts
Data collected by the pricing and product insight firm 360pi shows that Amazon.com has dramatically ramped up the number of products sold on the site for the holiday season. The number of products in the computer/electronics category was up 75% in November compared to the previous May, for example, while listings under Clothing, Shoes & Jewelry were up 55%. Unsurprisingly, tons of these items have been discounted recently.
Overall, Amazon seems to have had the most items on sale and the highest average discounts during the recent frenzied Thanksgiving-Cyber Monday period. The e-commerce analytics firm Clavis Insight reported that the average Black Friday discount at Amazon was 42% off, compared to 33% at Walmart, 35% at Target, and 36% at Best Buy. Clavis says that Amazon has consistently had roughly four times as many promotional offers as Walmart too.
But Amazon Isn't Always Cheapest
Based on the numbers above, Amazon appears to be e-retail's low-price leader. But as we've already reported, a retailer other than Amazon had the best prices more than half the time in a recent study from 360pi. Researchers compared 750 of Amazon's Best Sellers at Amazon and Google Shopping and found that Amazon had the lowest prices only 25% of the time. In nearly 60% of searches, meanwhile, another seller popped up on Google Shopping with a better price than Amazon. Walmart specifically beat Amazon with lower prices on 20% of the top-selling toys.
Read Next: Everything You Need to Know About Hatchimals, The Hottest Toy for the Holidays
Amazon Prime members are more likely than other shoppers to simply buy at Amazon without shopping around, because they know they get free two-day shipping on most Amazon purchases and they tend to think the site has prices that are competitive if not the absolute cheapest. But as one of the shopping experts (and an active Amazon Prime member) at BradsDeals.com recently pointed out, "Because it's so easy to buy stuff on Amazon, I often end up spending more on items I could get for MUCH less elsewhere -- if I ever bothered to do my homework before pressing the checkout button."
Shoppers should be particularly wary of items sold not by Amazon directly but by one of the many third-party sellers on the site. The item highlighted in the post was a special "Avengers" edition of Monopoly, which was listed at $40 by a third-party seller at Amazon, $19 when sold directly by Amazon—and only $10 from other retailers that popped up in a Google Shopping search. "The message is clear," the BradsDeal.com post explains. "Buying something on Amazon -- especially from a seller you don't recognize -- without double checking whether the price is right is a big mistake."
Even Bigger Discounts—and What They Mean
Experienced Black Friday-Cyber Monday shoppers may view the 35% to 45% discounts cited above as unimpressive, and they'd sorta be right. After all, a whole host of retailers, including Abercrombie & Fitch, Eddie Bauer, Gap, Hollister, and Talbots were offering 50% off everything on Cyber Monday.
What's more, if you simply want to know which stores have the biggest Black Friday discounts, you can check out the research at WalletHub. At seven different stores (Shopko, Kohl's, Gordmans, Harbor Freight, J.C. Penney, Stage, and Macy's), the average discount of Black Friday sale items was 55% or higher. Macy's led the pack for Black Friday 2016 discounting, with the average item marked down 63.4%.
Read Next: Why All Those Great Holiday Deals Aren't Really Great Deals
The complication is that the stores with the biggest discounts also tend to have the most inflated list prices. And when a discount is based on an unrealistic original price that no one ever pays, it's basically meaningless. Shoppers can be overpaying when they think they're getting a "deal" at 60% or even 70% off.
Consumers have even filed lawsuits against Macy's and J.C. Penney, among others, arguing that inflated list prices are fraudulent and exist only to manipulate shoppers. It's your job as a savvy shopper to see through such marketing tricks and make wise purchasing decisions. You can do this by ignoring percentage discounts and instead deciding to buy based on your sense of value and what's a good price for the item at hand.
And of course: Shop around! Use Google Shopping or one of the many price-comparison apps out there to find out what retailer has the best price in head-to-head matchups. Even when a certain brand or style is sold exclusively by one store, you can search for similar goods to get a sense of whether the item you're considering is a steal or a rip-off.
Oh, and if you're purchasing anything at stores like Macy's, Kohl's, and J.C. Penney, be sure that you're paying less than half of whatever the original price is. If you're not getting at least that big of a discount at this time of year, you're all buy guaranteed to be paying too much.