7 Great Podcasts That Will Teach You Something About Money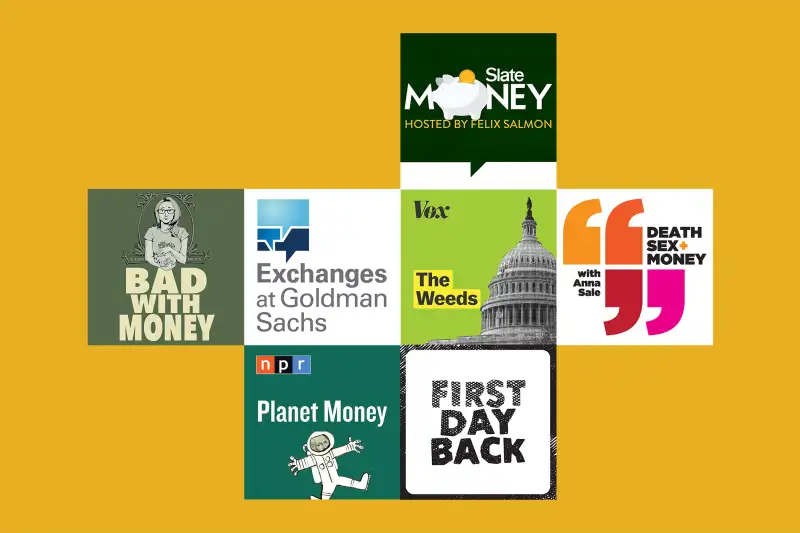 Photo illustration by Money
How well do you know your own money? According to a 2017 survey from finance site GoBankingRates, nearly 40% of Americans can't describe a 401(k) and just 36% of 18-to-24-year-olds know what "CD" stands for (it's a certificate of deposit, by the way). Needless to say, Americans are woefully undereducated about personal finance.
Luckily there's a fairly simple way to start learning the financial basics: Start listening to podcasts. Effort is minimal (plug in some headphones, download on your phone or computer, click 'play') and for personal finance specifically, there's a range of informative and entertaining selections. Here's our pick for the seven best.
1. The OG: Planet Money
NPR's Planet Money is a bi-weekly podcast that spun off a highly-lauded 2008 episode of This American Life about the financial crisis. If you're new to the podcast, start there—you've never heard the reasons behind the biggest recession of the last 50 years explained more clearly. Other standouts include a series on following oil from the refinery process to someone's car and another on tracking how a t-shirt is made from beginning to end through the global economy.
2. The New Player: Bad With Money
Hosted by comedian Gaby Dunn, Bad With Money explores the social and emotional facets of money, particularly as they relate to a younger generation. Freelancing, social status, how your parents messed up your relationship to money—Dunn isn't afraid to get personal, and the podcast is all the better for it. Now in its second season (the first had 24 episodes), Bad With Money does an excellent job coupling relevant advice and insight with Dunn's general skepticism and criticism of the financial system we all find ourselves trying to navigate.
While all of the episodes feature fascinating conversations with a range of different people and professionals, don't miss the second episode of the first season, in which Dunn sits down with a financial psychologist.
3. For the Investor: Exchanges at Goldman Sachs
courtesy of Goldman Sachs
Hosted by Jake Siewert, who interviews a rotating cast of Goldman Sachs employees, Exchange isn't exactly for beginners. But if you have a fairly firm grasp on the basics and want to get more into the nitty gritty of investing, this podcast is for you. You're not going to get a story per se, but if you want the scoop on what Brexit means for your portfolio or whether it's a good time to look into socially-conscious ETFs, there are few better sources.
4. Dissecting the News: Slate Money
Fusion's Felix Salmon hosts the weekly Slate Money podcast, joined most frequently by emerging-markets expert Anna Szymanski and Slate Moneybox columnist Jordan Weissmann. The trio breaks down the week's biggest money-related stories, whether that's former Yahoo CEO Marissa Mayer's voluminous golden parachute, the future of the Trans-Pacific Partnership, or the economics of craft beer.
5. Best Storytelling: Death, Sex, & Money
Death, Sex, & Money is a bi-monthly podcast hosted by Anna Sales and produced by WYNC studios (New York's NPR affiliate). Along the lines of Bad With Money, this podcast focuses on unique, potentially taboo stories touching on, well, death, sex, or money (or all three). Come for the discussions of the financial pitfalls of living alone, stay for the stories about listeners' near-death experiences. Standout money episodes include "The Sex Worker Next Door" and "I Had Babies to Pay for My Baby."
6. For the Job Seeker: First Day Back
courtesy of Tally Abbecassis
Everyone can identify with the emotions one experiences on the first day of a new job. And that's exactly what Montreal filmmaker Tally Abecassis details in the first season of First Day Back, a podcast about her experiences getting back into work after a six-year break. "My career is feeling too far away and I'm losing track of that other part of myself," Abecassis says at the beginning of the first episode, a notion familiar to many moms (and dads) in the U.S. who have put their work aside to care for their families. Through the 10 episodes - which are meant to be listened to in order - Abecassis weaves her own stories and interviews with others going through similar experiences.
7. Deep Take: Vox's The Weeds
The Weeds is a policy podcast hosted by Ezra Klein, Matthew Yglesias, and Sarah Kliff of Vox. These self-proclaimed "wonks" go deep on different issues each week, not all of which are strictly money-related. This podcast leans left and can run over an hour, but each episode offers wide-range of discussions, from universal basic income debates to what's in the latest healthcare bill. If you want to learn some of the nuances of core U.S. economic policy issues, it's worth your time.