This Is the Best Park in Every U.S. State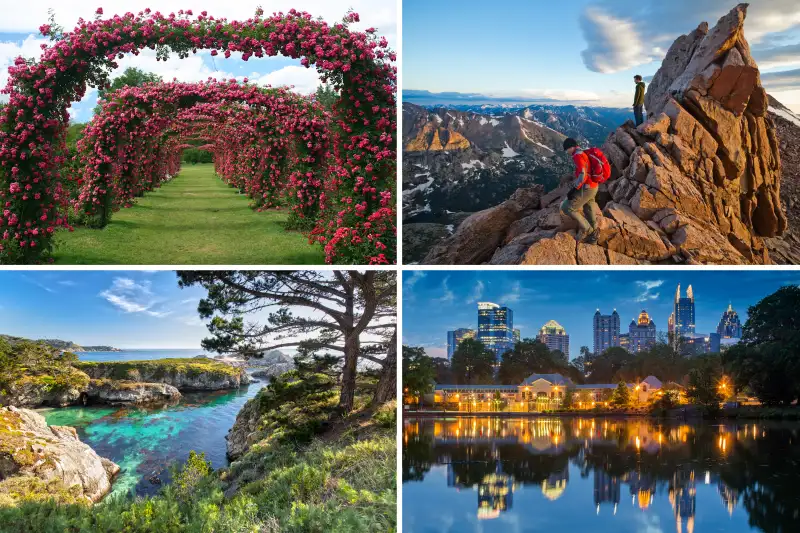 (clockwise from top left) Earle Stone—Elizabeth Park Conservancy, Getty Images (2), Alamy
This summer, get yourself, your family, or even your pet outdoors and explore the hidden natural wonders in your own backyard.
With the help of Yelp, Money has identified the best park in each of the 50 states as well as the District of Columbia, and then spelled out the costs to visit them.
Some spots are quaint local parks, others bustling community hubs. Several are massive national parks. All were singled out by a Yelp algorithm that considered both the number of positive park reviews and its business star ratings.
Money then added travel costs, where available, generated from its Best in Travel database—factoring in average flight, hotel, car, and food prices. The price is based on a three-day trip for two people; if a city is identified in parentheses next to the price, it's because we used that city rather than the park's nearest town.
The best part? Many of these parks are free to visit. So slather on the sunscreen and don your running shoes, hiking boots, or flip-flops to check out your state's park gem.
---
Alabama
Birmingham, Alabama
3-day trip cost: $1,179
Admission: Free
Sometimes called "Birmingham's front lawn," Railroad Park offers views of the city's skyline. You can hike, bike, or stroll along its many trails, or take one of the free weekday exercise classes.
---
Alaska
Anchorage, Alaska
3-day trip cost: $1,605
Admission: Free
Anchorage's best-known trail, this 11-mile path allows runners, bikers, and even skiers to take in sweeping views of Alaska's wild beauty. You'll see icebergs, active volcanoes, and salt marshes, plus get a glimpse of North America's highest peak, Denali—also known as Mount McKinley. You may even come across a moose or two along the way.
---
Arizona
Patrick J. Endres—Getty Images
Grand Canyon, Arizona
3-day trip cost: $1,447
Admission: $35 per vehicle
The Grand Canyon is one of the largest chasms on Earth—over a mile deep and up to 18 miles wide in some sections. It's also one of the country's most visited places. Over 6 million people visited last year, most through the South Rim—the most accessible portion, which is open year-round and includes scenic viewpoints such as Pipe Creek Vista, Mather Point, and Yavapai Point. Or get off the beaten path with day tours through operators like The Wildland Trekking Company (starting at $135), which will let you explore the South Kaibab Trail to Skeleton Point.
---
Arkansas
courtesy Arkansas Dept of Parks
Roland, Arkansas
3-day trip cost: $1,169 (Little Rock)
Admission: Free
This state park surrounds Pinnacle Mountain in Arkansas, set amid the Maumelle and Little Maumelle rivers. Over 40 miles of biking and hiking trails cross the park, making it ideal for both casual hikers and skilled athletes. You could also boat along the rivers, or take a canoe tour led by park interpreters.
---
California
Carmel, California
3-day trip cost: $1,614
Admission: $10 per vehicle per day
Steep cliffs and rock formations shelter coves along the shoreline of this park, providing perfect views for nature lovers, wildlife buffs, and casual picnickers. From the shore, expect to spot seals, sea lions, sea otters, and (from December to May) migrating gray whales.
---
Colorado
Ethan Welty—Getty Images/Aurora Creative
Estes Park, Colorado
3-day trip cost: $1,094
Admission: Walk-ins $10 per day or $15 for a seven-day pass. Cars $20 per day or $30 for a seven-day pass.
With scenic drives, leisurely lakeside strolls, and miles of steep mountain scrambles, the main downside to Rocky Mountain National Park is that you'd need multiple trips to experience it all. The loop around Dream and Emerald lakes from the Bear Lake Trailhead is a solid way to get multiple vistas in a single half-day hike. Want the scenery with fewer physical demands? Drive the Trail Ridge Road.
---
Connecticut
Earle Stone—Elizabeth Park conservancy
West Hartford, Connecticut
3-day trip cost: $1,133
Admission: Free
Stretching across 101 acres, Elizabeth Park is best known for the flowerbeds that fill the park with color each spring. The grounds are home to 11 different gardens, with the star being the 2.5-acre rose garden. The grounds, which are free to visit, also hold a pond, athletic courts and a restaurant.
---
Delaware
Glasgow, Delaware
3-day trip cost: N/A
Admission: Free
Glasgow Park is an inclusive space for people with disabilities. The playground areas are ADA accessible, and the H!GH5 Autism Park offers a multi-sensory experience designed for those on the autism spectrum to enjoy. The skate park has two different styles of bowls, and the dog park has two separate fenced areas for large and small dogs.
---
District of Columbia
Washington, D.C.
3-day trip cost: $1,313
Admission: Free
Meridian Hill Park, often called Malcolm X Park, is a gorgeous 12-acre green space in the Columbia Heights neighborhood of Washington, D.C. The most dramatic feature of the park, which is designed to resemble formal Italian gardens, is a 13-tiered sprawling fountain that spills into a large reflecting pool.
---
Florida
Getty Images—Getty Images
Delray Beach, Florida
3-day trip cost: $995 (Deerfield Beach)
Admission: Free
This former utility property was converted into 50 acres of wetlands more than 20 years ago. Visitors can meander along a nearly mile-long boardwalk pasts ponds and islands. Expect bird sightings—as many as 178 bird species have been spotted—as well as glimpses of Florida's famous alligators.
---
Georgia
Atlanta, Georgia
3-day trip cost: $1,083
Admission: Free
Just north of downtown Atlanta, Piedmont Park plays host to many of the city's festivals and outdoor events, including the Atlanta Pride Festival and the Atlanta Jazz Festival. The park's 200 acres include baseball fields and a public pool, and play host to a Saturday green market. Locals can also fish in the park's almost 12-acre lake, Clara Meer, which is stocked with large-mouth bass, crappie, bream and catfish.
---
Hawaii
Jerry Alexander—Getty Images
Waimea, Hawaii
3-day trip cost: $2,066
Admission: Free
Lovingly referred to as the "Grand Canyon of the Pacific," Waimea Canyon on the lush island of Kauai provides outdoor enthusiasts with an alternative to the island's beaches and golf courses. Both the local foliage and the natural erosion from the Waimea River create a colorful landscape—best taken in via a helicopter tour or a downhill bicycle excursion.
---
Idaho
Boise, Idaho
3-day trip cost: $1,126
Admission: Free
The Boise River Greenbelt is one of the city's most beloved parks, thanks in part to a cleanup effort that took place in the 1960s. The tree-lined pathway stretches nearly 25 miles along the Boise River, linking a dozen major parks and providing open spaces, bike paths, and hiking trails.
---
Illinois
Steve Geer—Getty Images/iStockphoto
Chicago, Illinois
3-day trip cost: $1,160
Admission: Free
One of the largest greenhouse conservatories in the nation, Garfield Park Conservatory on Chicago's West Side holds rooms dedicated to palms, prehistoric ferns, and desert landscapes. In the summertime, you can lounge beside the lily pools and aspen trees in the park's outdoor gardens.
---
Indiana
courtesy of Downtown Indy
Indianapolis, Indiana
3-day trip cost: $1,138
Admission: Free
Some of the best views of Indianapolis are from this downtown canal walk, a three-mile loop that connects the Northern parts of downtown Indy to White River State Park. During warmer months, you'll find visitors biking, strolling, paddling and running along the refurbished waterway. The park also features gondola rentals, public art, and museums—including the Indiana State Museum, home to Fred the Mastodon as well as remains of dire wolves and saber-toothed tigers.
---
Iowa
Des Moines, Iowa
3-day trip cost: $1,165
Admission: Free
Located in the heart of Des Moines, Gray's Lake Park features a 1.9-mile trail encircling the lake—lit up for evening visits. If you like fishing, Gray's Lake has plenty of catfish and even hosts an annual Carp Fest.
---
Kansas
courtesy of Shawnee Mission park
Shawnee, Kansas
3-day trip cost: $1,044 (Kansas City)
Admission: Free
Not only a Yelp users' favorite, 1,600-acre Shawnee Mission Park is also the state's most visited park. Credit the many amenities on its 1,600 acres: Get out on the 120-acre lake to enjoy boating, fishing or sail boarding—or if you prefer dry land, try out the nature trails, archery range, or disc golf course. Dog owners can let go of the leash at one special section of the park, while horse lovers can take a ride on the equestrian trails.
---
Kentucky
Louisville, Kentucky
3-day trip cost: $1,162
Admission: Free
The open pastures, dense groves, and rolling hills that make up Cherokee Park are walkable, runnable, and driveable. Shadowing the sprawling Beargrass Creek, the park's 2.4-mile Scenic Loop has separate lanes for vehicles and pedestrians.
---
Louisiana
courtesy of New Orleans City Par
New Orleans, Louisiana
3-day trip cost: $1,216
Admission: Free
Almost double the size of New York's Central Park, this massive urban green space offers a respite from the surrounding environs. City Park houses several major attractions in its 1,300 acres, including the New Orleans Botanical Garden ($8), a golf course, a tennis complex, and the Carousel Gardens Amusement Park ($4). The park also holds the country's largest collection of centuries-old oak trees, some of which have stood for more than 600 years.
---
Maine
Jerry Monkman/Aurora Photos—Getty Images
Bar Harbor, Maine
3-day trip cost: $1,791
Admission: $25 per vehicle
Acadia National Park offers not only history—it was the first ever national park located east of the Mississippi River—but also tons of activities, with more than 150 miles of trails and multiple beaches. Visit in October, when fall foliage is at its peak, to enjoy especially breathtaking views.
---
Maryland
Brooks Kraft—Corbis via Getty Images
Potomac, Maryland
3-day trip cost: 1,313 (Washington)
Admission: $10 per vehicle at the Great Falls Entrance Station
Just outside of Washington, D.C., Billy Goat Trail includes stunning views of the Great Falls along the Potomac River, with three different routes to hike, depending on your desired level of intensity. Visitors can also opt to channel the trail's namesake by scaling rocks and steep slopes along one arduous portion (called "Section A") of the hike.
---
Massachusetts
Boston, Massachusetts
3-day trip cost: $1,445
Admission: Free
This "living collection" of tree and plant life is operated by Harvard University, so it's no surprise that it's biggest draw is education. From free walking tours of the Arboretum's 281-acre grounds to more esoteric classes (everything from "Identifying Ferns" to "The Straight Talk on Hydrangeas"), this is a nature geek's paradise.
---
Michigan
Stephen Saks—Getty Images/Lonely Planet Image
Empire, Michigan
3-day trip cost: $1,425 (Glen Arbor)
Admission: $20 per vehicle
The Sleeping Bear Dunes National Lakeshore, located on Lake Michigan's coast, is known for its towering sand bluffs—some as high as 450 feet above the lake. Take the family swimming in one of the park's 21 lakes, or take a drive along the iconic Pierce Stocking Scenic Drive overlooking the lakeshore.
---
Minnesota
Minneapolis, Minnesota
3-day trip cost: $1,155
Admission: Free
Miles of walking and cycling trails circle Lake Harriet's perimeter. But the main appeal is the lake itself: Visitors can swim, fish, sail, kayak, canoe, and paddle boat all summer long. At night, people gather en masse for free concerts under Harriet's lakeside bandshell.
---
Mississippi
De Agostini/G. Wright—Getty Images
Vicksburg, Mississippi
3-day trip cost: $1,263
Admission: $15 per vehicle
Commemorating the Civil War Battle of Vicksburg, fought in 1863, this park is a living museum, with historic trenches, two antebellum homes, and the restored ship USS Cairo (sunk in 1862). On its almost 2,000 acres, the park offers live musket and cannon demonstrations throughout the year, as well as a free "cell phone driving tour" offering descriptions of the main sites around the park and their significance.
---
Missouri
Saint Louis, Missouri
3-day trip cost: $1,204
Admission: Free
Forest Park's twisting paths and leafy landscape contain the stunning Saint Louis Art Museum, a free zoo, and The Muny, the renowned outdoor theater that draws talented actors from around the country for performances each summer. Larger than New York's Central Park, the St Louis landmark offers wide-open pastures perfect for kite flying and picnicking.
---
Montana
Jordan Siemens—Getty Images
West Glacier, Montana
3-day trip cost: $1,243
$30 per vehicle
Situated on Montana's northern border with Canada, Glacier National Park is known for its raw beauty, enhanced by 20 glaciers and roughly 200 lakes—including the largest, Lake McDonald. Take in Glacier's vistas with a drive along the 50-mile Going-to-the-Sun Road, which traverses the park's spectacular features—from large glacial lakes to the windswept mountain terrain atop Logan Pass.
---
Nebraska
Kraken—Getty Images/iStockphoto
Omaha, Nebraska
3-day trip cost: $1,106
Admission: Free
One of the largest manmade lakes in the state, Zorinsky Lake was named after the late U.S. senator Ed Zorinsky. The large lake and the surrounding park area welcome boating and fishing; athletes can practice at the park's baseball diamond, or its soccer and football fields.
---
Nevada
Jenelle Jacks—Getty Images/iStockphoto
Overton, Nevada
3-day trip cost: $1,003 (Las Vegas)
Admission: $10
Outcrops of red Aztec sandstone give this park its name—and its otherworldly beauty. Hikers will be tempted by its many trails and colorful views, but this 40,000-acre park also holds ancient petrified trees and petroglyphs made more than 2,000 years ago. Stop by its visitor center for exhibits on the geology and history of the region.
---
New Hampshire
Ruben Kincaid—Alamy Stock Photo
North Woodstock, New Hampshire
3-day trip cost: $1,200 (Laconia)
Admission: $21 for adults, $17 for kids ages 4-12, free 3 and under
A classic White Mountains attraction owned by a nonprofit forest association, Lost River Gorge welcomes visitors to clamber and crawl—sometimes flat on your belly—through a self-guided tour of rock caves with names like Devil's Kitchen, Thor's Cauldron, and the Lemon Squeezer. The park features an intricate system of wooden paths, stairs, and ladders, with options to bypass the darkest, narrowest caverns if you're feeling claustrophobic (or worried you might get stuck). No special equipment is needed, but bring sturdy footwear for sure.
---
New Jersey
cjmckendry—Getty Images/iStockphoto
Cape May Court House, New Jersey
3-day trip cost: $1,228
Admission: Free
Monkeys, cheetahs, and zebras are just some of the attractions at the Cape May County Park and Zoo. But while the park's 30 different kinds of animals might steal the spotlight, the park's 200-plus acres are also home to picnic areas, a disc golf course, and walking paths. Admission to the park and zoo is free.
---
New Mexico
Carlsbad, New Mexico
3-day trip cost: $1,219
Admission: $12 per person
Rocky canyons, cacti, and desert wildlife greet your eyes on the surface of this park—but the real draw here is underground, in the park's 119 caves. Be sure to experience the Big Room, the largest single cave chamber in North America, where you'll find mammoth stalactite displays hanging from the ceiling and stalagmites straining to meet them from the ground, as well as a rope ladder used by explorers in 1924.
---
New York
courtesy of the Central Park Conservancy
New York, New York
3-day trip cost: $1,466
Admission: Free
There's a reason Central Park is the most visited urban park in the U.S. With almost 850 acres, the park houses a zoo, a theater, a castle, and even an ice-skating rink in winter—right in the middle of New York City. If you're a return visitor, take in some of Central Park's hidden gems with a two-hour walking tour ($65).
---
North Carolina
Yves Marcoux—Getty Images/First Light
Asheville, North Carolina
3-day trip cost: $1,293
Admission: Free to travel; $16 to camp
The Blue Ridge Parkway is unusual in that you can experience it while you're in transit; drive any section of the nearly 470-mile road and you're sure to encounter mountain views. When you're ready to stretch your legs, pull over and take a hike—like one to Linville Falls, accessible from trailheads near Milepost 316.
---
North Dakota
Medora, North Dakota
3-day trip cost: N/A
Admission: Free
As a refuge for a young Theodore Roosevelt, this rugged prairie served as inspiration for the future president's conservation efforts. Today, visitors can hike, ride horses, and gaze at bison and other wildlife, while the more intrepid can camp in the backcountry. Kids can earn a Junior Ranger badge by completing a Junior Ranger Field Journal.
---
Ohio
National Geographic Creative—Alamy
Cincinnati, Ohio
3-day trip cost: $1,763
Admission: Free
Newly renovated and expanded less than six years ago, Washington Park is at the heart of Cincinnati. The park's amenities include a playground, a dog park, and a "civic lawn" used for concerts and cultural events. During summer months, locals can grab a craft beer or glass of wine on the Southwest Porch and play games like chess (using an oversized set) and ping-pong.
---
Oklahoma
Ann Hermes/Christian Science Mon—Getty Images
Tulsa, Oklahoma
3-day trip cost: $1,135
Admission: Free
Located in the Tulsa Arts District, the park was once a blighted industrial site that has since been converted into an urban community space. Today, this downtown hub features weekly concerts, food truck Wednesdays, daily fitness activities, movie showings, summer concerts, children's activities and more.
---
Oregon
Bridal Veil, Oregon
3-day trip cost: $1298 (Portland)
Admission: Free
Just a 45-minute drive from Portland, this more than 600-foot cascade makes a perfect trip for low-key explorers. The falls are just a five-minute walk from the parking lot, and more daring visitors can walk across Benson Bridge, which spans Multnomah Falls at the base of its first tier. Even from there, you'll need to gaze upward almost 550 feet to the top of the falls.
---
Pennsylvania
Pittsburgh, Pennsylvania
3-day trip cost: $1,148
Admission: $17.95
The Phipps Conservatory and Botanical Gardens in Pittsburgh is a historical gem, gifted to the city by businessman Henry Phipps in 1893. Today, the Phipps has over a dozen indoor garden rooms, as well as six outdoor formal gardens, including an a rooftop plot filled with edible plants and an aquatic garden. The Phipps also has rotating exhibits, such as the Butterfly Forest and the annual Summer Flower Show.
---
Rhode Island
Steve Proehl—Getty Images
Newport, Rhode Island
3-day trip cost: $1,394
Admission: Free
This 3.5-mile shoreline walk combines natural scenery and striking architecture. Designated as a National Recreation Trail, the path winds past mansions from Newport's Gilded Age, many of which are open to tourists. Proper footwear is essential, as the walk becomes rocky and slippery in places.
---
South Carolina
Education Images/UIG—Getty Images
Greenville, South Carolina
3-day trip cost: $1,161
Admission: Free
A pedestrian suspension bridge curves over a waterfall on the Reedy River in this park, located next to downtown Greenville. But Liberty Bridge isn't all there is to see. A collection of public gardens and a wall from a grist mill dating to 1776 also call the park home. Theater buffs should visit in summer, when Falls Park hosts the Upstate Shakespeare Festival.
---
South Dakota
Laura Grier—Getty Images/Robert Harding Worl
Custer, South Dakota
3-day trip cost: $1,469
Admission: $20 per vehicle
See if you can spot Custer State Park's famous herd of 1,300 bison on your drive down the scenic Needles Highway or Iron Mountain Road. You can catch views of more wildlife—such as elk, coyotes, bighorn sheep and mountain goats—as you go further in the park. For a sense of accomplishment, hikers can climb to the top of Black Elk Peak, roughly 7,230 feet in elevation and the highest point in the U.S. east of the Rocky Mountains.
---
Tennessee
Gatlinburg, Tennessee
3-day trip cost: $1,209
Admission: Free
Heading toward the Smokies? Do yourself a favor and skip overcrowded Gatlinburg in favor of spending time in the mountains themselves. No matter what you do, make sure you get to Cades Cove at dusk—you'll want to drive the 11-mile loop, along which you're sure to spot deer, fireflies, and maybe even bears.
---
Texas
Rick Kern—WireImage/Getty Images
Austin, Texas
3-day trip cost: $1,145
Admission: Free
The great thing about the Texas capital is that while it looks like a city, the feel is actually quite like a small town. Aiding in that sentiment is Butler Park (formerly known as Town Lake Park), a lush green space adjacent to downtown Austin, right along the Colorado River. Take in an outdoor concert at Auditorium Shores, check out the Stevie Ray Vaughan statue, or get in a quick 9 holes at the Butler Pitch and Putt, where a round will cost you $11 tops. Austin may be the "live music capital of the world," but for those looking for a quiet, more relaxed vibe, this is the place to go.
---
Utah
Springdale, Utah
3-day trip cost: $1,519
Admission: $30 per vehicle
Zion stands even among Utah's five national parks, boasting 2,000-foot sandstone cliffs and geological deposits that date back to roughly 110 million to 270 million years ago. A shuttle service gives easy access to the valley's trail entry points, with water stations and restrooms at every stop. Climbing and canyoneering offer thrills and views for the more adventurous—but you'll need a permit (and some solid wilderness skills).
---
Vermont
Quechee, Vermont
3-day trip cost: N/A
Admission: Adults $15.50, seniors $14.50; youth $13.50; 3 and under free
Located on 47 acres of forest, meadows and rolling hills, this educational campus houses a sanctuary for eagles, hawks and other birds of prey that can no longer live in the wild. Visitors can see the birds up close, hike the park's nature trails, and take in exhibits on the natural world.
---
Virginia
Richmond, Virginia
3-day trip cost: $1,151
Admission: Free grounds admission, $5 suggested donation for wildlife exhibits
Just a stone's throw from the James River, the Maymont has plenty to offer outdoor lovers, from Japanese gardens to live black bears and bison at the wildlife exhibits. History buffs will revel in the Maymont Mansion, a Gilded Age compound that was completed in 1893 and owned by local businessman and lawyer James Dooley. And should the mood strike, you can tour the grounds in old-school fashion by renting a horse-drawn carriage.
---
Washington
Tacoma, Washington
3-day trip cost: $1,134
Admission: Free
With forested hiking trails, sandy beaches, and a zoo, Point Defiance Park offers options for everyone. The park, which encompasses 760 acres across a Tacoma peninsula overlooking Puget Sound, is free to visit—although some of its attractions, like the zoo and aquarium, charge an additional fee.
---
West Virginia
U.S. National Park Service
Harpers Ferry, West Virginia
3-day trip cost: $1,057
Admission: $10 per vehicle
Set at the junction of the Potomac and Shenandoah rivers in West Virginia, the town of Harpers Ferry (one of Money's 2018 Best in Travel destinations) was the site of abolitionist John Brown's 1859 raid—a historic moment that visitors can explore at a designated visitors center, park museums, and a Civil War battlefield. The park hosts a full schedule of tours and other ranger programs throughout the year.
---
Wisconsin
Baraboo, Wisconsin
3-day trip cost: $1,417
Admission: $13 for residents, $16 non-residents
Talk about (pre)historic: The 360-acre lake in Wisconsin's biggest state park was created by ice-age glacier deposits. You can swim in one of the two sandy beaches at Devil's Lake, or try scuba diving among the various fish species. If you'd rather stay dry, the park's campsites are available in the summertime for non-residents for $27 on the weekends (or $42 with electric connection).
---
Wyoming
S. Zenner—U.S. National Park S
Moose, Wyoming
3-day trip cost: $1,795
Admission: $30 per vehicle
Put the Grand Tetons on your bucket list: This mountain range invites beginner and hardcore outdoor enthusiasts alike. For just $30, you and and a car of your friends or family can explore the area for up to a week, which features rustic cabins for lodging, numerous hiking trails, and lakes and streams for peaceful fishing among the locals—which tend to be moose, elk, and bald eagles.
Contributions from: Allana Akhtar, Tari Ayala, Mike Ayers, Kristen Bahler, Matt Bemer, Jennifer Calfas, Julia Glum, Megan Leonhardt, Kaitlin Mulhere, Elizabeth O'Brien, Kerri Anne Renzulli, and Brad Tuttle