Answer These 5 Questions and We'll Tell You Where to Go on Vacation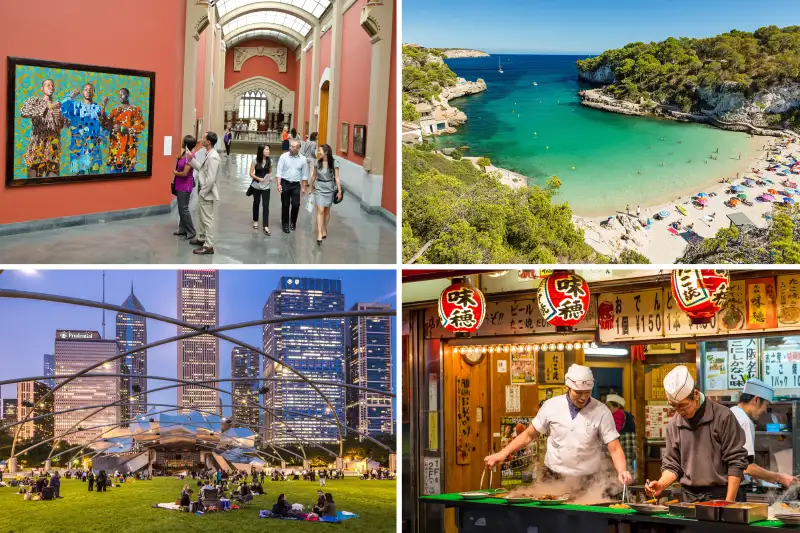 (clockwise from top left) courtesy of Visit Philadelphia; Getty Images (2); Alamy
Where do you want to go next?
For Money's 2018 Best in Travel package, we picked the best destinations both in the U.S. and internationally. These spectacular, affordable spots deliver both excellent experience and solid value, across a range of vacation options—from lake towns to urban hubs.
But when it comes to your next trip, you may have very specific priorities of your own: Perhaps you want a cheap, overseas beach getaway; a mid-range foodie destination, or an upscale family vacation right in the U.S. This tool can help.
Some of the winning options here are from our Best in Travel picks; others go farther afield. All of them meet our criteria for good travel value.
Answer the questions below to identify the spot that meets your travel priorities and budget—and how much it will cost you. Then get packing.
How we did it: Using research from leading travel providers such as Booking.com, Hipmunk, Hopper, Hotels.com, Kayak, and Trip by Skyscanner as well as our own reporting, Money weighed more than 32,000 data points for almost 750 popular domestic and international travel destinations. We then ranked them on overall cost factors, giving the most weight to airfare, lodging, and food, as well as the biggest year-over-year price drops. We considered the number of tourist amenities in each city, crime rates, pleasant weather, and ease of access to public transportation. Then, for each type of trip, we identified the highest-ranking spot in every price bracket. For more, see the full Best in Travel 2018 methodology.