The 10 Best Places to Live in the West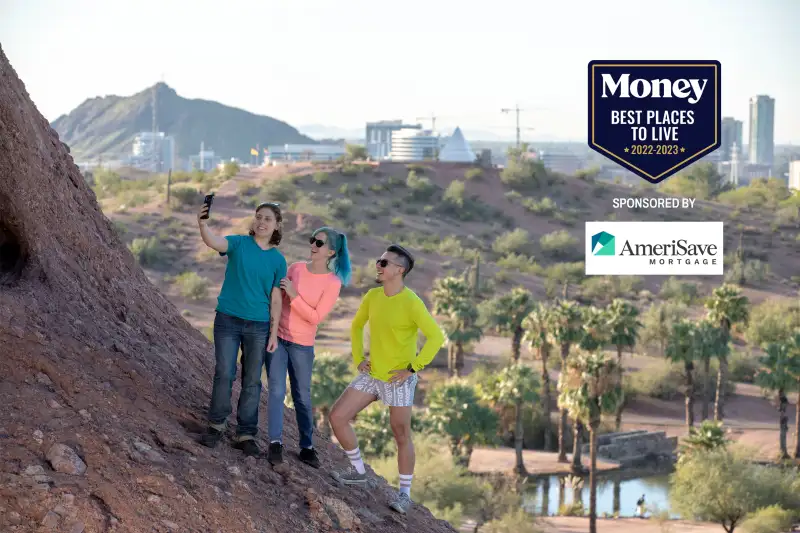 Sometimes, you just gotta bring the lake to you.
When you hear of a city like Tempe, Arizona — located on the northern edge of the Sonoran Desert about 10 miles east of Phoenix — a waterfront vista full of paddle boarders, kayakers and boaters might not be the first image that pops into your mind. Downtown Tempe will nonetheless treat you to those unexpectedly gorgeous views vis a vis Tempe Town Lake.
But it wasn't always that way. Despite its name, Tempe Town Lake is actually a two-mile long, 225-acre artificial reservoir that was created in 1999 by damming the dry Salt River.
Legend has it that the project was born in the '60s, when an Arizona State University architecture professor asked his students to reimagine the Salt River bed, which was being used as a landfill. Whatever its origins, the project became a huge success, and the city government says that Tempe Town Lake is now the second most popular attraction in all of Arizona, ostensibly behind the Grand Canyon.
Beyond a great lake, what makes Tempe the best place to live in the West (and No. 2 on our overall Best Places to Live list) is a perfect mix of a strong economy, diversity of population and affordability.
Money has narrowed down our Best Places list into four regions, and we focused on places with populations of at least 50,000 that were located in the 13 Western states as defined by the U.S. Census. Those states include: Arizona, Alaska, California, Colorado, Hawaii, Idaho, Montana, New Mexico, Nevada, Oregon, Utah, Washington and Wyoming.
We also limited the rankings to one place per county and two places per state. As with our core Best Places to Live ranking, we collected approximately 350 pieces of data on each Western place and grouped that information into nine primary ranking categories such as amenities, cost of living, diversity, economic opportunity and more. (See our full Best Places methodology for more details.)
While home to Arizona State University, Tempe is much more than a college town. Of course, there are ample opportunities to study and party, but the mid-sized town of approximately 190,000 residents also boasts a thriving arts and music scene while providing several ways to enjoy the outdoors with its plentiful trails and parks.
Tempe's economy is particularly worth noting. Its unemployment rate — which has been hovering in the low 3% range — has been consistently lower than neighboring Phoenix, the state of Arizona and the country overall. Job growth in the area is expected to remain strong in the years ahead as well, jumping more than 9% through 2026, according to projections from Moody's Analytics. And that's on top of 9% growth between 2016 and 2021.
All these factors show what locals already know: You can't find a better place than Tempe to work and play in the West. Check out our full top 10 list below:
The 10 best places to live in the West
Tempe, Arizona
Kirkland, Washington
Boise City, Idaho
Irvine, California
Fremont, California
Hillsboro, Oregon
Denver, Colorado
Salt Lake City, Utah
Westminster, Colorado
Orem, Utah
More from Money:
The 50 Best Places to Live in the U.S.

The 10 Best Places to Live in the Northeast