Best Places to Visit in Asia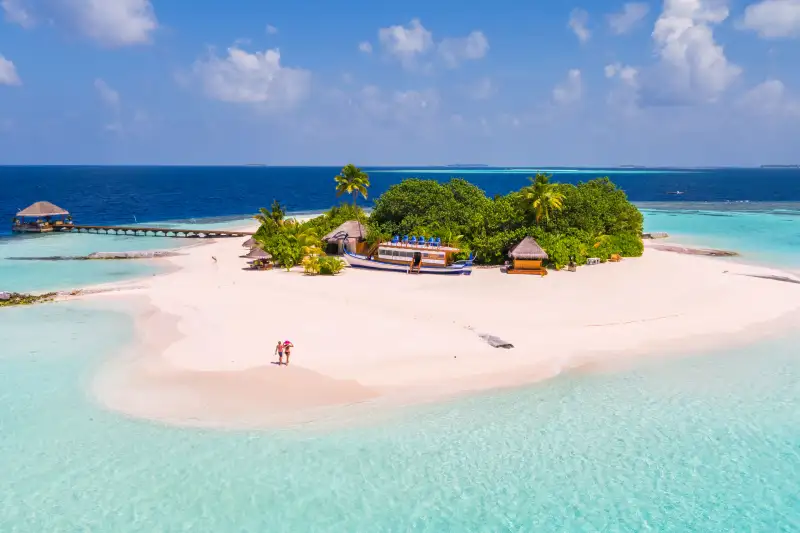 Asia is a continent filled with diverse cultures, landscapes and cuisines, making it one of the most desirable destinations for travelers worldwide. Whether you're looking for beautiful beaches, street food in a busy urban center or an unforgettable visit to unique cultural and religious sites, there's something for everyone in Asia.
With so many amazing places to visit, it can be overwhelming to narrow down your choices. To help you learn more about destinations in Asia you may wish to see, here's a list of the best places to go, along with tips for making the most of your trip.
Our Top Picks for Best Places To Visit in Asia
Best Places To Visit in Asia Reviews
Best for Island Hopping: Maldives
Pros
Stunning beaches
One-of-a-kind coral reefs with sea life unique to the region
All-inclusive packages are an excellent deal for even novice travelers
Cons
Its remoteness means major medical attention is only available through evacuation
Travel from island to island requires a ferry, seaplane, or speed boat
Why we chose it: This remote location in the middle of the Indian Ocean is comprised of 1200 or so islands.
If you're looking for a tranquil holiday in sunnier climes, the equatorial nation of Maldives should be at the top of your shortlist. The Maldives is a tropical paradise with verdant landscapes, pristine white sand beaches, turquoise oceans and colorful coral reefs begging to be explored.
This stunningly beautiful destination sees an impressive number of annual visitors, with around 1 million tourists expected per year. It's popular for many reasons, but chiefly because it's an excellent choice for those looking to escape reality and relax in paradise for a while.
The Maldives is home to numerous cultural and historical sites protected by UNESCO. It's surprisingly affordable, with many all-inclusive resorts and packages available from travel booking sites. Entry criteria for the Maldives are relatively strict, requiring travelers to have a valid passport, proof of onward travel and a valid visa before entry. Obtaining a visa is fairly straightforward, however, and shouldn't deter potential visitors from making the journey.
Best for Architecture Enthusiasts: Jaipur
Pros
India's first planned city, renowned for its architectural beauty
Cultural and historically significant sites dot the city and environs
Friendly, welcoming locals
Cons
May have poor air quality
Traffic congestion can make travel within the city difficult
Very hot in the summer
Why we chose it: The capital city of Rajasthan in central India is home to a UNESCO World Heritage site and a pink palace inspired by a divine jewel.
Jaipur is famous for its incredible architecture. Chief among the many sites is the "Palace of Winds," or Hawa Mahal, a majestic structure built entirely out of pink and red sandstone and designed to resemble the crown of the Hindu god Krishna.
Jantar Mantar, Jaipur (not to be confused with the larger Jantar Mantar in New Delhi) is a UNESCO World Heritage Site and features enormous, stone-built astronomical equipment. The towering Jaigarh Fort and the elegant, symmetrical stairways of the Panna Meena ka Kund are also must-sees.
In addition to breathtaking architecture, the city boasts numerous affordable hotels and restaurants — and hosts numerous fairs and festivals throughout the year. India is one of the most affordable countries to visit in Asia, making it an attractive destination for budget-minded travelers. With its stunning scenery, vibrant culture, rich history and affordability, it's no wonder Jaipur is one of the most popular tourist destinations in India.
Best for Pristine Beaches: Koh Rong North Beach, Cambodia
Pros
Secluded natural beauty
Very affordable
Famed for stunning displays of bioluminescence
Cons
No available WiFi, limited mobile phone coverage
Few modern conveniences
Why we chose it: Koh Rong's northernmost beach is a secluded paradise, perfect for those looking for a break from the hustle and bustle of modern life.
Cambodia is better known for its ancient temples and lush greenery, but its beaches are something of a open secret. All of Koh Rong's beaches are beautiful, but the northernmost beach (known to locals simply as "North Beach") provides something of a castaway experience. A boat trip is required to get there, keeping it secluded and free of crowds.
Those who see a lack of WiFi and a limited selection of distractions from the sea and sand as drawbacks may wish to avoid it, as a 30-minute hike along paths through the jungle is needed to reach the nearest town. However, the beach has its devotees. In the summer, informal parties dot the coast as sightseers gather to see the spectacular blue-green bioluminescent plankton Koh Rong is famous for.
It's important to note that the southern beaches of Koh Rong are known for sometimes wild parties, especially on Police Beach. Still, Koh Rong attracts fewer than ten thousand visitors yearly, and even fewer filter through to North Beach. Entry into Cambodia is relatively relaxed, requiring only a valid passport and visa.
Best for Visiting UNESCO World Heritage Sites: Seoul
Pros
Has hiking trails accessible via subway
World-class cuisine
Gorgeous and extremely well-preserved historical sites
Cons
Can get expensive
Often crowded
Seoul weather is known for being unpredictable
Why we chose it: Seoul is a fantastic destination for travelers looking to experience a unique blend of traditional and modern culture, with numerous excellently preserved UNESCO World Heritage sites.
The capital city of South Korea is home to several centuries-old UNESCO World Heritage Sites, including the 15th-century Changdeokgung Palace Complex. These ancient sites contrast with the vibrant cityscape of busy streets and towering skyscrapers. Don't forget to explore the city's many green spaces, such as Namsan Park and Bukhansan National Park, part of what makes this city a must-see destination for travelers looking to discover the best of Asia.
Seoul is one of the most popular places to travel in Asia, offering a unique combination of stunning scenery, rich culture and history, all with unexpected affordability. The city is also easy to access, with various robust transportation options. Rail passes are plentiful and foreign credit cards are widely accepted in Korea.
South Korea has relatively relaxed entry criteria for travelers with Western passports. All of these factors combine to make Seoul an attractive destination for anyone looking to explore the rich culture, history and beauty of South Korea.
Best for Desert Landscapes: Gobi Desert, Mongolia
Pros
Unspoiled, vast desert vistas
Culturally rich
Huge selection of outdoor activities
Cons
Very remote
Extreme winter weather, dust storms in summer
Why we chose it: The Gobi Desert is one of Asia's most stunning natural wonders, covering over a million square kilometers stretching from northern China to Mongolia, crisscrossed with ancient Silk Road routes merchants have used for centuries.
Visitors to the Gobi Desert can look forward to stunning sand dunes, dinosaur fossils and friendly Bactrian camels. The experience that stays the longest with most visitors is the welcoming hospitality of the local nomad families. They often invite visitors to stay in their traditional Mongolian gers, often called yurts in the west.
Mongolia is known for its spectacular natural beauty. The Gobi Desert and the Altai Mountains provide a stunning backdrop for any excursion. It also has several important cultural and historical sites, including the ancient city of Karakorum, the capital of Genghis Khan's Mongol Empire.
Accommodation and food are generally quite affordable, and the country has a wide range of activities to suit all budgets. It also has an excellent long-distance transport system, making it easy to get around and explore. Entry criteria are lenient, requiring a passport and an easy-to-get tourist visa without specific health requirements. Flights from the US are long, averaging 20 hours, but can be had for surprisingly little.
Other Places to Visit in Asia We Considered
When reviewing the five best places to travel in such a vast area, there's no shortage of honorable mentions. All of the following are worthy in their own way, though perhaps more expensive or with some other downside compared to the above picks.
Taipei
Pros
National Palace Museum has stunning exhibitions
Excellent, world-famous cuisine
Varied nightlife
Cons
Crowded
Poor air quality made mask-wearing common even pre-COVID
Taipei, the capital of Taiwan, has no shortage of activities, from climbing the iconic Taipei 101 tower to touring the exhibits of the National Palace Museum to Shilin Night Market. While beautiful and with many excellent features, Taipei is a modern city with modern problems like overcrowding and some of the worst pollution in Asia.
Hong Kong
Pros
Considered a shopper's paradise
Stunning variety of dining choices
Many family-friendly activities
Cons
Poor air quality
Expensive
Ongoing political and social controversy, occasional unrest
With its unique blend of Eastern and Western cultures, Hong Kong offers an easy entry point into Chinese culture. It's well known for being a bustling and vibrant city, but those looking for unparalleled natural beauty can also explore one of the more than 250 outlying islands, which offer stunning views and a variety of outdoor activities. Still, Hong Kong is prone to social and political instability, poor air quality, and a high cost of living.
Sagarmatha National Park, Nepal
Pros
Locals are very welcoming to visitors
Unrivaled natural beauty
Beautiful and exotic wildlife
Cons
Physically demanding due to elevation
Long travel time
Home to the world's highest peak, Mount Everest, Sagarmatha provides breathtaking views of soaring peaks, sweeping valleys, glaciers, gorges and wildlife. It's a unique and challenging landscape sure to leave a lasting impression. However, it can be quite a strenuous place to visit due to the park's high elevation and rocky, steep terrain.
Best places to visit in Asia guide
There are more people living in Asia than in any other region on Earth. Asia is home to a wide variety of places and experiences, from the hustle and bustle of Tokyo and Bangkok to the tranquility of mountain villages in Nepal and Bhutan.
Whether you're searching for excitement or inner peace, Asia will surely provide a unique experience. Here, we examine the fundamentals of traveling in Asia, provide advice for selecting an Asian travel destination, and highlight some of the most visited locations in the region.
The basics of visiting Asia
There's an old adage: "How do you eat an elephant?" Asia, as with the elephant in the saying, is best consumed a bite at a time.
There's a lot to learn before traveling there, but you don't have to become an expert on every region, culture and custom overnight. Pick an attraction you'd like to visit or a country that's always interested you and learn about surrounding areas you may also wish to visit during your trip.
Regions in Asia
There are 48 nations in Asia, but the continent may be broken down into seven distinct regions.
East Asia comprises China (which is so big that parts are also in Central and North Asia), Japan, South Korea, Taiwan, Hong Kong, Macau, Mongolia and parts of the Russian Far East, namely the territories of Primorsky, Khabarovsk and Amur.
South Asia is home to cultures separated by some of the highest mountain ranges in the world. The nations of South Asia are Bangladesh, Bhutan, India, Maldives, Nepal, Pakistan, and Sri Lanka. Though governed by China, "the roof of the world" nation of Tibet is also here among the peaks.
Central and North Asian countries are known for their sweeping steppes, indigenous horse culture, and some of the most unique music in the world. They are Kazakhstan, Kyrgyzstan, Tajikistan, Turkmenistan, Uzbekistan and Mongolia.
Southeast Asian countries are mainly tropical, with lush rainforests, diverse wildlife and stunning beaches. Many Southeast Asian countries are culturally and linguistically diverse, each with its rich history, unique culture and language. The countries in Southeast Asia are Brunei, Cambodia, Indonesia, Laos, Malaysia, Myanmar, the Philippines, Singapore, Thailand, Timor-Leste (East Timor) and Vietnam.
Southwest Asia comprises countries that may surprise some people. The Middle East is considered a subregion of Southwest Asia and includes the countries of Turkey, Iran, Iraq, Saudi Arabia, Kuwait, Bahrain, Qatar, the United Arab Emirates, Jordan, Lebanon, Yemen and Oman. The region is known for its rich cultural heritage, diverse religious history, and vast oil reserves. Anyone who thinks the Middle East is all desert may also be in for a shock. The area is home to various landscapes ranging from sweeping deserts to mountains, fertile valleys and beautiful coastlines.
Weather in Asia
The climate in Asia varies enormously. Depending on where and when you go, you can anticipate a wide range of temperatures on your journey, and the best time to visit Asia depends largely on where you're going — and what type of climate you're looking for. Northern nations like Mongolia, Russia, and Kazakhstan have severe winters and hot, dry summers. Countries like India and Thailand with tropical regions have sweltering weather during all but the rainy seasons, but along much of the equatorial zone, there is little change from day to day.
What's the best way to prepare for a trip to Asia?
Preparing for a trip to Asia requires some research and planning. Book your flights and accommodation in advance for the best deals, and research the best travel rewards credit cards before you go. Pack only the essentials since you'll likely be doing a lot of walking and using public transportation.
Research the culture, language, customs and safety information for the countries you plan to visit. Investigate the best attractions and activities available in the area. Research the best travel insurance companies before your trip and consider purchasing a policy to protect yourself from unexpected events.
Remember to use credit whenever possible, as currency exchange rates and fees can be unpredictable. Review which of your available options would be the best travel credit cards for your trip, and leave the cash at home.
Tips for Choosing an Asian Destination to Explore
Traveling to Asia can be an exciting and rewarding experience. With its diverse cultures, delicious cuisines, and intriguing history, Asia is an ideal destination for a unique holiday. There are many details to keep in mind, such as the length of the flight and the best way to purchase tickets. You'll be racking up miles, so it would be a good idea to look into the best airline credit cards or the best travel credit cards for your trip, which may even allow you to redeem miles for credit against your airfare.
Here are some quick tips to help make visiting Asia memorable — for the right reasons.
Have an idea of the type of traveling you want to do
Knowing what kind of trip you want to take in Asia can help narrow down your options for where to go. Do you prefer visiting busy metropolises or sleepy towns? Are you looking for adventure or are you ready for a rest? If you know what kind of vacation you're hoping to have, you'll be better able to zero in on a location just right for you and make better use of travel booking sites.
Look into your destination country's entry requirements
Before departing, you should check the admission criteria of the country you want to visit. Tourism is recovering across Asia as most countries have largely lifted travel restrictions. Still, it pays to do your homework and follow the proper protocols, as each nation has its own laws and regulations. A visa may be necessary to enter certain countries while immunization records or other health documentation may be necessary for others.
Research the cultural customs, food, and history
It would be best to familiarize yourself with the history, cuisine and traditions of the country you are traveling to in Asia. You'll get more out of your trip if you take the time to familiarize yourself with the local traditions and customs. It's also a good idea to research locally available food, especially if you have dietary restrictions or a sensitive palate.
Learn common words and phrases in the language of your destination country
One method to get the most out of your travels is to study the language(s) spoken at your destination. Knowing even a few words of the local language is generally well-received throughout Asia (and the rest of the world, really). Learning the basics, such as greetings and polite exchanges, might help you befriend locals who can give you unique insights into their culture.
Places to visit in Asia FAQ
How many travelers visit Asia every year?
Asia has always been a favorite destination among foreign visitors. According to Statista.com, in 2019, over 360 million tourists flocked there. Border closures caused by the COVID-19 pandemic drastically reduced the number of foreign arrivals in the Asia-Pacific area to below 60 million in 2020 and to only 20.9 million in 2021. Still, numbers are rising again as the pandemic continues to wane.
What kinds of items should I pack for a trip to Asia?
When packing for a trip to Asia, it's essential to consider the destination and the climate. Depending on where you're going and when, you may need light and airy clothing, comfortable walking shoes, a hat for sun protection, sunscreen, a lightweight raincoat or umbrella, a travel-sized first aid kit and any necessary medications.
You should also bring along necessary travel documents, such as a passport and travel insurance, plus a few electronic items like a camera, phone, charger and adapter. Lastly, you may want to bring things to help you adjust to the local culture, such as books on local customs or a translator app or phrasebook.
How we chose the best places to visit in Asia
Narrowing down the available options was no easy task. Though there were many criteria we used and no shortage of countries to visit in Asia, we assembled this list based on the following:
Availability of a variety of exciting attractions, activities and experiences
Locales with a good track record of keeping visitors safe
Plenty of options for accommodation, from budget-friendly to luxurious
Accessibility of local history, culture and customs
Affordable for the average traveler
A wide variety of highly-rated cuisine, from local to international fare
Check out Money's Best Places to Travel Methodology to learn more.
Summary of Money's best places to visit in Asia