The Best Products for Aging Skin for Your Money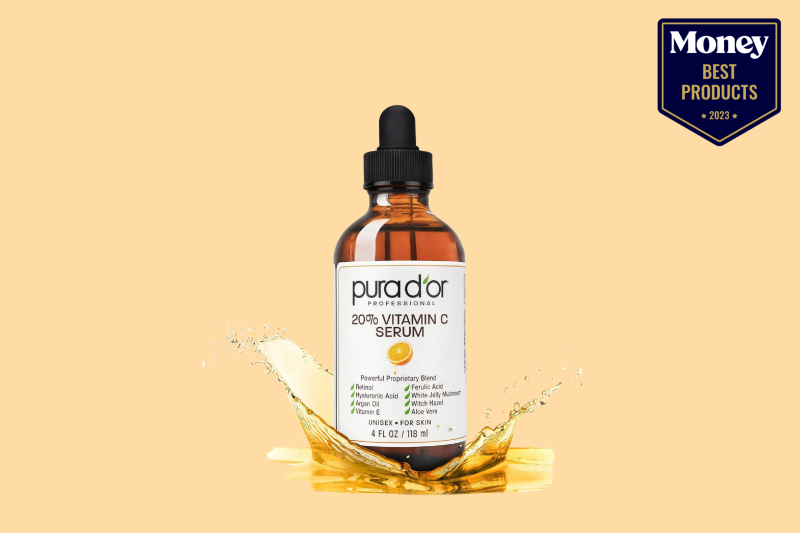 Skincare is more than just a trend—it's a necessary step towards maintaining healthy skin. Our skin plays an important role in taking care of our body, so we should keep it as healthy as possible. Products for aging skin cater to many skin types and concerns and are rewriting the rulebook of age-specific skincare.
With so many different skincare, brands, products, and ingredients, it can be tricky to know what is best for your skin type. In this article, we will discuss the key factors to consider when purchasing skin products for aging skin and show you some of the top products on the market.
Best Overall: NuDerma Portable Handheld High Frequency Skin Therapy Wand Machine
Quick Absorption: SimplyVital Face Moisturizer Collagen Cream
Most Moisturizing: Garnier Wrinkle Lift Anti-Ageing Cream
Best Multitasking: PURA DOR 20% Vitamin C Serum
Most Gentle: Botanic Tree Kombucha & Glycolic Acid Face Wash
Comparing the Best Products for Aging Skin of 2023
The NuDerma Portable Handheld High-Frequency Skin Therapy Wand Machine embraces the power of Neon, acting as your beauty therapist. It is diligently designed with the core aim of combating and reversing the signs of aging skin. It does a superb job of tightening the skin and reducing fine lines. You'll start noticing a significant reduction in dark circles with just a few consistent uses.
It also doubles as a hair and scalp stimulator. It clarifies your skin, leaving you with a radiant and rejuvenating glow that is hard to ignore. This machine is a testament to the fact that beauty doesn't have to be painful or expensive. Whether treating mature skin or looking for effective acne and scar treatment, this multitasking tool should be your go-to. Its versatility and durability make it our top overall pick.
Pros
Helps clear cystic acne
Reduces inflammation and redness
Accelerates skin healing process
Cons
Can cause initial skin darkening
The SimplyVital Face Moisturizer Collagen Cream is a go-to solution for aging skin. Designed for both day and night use, this moisturizer doesn't just hydrate; it lifts and recovers. With an impressive 1.7oz to play with, you've got more than enough to nourish your neck and décolleté too.
The SimplyVital moisturizer offers effective non-greasy moisturization. It sinks right into your skin in no time, thanks to its quick absorption properties. So, no more waiting around for your skin to stop feeling like an oil slick before you can get on with your day.
Pros
Absorbs quickly and non-greasy.
Makes skin feel silky and smooth.
Noticeably reduces wrinkles.
Cons
Difficult to dispense cream
The Garnier Wrinkle Lift Anti-Ageing Cream smooths out wrinkles and creases, giving your skin a healthy bounce. This anti-aging cream has a unique blend of natural ingredients. When massaged into your skin, these ingredients work their magic to ease wrinkles, giving your skin a smoother appearance. Plus, it's incredibly moisturizing, providing hydration that lasts the whole day. The texture is smooth and absorbs quickly, leaving no greasy feel behind. It not only hydrates your skin but also rejuvenates it, making it look healthier.
Pros
Effective anti-ageing properties
High-quality moisturizer
Provides smooth skin application
Cons
The PURA D'OR 20% Vitamin C Serum is packed with vitamins and minerals. It's the best friend your skin didn't know it needed. A vital player in promoting the increase of collagen, it helps forge a new, healthy skin structure. This overnight hyaluronic acid serum also functions as a dark spot remover, skin brightener, and anti-aging retinol serum.
The dynamic duo of hyaluronic acid and ferulic acid works tirelessly while you sleep. These two are committed to reducing wrinkles, scars, and fine lines and, most importantly, boosting hydration. This serum is free from harmful chemicals with no artificial scents added, a testament to its commitment to quality ingredients and value.
Pros
Pleasant, non-stinky smell
Contains ferrulic acid and retinol
Large quantity for a lower cost
Cons
The Botanic Tree Kombucha & Glycolic Acid exfoliating face wash has a potent blend of Glycolic Acid and Kombucha; it gently scrubs away the dead skin cells to unveil your softest, most radiant complexion. Plus, it's loaded with beneficial probiotics and antioxidants, bringing a whole new level of nourishment to your skin.
Moreover, this face wash doesn't stop at exfoliation; it also offers Kombucha Lipofilling effects, promising a youthful bounce back for your skin. It provides immediate and lasting benefits for aging skin extending beyond surface level. The result is an overall healthier and more vibrant skin tone.
Pros
Helps heal acne scars and dark spots
Clears blackheads and smoothes skin
Minimizes pores and evens skin tone
Cons
May be too abrasive for some users
Your Ultimate Buyer's Guide to Products for Aging Skin
Navigating the world of skincare products for aging skin can feel overwhelming, with countless brands, ingredients, and types of products. But don't worry – we're here to help. This comprehensive guide will provide you with the crucial information you need to make an informed decision about which products are right for you. Remember, the goal isn't to turn back time, but to give your skin the best care possible as you age.
Products for aging skin are specifically formulated to minimize the signs of aging, such as fine lines, wrinkles, dullness, and loss of firmness. These products often include active ingredients that boost collagen production, hydrate the skin, and accelerate cell turnover. The category includes everything from cleansers, serums, and creams to SPF–each playing a unique role in treating and preventing aging skin.
Active Ingredients
When it comes to anti-aging skincare, some ingredients reign supreme. Look for products that contain Retinol, Hyaluronic Acid, Vitamin C, and Peptides. These power-packed ingredients promote cell turnover, hydrate, brighten, and boost collagen production, addressing common aging skin concerns.
Skin Type
Understanding your skin type is crucial in choosing the right products. Opt for products specifically formulated to suit your skin type, whether you have normal, oily, dry, combination, or sensitive skin. For instance, dry skin might require rich creams, while a lightweight serum might work better for oily skin.
Product Consistency and Texture
The texture of a product can impact its absorption and effectiveness. For aging skin, thicker creams can provide intense hydration, while serums or lotions with lighter consistency can be ideal for those prone to oiliness or breakouts. Remember, apply your products from thinnest to thickest for maximum absorption.
Brand Reputation
A brand's credibility can offer insight into the quality of their products. Before purchasing, read online reviews, explore their website, and check for any industry certifications or awards. Brands with solid reputations are often more reliable and trustworthy.
Price vs. Value
High price tags don't always mean better results. Instead of focusing solely on the price, consider a product's value: the quality of its ingredients, formulation, and ability to address your specific skin concerns. A moderately priced product might sometimes provide more value than a high-end one.
Sun Protection Factor (SPF)
No anti-aging skincare routine is complete without SPF. Sun exposure is a leading cause of premature aging, making products with an SPF of at least 30 crucial for protecting your skin. Opt for broad-spectrum protection to shield against both UVA and UVB rays.
Conclusion
Choosing the right products for aging skin doesn't have to be a daunting task. With this guide, you're now equipped with the knowledge to make confident, informed decisions. Remember, the secret to great skin isn't just about the products you use but also about consistency and proper application. Embrace your skin's natural aging process and enhance its health with the right skincare choices. Let your age reflect the wisdom you've gained, not the state of your skin.
People Also Ask
What are products for aging skin?
Products for aging skin are specially formulated skincare items that target common signs of aging such as wrinkles, fine lines, age spots, and loss of elasticity. They may include creams, serums, oils, masks, and other skincare products containing ingredients that promote skin health and rejuvenation.
How do I use products for aging skin?
To use products for aging skin, you should first cleanse your face to remove dirt and makeup. Then, apply the product according to the instructions on the packaging. Most products are applied once or twice a day, often in the morning and at night before bed.
Which ingredients should I look for in products for aging skin?
Ingredients to look for in products for aging skin may include retinoids, hyaluronic acid, peptides, antioxidants like Vitamins C and E, and sunscreen for protecting your skin from harmful UV rays that can accelerate aging.
Can I use multiple products for aging skin at once?
Yes, you can use multiple products for aging skin at once. However, it is important to layer them correctly. Typically, you should apply thinner, water-based products first, followed by thicker, oil-based products to seal in the moisture.
Are there any side effects of using products for aging skin?
Possible side effects of using products for aging skin can vary depending on the product and your skin type. Some people might experience irritation, redness, or dryness. If you have sensitive skin, it's recommended to do a patch test before using a new product.
How long does it take to see results from using products for aging skin?
The time it takes to see results can vary depending on the product, the condition of your skin, and your skincare routine. Generally, you might start seeing minor improvements after a few weeks, but more noticeable results often take several months.
How do I maintain my products for aging skin?
To maintain your products for aging skin, keep them in a cool, dry place out of direct sunlight. Make sure to close the lids tightly after use to prevent the product from drying out or being exposed to air and bacteria.
Can I use products for aging skin if I have acne?
Yes, you can use products for aging skin even if you have acne. In fact, some anti-aging ingredients like retinoids can also help treat acne. However, make sure to choose non-comedogenic (won't clog pores) products to avoid worsening acne.
Why are my products for aging skin not working?
If your products for aging skin are not working, it could be because they are not suitable for your skin type, you're not using them consistently, or they do not contain effective anti-aging ingredients. It might be beneficial to consult with a dermatologist for personalized advice.