The Best Pickleball Balls for Your Money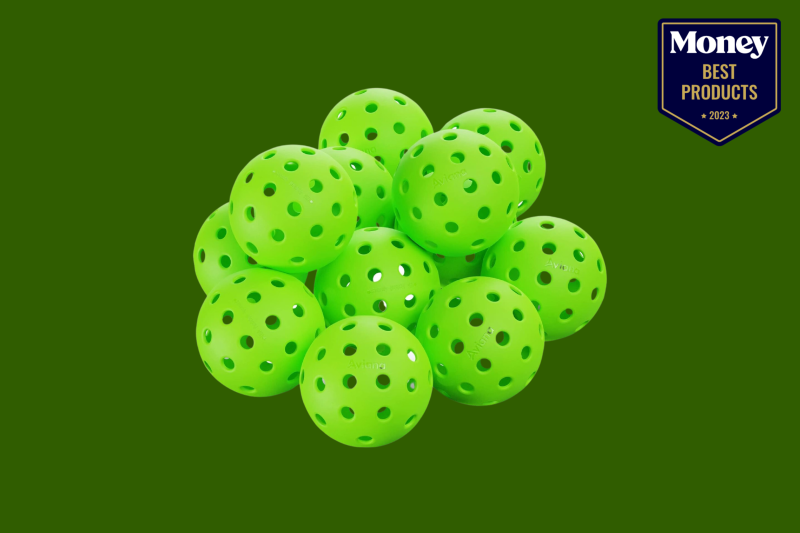 The fast-growing sport of pickleball is beloved by many individuals of all ages thanks to its accessibility. Combining the rules and gameplay of tennis, ping-pong, and badminton, this indoor or outdoor activity is now popularly played at camps, retirement communities, and schools. Whether you're an avid pickleball player or are just dipping your toes into the dynamic sport, you'll need some essential equipment to have fun and hone your skills — such as a pickleball ball.
Sleek, firm, and specifically designed to enhance your game, these unassuming spheres play a central role in pickleball. Like other sports equipment, not all pickleball balls are created equal, and finding the right one can significantly improve your overall performance and experience. With so many options available on the market that cater to unique needs or skill levels, it's important to carefully select a ball. That's why we reviewed the highest-rated pickleball balls in 2023. In this article, we'll closely examine these noteworthy products, showcasing their diverse features and benefits as we guide you toward making an informed choice. So, if you're ready to up your pickleball game, let's get started!
Best Overall: Champion Sports Official Pickleball Balls
Most Durable: CORE Outdoor Pickleball Balls
Best Value: Franklin Sports X-40 Outdoor Pickleball Balls
Most Portable: Pro Aviana Pickleball Ball Set
Best for Indoor Use: PCKL Optic Speed Pickleball Balls
Comparing the Best Pickleball Balls of 2023
List Price: $11.82
The Champion Sports Official Pickleball Balls is the top choice on our list thanks to its versatility and great value. Designed to meet tournament standards and official regulations, this six-pack set of balls is suitable for players of all ages and skills. While recommended for indoor use, these pickleball balls are visible and durable enough to use on outdoor courts. They come in bright yellow, making them easy to see in light and dark conditions. Like all of Champion Sports' other pickleball equipment, this set is water- and weather-resistant to ensure long-lasting use in various environments.
Each one weighs 0.9 ounces and is constructed from high-quality polyethylene (PE) material to withstand hours of aggressive play. This product is also specially crafted to enhance performance on the court. The precision-drilled holes ensure each pickleball ball provides optimal bounce for each swing and travels consistently through the air. For an affordable price under $15, this versatile and reliable set of pickleball balls will allow players to enjoy the sport in a range of settings for years to come.
Pros
Durable construction withstands aggressive play
Colorful appearance improves visibility
Mesh bag included for storage
Cons
Potential quality issues with seams
Color may differ slightly from images
List Price: $36.99
No matter your skill level or playing style, the CORE Outdoor Pickleball Balls deliver exceptional durability and longevity. Crafted with precision to improve your skills and performance over long-term use, these balls feature a seamless interior, crack-resistant exterior, and rotational molding. Thanks to their ultra-durable polyurethane (PU) material, the manufacturer claims they are five times stronger than the average pickleball ball. Plus, they're designed to resist breakage in cold climates and maintain their shape in hot weather, making them ideal for indoor and outdoor use.
Each pickleball ball in this set features 40 meticulously drilled holes to combat wind resistance to ensure your shot is swift, straight, and accurate. The vibrant neon green color enhances visibility, making them easy to spot while playing. This pick comes with 12 balls but is available in three, six, and 50-pack options depending on your needs. CORE is also partnered with USA Pickleball and the Professional Pickleball Registry, so you can rest assured their pickleball products are of great quality and meet industry standards.
Pros
Seamless and durable design for long-term use
Consistent bounce helps improve performance
Suitable for indoor and outdoor use
Cons
Balls visibly show wear and tear
Not as durable in extremely cold weather
List Price: $11.99
If you're looking for an option that offers the best bang for your buck without breaking the bank, consider the Franklin Sports X-40 Outdoor Pickleball Balls. Though it's available at a budget-friendly price, this product is meticulously crafted and rigorously tested to hone your skills on the court. Approved for tournament play and popular among both amateurs and pros, the X-40 model is the official pickleball of USA Pickleball and the US Open Pickleball Championships — and it's clear why when you consider their design and durable construction.
Each ball has 40 precision machine-drilled holes to ensure a balanced flight and a consistently reliable spin. The no-seam, one-piece construction provides a stronger, longer-lasting ball that resists dents and cracking, making it ideal for use on outdoor courts. Plus, this pick comes in a range of quantities to suit your needs. These pickleball balls come in packs of three, 12, 36, 100, and even 400. This product also includes a ball tube for convenient transportation and storage.
Pros
Ideal for both casual and tournament play
Premium quality at an affordable price
Available in four bright colors
Cons
Durability decreases after one year
Not suitable for high-level play
List Price: $16.95
If you're traveling to and from a court, the Pro Aviana Pickleball Ball Set is the ideal option for portability. These balls come in a high-quality plastic case that can hold all six at once, offering convenience and protection while you take them on the go. Besides being travel-friendly, this product is approved by USA Pickleball for tournament use, so you can trust that it's professional grade. With 40 precision-drilled holes to prevent wind interference, these pickleball balls are designed to help you play your best.
Designed for long-lasting play, whether you're practicing or competing, their premium plastic construction is durable and suitable for all surfaces. This option comes in a six-pack of neon green balls, which offer excellent visibility in indoor and outdoor settings — regardless of the lighting conditions. To suit your specific needs, you can also purchase them in yellow and in packs of 12 or 48.
Pros
Bouncy and forgiving for learners
Suitable for competitive and non-competitive play
Travel-friendly case for storage and transportation
Cons
Not as suitable for hot weather
Softer feel compared to other balls
List Price: $13.99
Available in different designs based on where you're playing, the PCKL Optic Speed Pickleball Balls are ideal for players looking to optimize their performance and take their game to the next level. This pick is available in two styles: The indoor model features 26 precision-molded holes while the outdoor model has 40. This accounts for differences in wind and air resistance based on the environment, optimizing their flight and accuracy to improve your shots. The indoor balls are also available in three aesthetically pleasing colors and the outdoor ones come in two neon hues to ensure visibility.
These pickleball balls are built to USA Pickleball specifications to ensure you're getting excellent quality with every bounce. The precision-seam welding provides structural integrity and longevity. The durable material makes these balls suitable for use on all surfaces and in all temperatures. This product comes in a four-pack, so you'll always be ready for intense rallies.
Pros
Very durable construction
Excellent responsive bounce
Numerous colors provide enhanced visibility
Cons
Feel and response differ from typical balls
Darker colors can be hard to track
Buying Guide: Pickleball Balls
Pickleball is a thrilling sport that has captured the interest of millions around the globe. This electrifying game is as much about skill and strategy as it is about the equipment you use. Among the essential gear in your pickleball arsenal are the pickleball balls themselves, which are similar to a wiffle ball but can come in different designs. Selecting the right balls can make a considerable difference in your gameplay. This comprehensive buyer's guide aims to make your choice easier by breaking down the key product features you should be considering when purchasing pickleball balls.
Ball type
Indoor balls and outdoor balls vary in weight, wall thickness, and the size and number of holes, all of which affect how they perform in different conditions. Weight and wall thickness typically impact a ball's bounce, while the size and number of holes affect the ball's speed and flight — which is especially important when playing in the wind. Your choice should depend on where you plan to play most of your games.
Size and weight
The standard size and weight of a pickleball ball can influence its performance. Lighter balls are generally faster and bounce higher but may be more challenging to control, while heavier balls can be easier to manage but might not bounce as high. For reference, most pickleball balls weigh 0.9 ounces.
Bounce
The bounce of the ball is a critical factor in pickleball, with official regulations stipulating specific bounce heights. The level of bounce can influence how easy or difficult the ball is to hit and control.
Material
The majority of pickleball balls are made from durable plastic, usually PE or PU. The type of plastic can affect the ball's speed, bounce, and control. Your choice should depend on your preferred gameplay style.
Durability
High-quality materials and construction determine a pickleball ball's durability. Look for balls made from robust materials and have fewer seams as they are less likely to crack and lose shape. Some models may have other features to improve their longevity, especially when used for aggressive or competitive play.
Color
The color of the ball can impact visibility during play, with brighter colors often easier to see, especially in outdoor settings. Most pickleball balls come in neon colors, like yellow or green. Some products may also be available in bright orange, pink or blue.
Price
Price is an essential consideration, especially for frequent players. More expensive balls usually offer better durability and performance, but this isn't always the case. We recommend setting a budget and comparing your options to choose the one that offers the best value based on your needs. For example, you may want a larger set if you plan to play in a group setting. If quality is of the utmost importance to you, you may want to invest in a pack of balls that are endorsed by USA Pickleball and the Professional Pickleball Registry, such as the set from CORE.
People Also Ask
How do I use a pickleball ball?
A pickleball ball should be served underhand and must bounce once on the other side before it can be returned. The ball is volleyed back and forth until a point is scored.
Can pickleball balls be used on both indoor and outdoor courts?
Yes, pickleball balls can be used both indoors and outdoors. However, balls are designed specifically for each setting. Outdoor balls are typically harder and have smaller, more numerous holes. Indoor balls are softer and have larger, fewer holes. Using the right ball for the right court can improve your game.
Why do pickleball balls have holes?
The holes in a pickleball ball affect the ball's flight and bounce as it travels through the air. They also help to slow the ball down, making the game more about strategy and less about speed or power.
How often should I replace my pickleball balls?
The frequency of replacement depends on usage and the type of ball. On average, a ball used for outdoor play may need replacement after 10-15 games, while an indoor ball can last for around 25 games. Always replace your ball if you notice it's cracked or no longer bounces well.
Why is my pickleball ball not bouncing properly?
If your pickleball ball is not bouncing properly, it could be due to a few factors. The ball could be dirty, damaged, or deformed. Extreme temperatures can also affect the bounce. If the ball is clean and undamaged, consider replacing it as it may have lost its bounce due to normal wear and tear.
Why Trust Us
Our commitment to customers begins with a carefully curated product selection process, ensuring we provide high-quality and reliable options. We meticulously vet each set of pickleball balls, analyzing quantitative aspects, such as star ratings and review count, and qualitative factors, including review content and product features. Our dedicated team of bargain hunters consistently prioritizes your budget by meticulously scouring the market and identifying the best pickleball balls available without compromising on quality or performance. Our panel focuses on presenting the pros and cons of each set of pickleball balls and converting technical specs into understandable insights. We aim to ensure remarkable gameplay and performance on the court with top-rated pickleball equipment.