The Best Portable Pickleball Nets for Your Money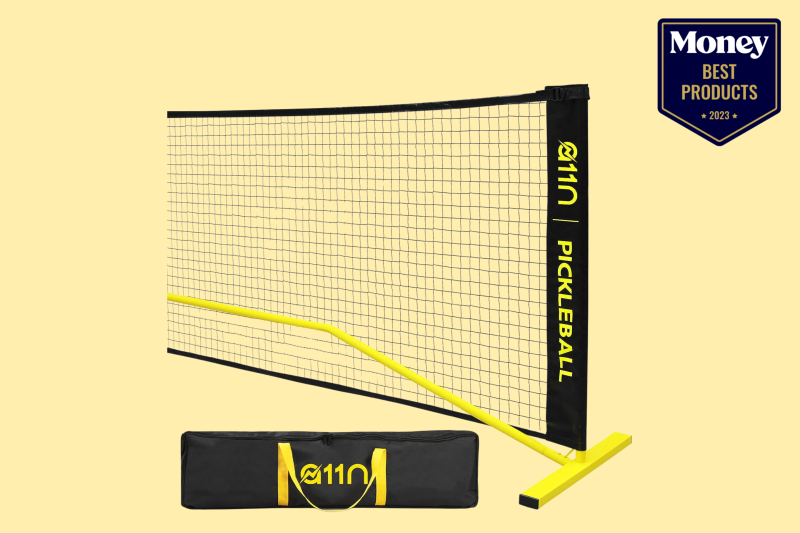 As it has become increasingly popular, you might have heard about or started playing pickleball. This dynamic sport combines the best of tennis, badminton, and ping-pong, requiring agile movements and precise serves and returns. And like with any sport, having high-quality gear can make all the difference between playing a good game and a great one. For pickleball, that includes the obvious items like paddles and balls, but it's also essential to have a reliable net — particularly if you don't have a nearby court to play on.
This is where a portable pickleball net comes in. This piece of sports equipment is designed to be easily transported and assembled, so you can play pickleball with friends and family wherever you want. From your driveway to the beach or the local park, portable nets are ideal for casual and competitive play. Whether you're seeking durability, ease of set-up, or affordability, we handpicked the top portable pickleball nets of 2023 that can meet your needs. In this article, we'll take a close look at their key features and share some useful buying tips to help you make an informed purchase.
Best Overall: Champion Sports Portable Pickleball Net
Most Durable: A11N Portable Pickleball Net System
Best Value: ZENY Portable Pickleball Net Set
Best Adjustability: Pickle-Ball 3.0 Portable Pickleball Net System
Easiest Assembly: flybold Portable Pickleball Net Set
Comparing the Best Portable Pickleball Nets of 2023
List Price: $150.99
The Champion Sports Portable Pickleball Net is the best overall option for playing this dynamic sport from the comfort of your driveway or while on the go. This portable net is lightweight and easy to assemble and disassemble in just a few minutes — all you need is a flat surface. Designed with stability in mind, the frame features locking mechanisms to ensure pieces click into place and stay fixed during intense play. The frame is durable thanks to its steel construction with powder coating; the mesh polyethylene (PE) net is also made to be flexible yet strong.
Standing 36 inches high (34 inches in the center) and 22 feet long, this pickleball net complies with USA Pickleball Association (USAPA) standards, ensuring it's suitable for official tournament use. You won't need to worry about the net sagging as the center support keeps the net tight and the built-in net tension straps allow you to easily adjust it to stay taut. As part of its portability, this product comes with a heavy-duty bag with long straps for storage and carrying. Between its easy and secure assembly and long-lasting construction, this portable pickleball net is the top choice on our list.
Pros
Locking frame design ensures stability
Clear assembly instructions
Regulation size for official use
Cons
Net is longer than the frame
Assembly may be time-consuming for one person
List Price: $129.99
If you're looking to make a one-time investment in a pickleball net, consider the A11N Portable Pickleball Net System. Built to withstand regular wear and tear and all weather conditions, this option is made from sturdy and durable materials. The knotless net is constructed from solid PE and bordered by dual polyvinyl chloride (PVC) fabric, which is more durable than the polyester commonly used by other brands. The frame uses varnish-coated metal pieces that are lightweight and lock into place to ensure stability. Thanks to these premium materials, this net system is suitable for indoor and outdoor use, whether sunny or rainy.
Whether you want to host tournaments or play to true regulation standards, this portable pickleball net is 22 feet long and 36 inches high, making it acceptable for official use. The vibrant yellow and black color scheme adds a touch of style and enhances visibility. This pick is also easy and quick to assemble, featuring an intuitive interlocking design that doesn't require any tools. It can be disassembled and packed away easily in its durable carrying bag for convenient storage and transportation. Plus, it's only 20 pounds, which makes it comfortable to carry on your shoulder.
Pros
Easy to adjust the net's tension
Suitable for use in all weather conditions
Sturdy construction prevents sagging and slipping
Cons
Carrying case could be of better quality
Colors may differ slightly from pictures
List Price: $68.99
Whether pickleball is just a fun, casual hobby or you don't want to splurge on a pricy net, the ZENY Portable Pickleball Net is an excellent budget-friendly choice. For under $100, this net system delivers convenience, durability, and portability, making it a great option that won't break the bank. It's easy to set up and take down in only a few minutes, and it can even be used for other outdoor sports like tennis and badminton. This option boasts a strong construction with an all-weather net and a reinforced 25mm thick steel frame with powder coating for rust resistance. It also features a fiberglass middle post to provide additional support.
This portable pickleball net has a wide 32-inch base to offer extra stability, which is especially useful on windy days. It's also 22 feet long and 36.8 inches high on the sides and 34 inches high in the middle. Like the other products on our list, this pick is convenient to store and travel with, whether you're playing at the park or while camping. It weighs just over 18 pounds and comes in a durable zippered carrying bag that's comfortable to carry.
Pros
Stable base, even in windy conditions
Durable and lightweight carrying bag
Net is easy to adjust
Cons
Center pole may be too tall, requiring modification
Sides may be too high for official standards
List Price: $199.99
The Pickle-Ball 3.0 Portable Pickleball Net System is not only easy to assemble but easy to adjust to your exact preferences. This net features a buckle tension on each side, allowing you to change how tall and high it is with minimal effort. The system overall is quick and simple to set up and take down thanks to its snap-together frame. You can rest assured it'll stay securely in place as well, even in windy conditions, as the metal frame is reinforced and features a central stabilizer and wide legs with a bent design. In total, it measures 22 feet long and 36 inches high.
This portable pickleball net has a couple of other selling points related to its portability and convenience. This product boasts a lightweight construction at only 22 pounds and includes a sturdy nylon carrying bag with pockets for your other gear. The net's frame also has a raised crossbar, which allows balls to roll underneath so you can speed up serves and keep the game going smoothly. Additionally, this net system is manufactured by the original pickleball brand. Founded in 1972 by the co-inventor of the sport, Pickle-Ball is committed to quality and helping players make the most of their experience on the court.
Pros
Easy and quick to assemble
Carrying case provides space for accessories
Sturdy yet lightweight construction
Cons
Can be difficult to move when assembled
May not be stable in extreme wind
List Price: $99.99
While most portable pickleball nets are made to be easy to put together, this model from flybold takes quick assembly to the next level. This net can be set up in under five minutes thanks to its interlocking design, which makes it simple to click each piece into place. For maximum efficiency and clarity, the instructions that come with this product feature detailed step-by-step instructions with pictures. Once assembled, you can adjust the net's tension to your liking with the built-in hook and loop straps.
Suitable for both indoor and outdoor use and measuring 22 feet long and 36 inches high (34 inches high in the center), this sturdy system can transform both driveways and indoor gyms into regulation-size pickleball courts. The reinforced metal frame will remain stable in windy conditions and is powder-coated to resist rust. The pieces are also waterproof for added durability. This portable pickleball net is also convenient to store and transport, weighing only 22 pounds and fitting neatly in a bright zippered carrying bag. If you'd like a complete set of gear to get started, this option is available at a slightly higher price with pickleball paddles and balls.
Pros
Assembly only takes a few minutes
Durable rust-resistant metal frame for long-term use
Snap connections for secure construction
Cons
Net stitching may require repairs over time
Only available in blue
Buying Guide: Finding the Best Portable Pickleball Net
A pickleball game can be a fun, exciting, and active way to spend your leisure time — especially if you play with friends or family. Whether you're a seasoned player or a beginner, a portable pickleball net is a must-have piece of equipment. However, with so many options available on the market, making the right choice for your needs can be difficult. This buyer's guide aims to make your shopping simpler so you can make an informed decision and choose the right portable pickleball net for you.
What is a portable pickleball net?
A portable pickleball net is a vital piece of equipment for playing a game of pickleball if you don't have access to a permanent court. It's designed to be easy to set up, dismantle, and transport, which is especially ideal for players who prefer to play the game in different locations or while traveling. Nets often come in different sizes, materials, assembly systems, and colors — and at different prices. If you're a beginner, you may also want a net that comes with other gear. Regardless, you'll want to make sure you pick one that suits your needs.
Features to consider when choosing a portable pickleball net
Net material
Don't overlook the net material when shopping for your pickleball net. Durable materials such as nylon or polyethylene, known for their resilience to wear and tear and weather conditions, make an excellent choice. These materials can withstand the frequent and hard impact of the ball and ensure a good rebound effect. You may also want to choose an option that allows you to adjust the net's tension over time.
Frame quality
The frame, which holds the net in place, should be sturdy and durable. Frames made from steel or aluminum are excellent for durability and portability. Typically safe in all weather conditions, a rust-resistant frame with a central bar ensures longevity and stability. Additionally, an adjustable frame allows you to modify the net height to suit your game style.
Ease of assembly
A complex assembly process can dampen your enthusiasm for the game and take away precious playing time. Choose a net that's easy to assemble and disassemble. Ideally, it should be quick to set up within a few minutes. Check that your portable pickleball net comes with clear assembly instructions or a detailed user manual to make the process hassle-free.
Portability
As its name implies, a portable pickleball net should be easy to carry around. Ensure the net is lightweight, preferably under 25 pounds, and comes with a carrying bag for ease of storage and transport. The bag should be durable, with sturdy zippers and handles for convenience and comfort.
Stability
The last thing you want during your game is a wobbly net. Look for a net with a solid base to withstand windy conditions and the ball's impact. Nets with wide, sturdy feet or a weighted base make a good choice. Some nets also offer ground stakes for added stability.
Price and value
Decide on a budget before you start shopping. While a cheaper net might seem attractive, it might compromise on quality. A quality pickleball net is a worthwhile investment as well-made systems can typically last for years. When comparing your options, assess each net's features against its price to ensure you're getting good value for your money.
User reviews
Lastly, don't forget to check user reviews. These can provide you a real insight into the net's performance, durability, and any potential issues you might encounter down the road. A product with consistently high ratings and positive reviews is likely to be a reliable choice.
People Also Ask
How do I set up my portable pickleball net?
To set up your portable pickleball net, first, unpack all components from the carrying case. Assemble the frame according to the instructions, making sure to securely attach all the poles. Once the frame is assembled, attach the net to the frame, ensuring it's taut and secured at the proper height.
How do I maintain my portable pickleball net?
Maintaining your portable pickleball net involves regular inspections for wear and tear, especially of the net and the joints of the frame. Always make sure the net is clean, and avoid leaving it out in adverse weather conditions to prevent damage. Store it in its carrying case when not in use to protect it and extend its longevity.
What should I do if my portable pickleball net is sagging or not taut?
If your portable pickleball net is sagging or not taut, first check the tension straps or ropes that hold the net in place. Make sure they are securely fastened and increase tension as needed. If the problem persists, check the poles and the net for any damage or signs of wear.
Can I use my portable pickleball net for other sports?
While a portable pickleball net is designed specifically for pickleball, it may be suitable for other similar racket sports like badminton or tennis. However, it's important to note that the official net height and size may vary between sports, so it might not be an optimal choice for all activities.
Can I leave my portable pickleball net outside?
While most portable pickleball nets are designed to withstand outdoor conditions, it's generally recommended to disassemble and store your net indoors when not in use. This can help preserve the net and frame, protecting it from prolonged exposure to sun, rain, or other potentially damaging elements.
What should I do if a part of my portable pickleball net is damaged or missing?
If a part of your portable pickleball net is damaged or missing, contact the manufacturer for assistance. They may be able to provide replacement parts or guide you through the repair process. Always use specified manufacturer parts to ensure proper fit and function.
Why Trust Us
Our commitment to customers begins with a carefully curated product selection process, ensuring we provide high-quality and reliable options. We meticulously vet each portable pickleball net, analyzing quantitative aspects, such as star ratings and review count, and qualitative factors, including review content and product features. Our dedicated team of bargain hunters consistently prioritizes your budget by meticulously scouring the market and identifying the best portable pickleball nets available without compromising on quality or performance. Our panel focuses on presenting the pros and cons of each portable pickleball net and converting technical specs into understandable insights. We aim to ensure remarkable gameplay and performance on the court with top-rated pickleball equipment.