The Best Women's Pickleball Shoes for Your Money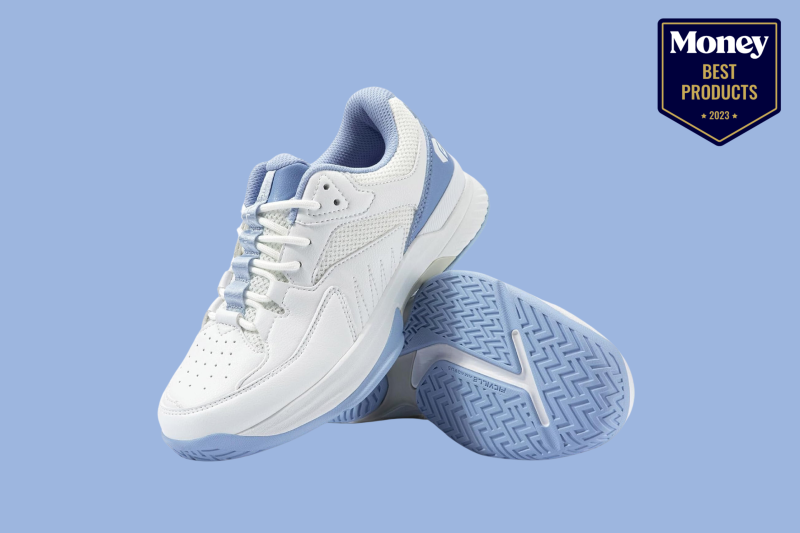 Ladies, if your heart races at the sound of a pickleball bounce, then this is for you. Pickleball shoes for women have evolved into a vital part of the game. They offer the blend of comfort, support, and style that every female player craves. The right pickleball shoes not only boost performance but also provide the snug fit and firm grip that turn any match into an exhilarating experience. These products, each with their own distinct features, meet the diverse needs of the pickleball community. To help you navigate the large pool of options available on the market and find the right pair for your needs and playing style, we've curated a list of the top-rated women's pickleball shoes of 2023. Read on to learn more about these game-changing products that'll let you step on the court with confidence.
Best Overall: K-Swiss Express Light Pickleball Shoes for Women
Most Stable: ASICS GEL-RENMA Womens Pickleball Shoes
Most Versatile: Skechers Viper Court Pickleball Shoes for Women
Best for Wide Feet: FitVille Wide Pickleball Shoes for Women
Best Design: Condromly Womens Pickleball Shoes
Comparing the Best Women's Pickleball Shoes of 2023
List Price: $89.95 - $99.95
Ladies, get ready to dominate the court with the K-Swiss Express Light Pickleball Shoes for Women, which top our list with their comfortable design. Available in regular, wide, and half sizes ranging from 5 to 11, these athletic shoes offer excellent plantar support for improved stability.
With six vibrant colors to choose from, you'll have no trouble finding a pair that suits your style. The soles are made from sturdy rubber material while the interior lining works to wick moisture from the feet, keeping you cool and comfortable throughout every pickleball match. These shoes also feature DURAWRAP and DRAGGUARD technology to prevent toe-dragging and resist abrasion in heavy-wear areas. They're specially designed for use on hard and clay courts, and they offer a lightweight, supportive feel for easy movement and comfortable wear.
Pros
Comfortable and stable
Good fit for wider feet
Six colors available
Wide and half-size selections
Cons
Sizing is a bit off
Shoelaces are a bit short
List Price: $60.63 - $68.00
The ASICS GEL-RENMA Women's Pickleball Shoes are designed with stability in mind. Featuring an imitation leather sole, these shoes boast a wrap-up outsole with a wider-than-average gauge to support smoother movements and better balance. Plus, the outsole's textured grooves work to enhance flexibility and are strategically positioned for easy multidirectional movement.
This product's use of TRUSSTIC technology further contributes to its stability-focused design by providing extra support and minimizing unnecessary twisting while the synthetic leather overlays offer maximum durability. These shoes are available in regular and half sizes ranging from 5 to 12 as well as 5 stylish color combinations. Not only are they stylish and functional, but they're also a solid choice for environmentally conscious buyers, as the solution dyeing process reduces water usage and carbon emissions.
Pros
Eco-friendly manufacturing process
Stable and comfortable design
Five color combinations available
Cons
Narrow across the toe area
No wide-width sizes
List Price: $79.97 - $94.95
Next up on our list are the Skechers Viper Court Pickleball Shoes for Women, which stand out from the competition thanks to their multipurpose design. Not only are they a solid choice for pickleball games, but they can also be worn while traveling, working, walking, playing various sports, and exercising so you're sure to get plenty of use out of them.
As stylish as they are functional, these shoes come in five color combinations. They feature high-quality rubber soles and are available in a range of sizes from 5 to 11, including half sizes for an ideal fit. Their excellent traction makes them suitable for indoor and outdoor wear. The upper is made from breathable mesh material to promote air circulation and keep you comfortable and cool whether you're jogging or playing volleyball. The tongue and collar are cushioned, offering superior comfort. Plus, these lace-up shoes are suitable for all-season wear and can be used all year long.
Pros
Excellent arch support
Durable for long-term use
Good traction and stability
Cons
Too narrow for some users
Sizes run small
List Price: $59.90
Bring your A-game to the pickleball court with our next option: the FitVille Wide Pickleball Shoes for Women. An ideal pick for those with wider feet, these shoes are available in wide and extra-wide sizes ranging from 6 to 12 to ensure you have enough space for comfort and freedom of movement.
Experience a perfect blend of style and functionality with these simple yet fashion-forward shoes. Boasting a stylish mesh and super-soft microfiber upper and anti-odor technology, these shoes are breathable and designed to keep your feet cool and comfortable while preventing odors. The honeycomb insoles and Ortholite material provide extra support where you need it the most while cushioning your every step. The outsoles are constructed from durable, dual-density, EVA material and anti-torsion TPU rubber. Acting as shock absorbers, they provide enhanced agility while the non-slip design enables you to walk and play with confidence on all types of surfaces.
Pros
Excellent arch and ankle support
Wide and extra-wide size choices
Breathable, odor-resistant materials
Cons
Inconsistent sizing across colors
Shoes may run a bit small
List Price: $49.99
Last but not least, we have the Condromly Women's Pickleball Shoes, which earned a place on our list with their impressive design. The result of eight years of research and development, the sole boasts a unique pattern designed to prevent skidding during workouts while ensuring elasticity and softness for an optimal, comfortable fit.
The upper features a perfect blend of breathable mesh and faux leather, offering you lightweight comfort and breathability. The sponge filling offers better wrap and enhanced comfort during activities while the lightweight padding reduces shoe weight and minimizes foot burden. The shoes perform well in indoor and outdoor settings and are comfortable to wear, even for extended periods. They're available in six vivid color selections as well as unisex sizes ranging from 5 to 12.
Pros
Excellent floor grip
Comfortable for extended wear
Breathable material design
Cons
Not completely waterproof
Initial plastic odor
Women's Pickleball Shoes: A Buying Guide
Pickleball is a fast-growing sport loved by many for its blend of tennis, badminton, and ping-pong aspects. Like any other sport, having the right equipment is key to your performance, enjoyment, and comfort. When it comes to pickleball, your shoes are critical. This guide will help you navigate through the various factors to consider when looking for the best pickleball shoes for women.
Comfort
Comfort is crucial for any sports shoe, and pickleball shoes are no exception. A comfortable shoe allows you to focus on the game rather than any discomfort in your feet. Look for shoes with excellent cushioning and padding, particularly in the midsole area for shock absorption. The shoes should fit snugly without being too tight or impeding your circulation.
Traction and grip
Good traction and grip are key to preventing slips and falls on the court. Pickleball involves a lot of quick movements, so your shoes need to be able to keep up. Look for footwear with sturdy, high-quality, rubber outsoles for the best grip and traction.
Breathability
Breathability is another important factor to consider. When you're playing a high-intensity game like pickleball, you're bound to sweat, and you don't want your feet to be hot and sweaty. Shoes made with breathable materials such as mesh or synthetic fabrics will allow for better air circulation, keeping your feet cool and comfortable.
Durability
Durability is a significant factor to consider when investing in pickleball shoes. Check the overall build quality of the shoes, including the stitching, the material, and the robustness of the outsole. A durable pair of shoes will last longer, saving you from needing to replace them too frequently.
Support
A good pair of pickleball shoes should provide excellent support for your feet; this includes arch and ankle support, which are crucial to maintaining balance and preventing injuries during the game. Shoes with a well-constructed heel counter and a stable midsole will provide the necessary support.
Style
While performance and comfort are paramount, you also want to feel good in your shoes. A stylish pair of shoes can boost your confidence and add a touch of personality to your game. Remember, style is subjective, so go for what appeals to you most.
You might also be interested in the best pickleball shoes for men.
People Also Ask
How do I choose the right size pickleball shoes?
To choose the right size of pickleball shoes, refer to the size chart provided by the brand. Measure your foot length accurately and compare it with the size chart. Keep in mind that pickleball involves a lot of lateral movement, so it's important to ensure the shoes don't feel too tight or too loose.
Why can't I just use regular tennis or running shoes for pickleball?
Tennis or running shoes are not designed with the same level of lateral support that pickleball shoes offer. Pickleball shoes are crafted to handle the quick, side-to-side movements of the game, helping to reduce the risk of injuries like ankle rolls or sprains.
How do I maintain my pickleball shoes?
To maintain your pickleball shoes, clean them after each game by removing dirt or debris. Avoid machine washing them, as it can damage the shoes' structure. If they get wet, let them dry naturally. Don't expose them to direct heat or the materials may degrade.
Can I use pickleball shoes for other sports?
While pickleball shoes are specifically designed for pickleball, they can be used for other sports involving similar movements, like badminton or squash. However, they may not provide the exact support required for sports with different movement patterns, like running or basketball.
How often should I replace my pickleball shoes?
The lifespan of pickleball shoes depends on the frequency of use and the intensity of your games. Generally, we recommend replacing them every 400 to 600 miles of usage, or as soon as you notice significant signs of wear and tear or reduced comfort and support.
What should I do if my pickleball shoes are causing blisters or discomfort?
If your pickleball shoes are causing discomfort or blisters, it could be due to incorrect size or lack of break-in time. Try wearing them for short periods around the house to break them in. If discomfort persists, you may want to consider a different size or brand.
Why Trust Us
Our commitment to customers begins with a carefully curated product selection process, ensuring we provide high-quality and reliable options. We meticulously vet each pair of pickleball shoes, analyzing quantitative aspects, such as star ratings and review count, and qualitative factors, including review content and product features. Our dedicated team of bargain hunters consistently prioritizes your budget by meticulously scouring the market and identifying the best women's pickleball shoes available without compromising on quality or performance. Our panel focuses on presenting the pros and cons of each pair of women's pickleball shoes and converting technical specs into understandable insights. We aim to ensure remarkable gameplay and performance on the court with top-rated pickleball equipment.