This Startup Plans to Give Away Thousands of Free 55-Inch Smart TVs. Here's the Catch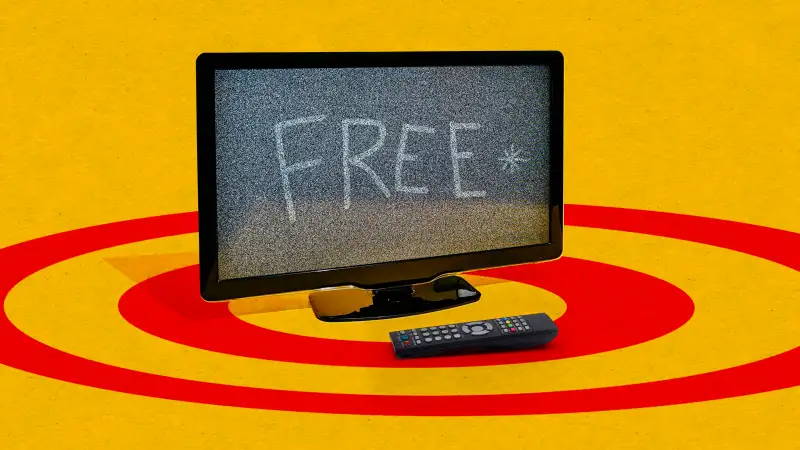 By now, you're probably used to free or cheap streaming services that monetize your data and serve you a steady dose of personalized ads.
Now, in a twist on that concept, one company is giving away the TVs themselves.
Telly, a startup helmed by Pluto TV founder Ilya Pozin, says it's gearing up to ship potentially millions of 55-inch, dual-screen 4K smart TVs to households all across the U.S. — free of charge. The first 500,000 people to sign up for a Telly will receive the 65-pound TV set this summer, according to the company, and subsequent orders will be shipped out in 2024.
Applications for the free TVs opened Monday, and Telly says that within the first 36 hours, more than 100,000 people signed up.
Young adults appear to be particularly interested. The company says two-thirds of those who have signed up so far are Gen Zers and millennials, meaning they're under the age of 43.
To get the TV, however, users have to agree up front to fork over a lot of sensitive data.
Free TV specs
"Don't be fooled by 'free,'" Telly Chief Strategic Officer Dallas Lawrence tells Money. "This is the most expensive, most advanced, most feature-packed television ever developed."
Lawrence says Telly's smart TV set is worth $1,000, and it comes equipped with artificial intelligence, voice control and motion-sensor capabilities. A five-driver sound bar affixed with a high-definition camera separates the traditional TV display up top from a second, smaller screen below, which displays personalized ads.

The smaller screen can also sync up with mobile apps while you're watching the top screen. It can be fully turned off, but it will be required to be on while the top screen is in use. The company says the camera has a privacy shutter and is only needed for video-conferencing or motion-tracking apps and games.
"The bottom screen recedes when you're watching the top screen," Lawrence says. "It's not like you're getting ads blared in your face when you're watching Game of Thrones."
What's the catch?
There's a popular tech adage that goes, "if the product is free, you're the product." It's hard to imagine a more direct example than Telly's new ad-supported TV set. Even in a sea of freemium, ad-supported video games and streaming services, Telly stands out.
To receive the free TV, the company requests a copious amount of your data up front. Basic info like your name, address, email address and telephone number are a given. Then the company does a "five-minute survey," Lawrence says, which collects more information about your favorite brands, shopping habits, what kind of car you have, your household size, income and more.
To actually use the TV, the terms of service stipulate that you will need a credit card on file. If you break those terms — say, by trying to disable certain ads or disconnecting the TV from WiFi for a prolonged period of time — the company can request that you return the TV. If you don't, it will charge your card.
If you do not want the TV for whatever reason, you can't throw it out or give it away. You must return it to Telly or risk being charged as well. The company would not say exactly how much it would charge you for breaking the terms of service and failing to return the TV.
Data privacy concerns
The amount of data the company collects is raising eyebrows from consumers and privacy experts alike. In a discussion on the social media site Reddit, one user wrote "the next stride towards every ad-congested, cyberpunk dystopian hellscape begins."
Earlier this week, tech publication Wired railed against the company's data-collection stipulations, with one cybersecurity and privacy expert telling the magazine "no one — not even Telly — can tell consumers what harms might befall them for the benefit of the company." Some are also worried about data collection on children in households with the TV, though people under age 18 can't apply for one.
Lawrence, with Telly, didn't downplay the level of data collection in a conversation with Money. Instead, he leaned into it. He says regular smart TVs collect most of this information without explicit consent; Telly is being "100% transparent" about it.
Traditional smart TV companies "double dip," he argues, by charging you for the TV and then also benefiting from your personal data. By contrast, he says Telly is transparent about the fact that it's harvesting your data in exchange for a free device.
"If you don't want to share this information, then you don't have to get a Telly," he says. "If you're OK sharing it, we're going to give you $1,000 TV."
More from Money:
Amazon Is Giving Some Prime Members $10 to Pick up Their Own Orders
Money's Best Autos of 2023, From Sports Cars to SUVs
The IRS Will Test Out Its Own Free Tax Prep Software in 2024