The 10 Best Senior Discounts in America, According to Seniors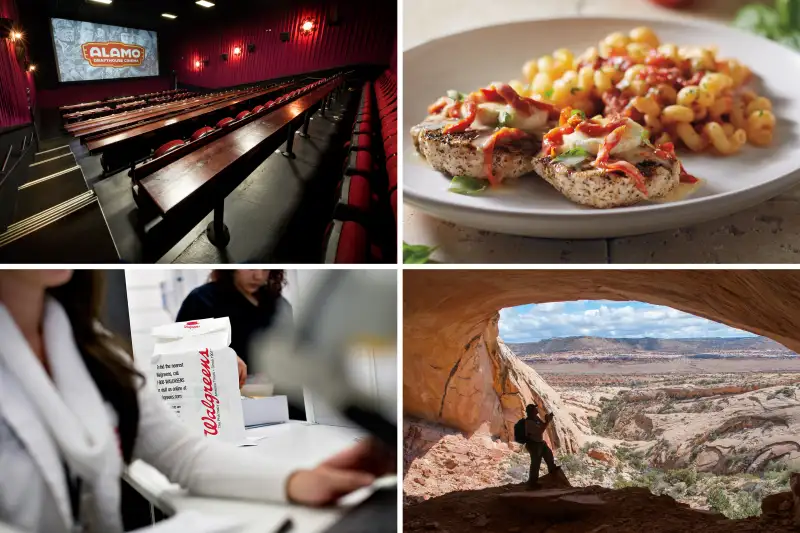 (clockwise from top left) Nick Simonite—Alamo Drafthouse, courtesy of Carrabba's Italian Grill, Ted Wood—Aurora Photos/Getty Images; Daniel Acker—Bloomberg/Getty Images
Word is, early bird specials are going the way of VHS tapes and flip phones. But plenty of deals remain for folks who were alive during the Johnson administration.
I turned to my Retire With Money newsletter (sign up here!) and asked readers to tell me the best senior discounts available today. The answers flooded in and below we've rounded up 10 choice ones any one over 55 (or 50) should know about.
Keep in mind though that the senior discount might not always be the best deal available, says Edgar Dworsky, founder and editor of Consumer World. "Treat it as one possible option," he says. For those who want to get their deals on the go, the AARP Now Mobile App notifies you when you're in the vicinity of any benefits and discounts that you program into the app.
Also check with your local municipality to see what kinds of discounts might be available on public transportation, parking, property taxes and other expenses, says Dworsky, who takes advantage of several such deals in his city of Somerville, Mass.
Alamo Drafthouse
Moviegoers ages 60-plus can view weekday shows before 2pm for only $6, less than half of the general admissions price of $13.75. That special low pricing applies all day on Wednesday for the chain's Senior Day. See here for locations.
Amtrak
Travelers ages 65 and over can receive a 10% discount on most rail fares on most Amtrak trains. Kathy Levine, 70, of Long Beach, N.Y. uses the discount frequently to visit her daughter and granddaughter 200 miles away. "I prefer not to drive the four hours it takes," says Levine. "The Amtrak discount allows me to see them more often."
Bloomin' Brands
AARP members receive 10% off their meals every day at restaurants in the Bloomin' Brands chain, which include Bonefish Grill, Outback Steakhouse, and Carrabba's Italian Grill.
British Airways
AARP members 55 and over are eligible to receive $65 off economy travel and $200 off business club travel. Trips must be booked by Jan. 31, 2019.
Kohl's
Shoppers ages 60-plus can receive 15% off every Wednesday.
Marriott
Travelers ages 62-plus can save 15% or more on their room rate at Marriott brand hotels. While the rate is subject to availability, there's no limit on the number of nights you can book. The deal applies to Marriott brand hotels worldwide.
National Parks
U.S. citizens or permanent residents age 62 or over can access more than 84 million acres of land protected by the National Park Service for the rest of their lives for $80. While this isn't quite the bargain that it used to be — prices were raised from just $10 last year — it's still much better than the general, $80 annual pass rate, says Warren Gress, 67, of Parker, Colo., who has visited Glacier National Park, Yellowstone, Grand Canyon, Bryce and Zion, among others. Plus, Gress notes, the pass gets you discounted site fees if you're staying in a federal campground.
T Mobile
Customers ages 55-plus can get two lines with unlimited talk, text, and LTE data for $35/line with AutoPay. This is the best cell service discount available at the moment, says Dworsky of Consumer World. Bonus: only the primary account holder has to be 55 or older.
Uno Pizzeria & Grill
Customers age 55-plus can get deep discounts on their deep-dish pizza (and other menu items) at this restaurant chain. Eligible customers can join the Double Nickel Club on the company's web site and get a generous 30% off their bill every Wednesday.
Walgreens
Shoppers 55-plus, and all AARP members, receive 20% off all eligible purchases on the first Tuesday of every month. This is one of the more generous retail deals around, says Lindsay Sakraida, director of content market at DealNews. "You can plan around it," she says.