President Trump Donated $78K to the National Park Service. But That's Just a Fraction of What He Wants to Cut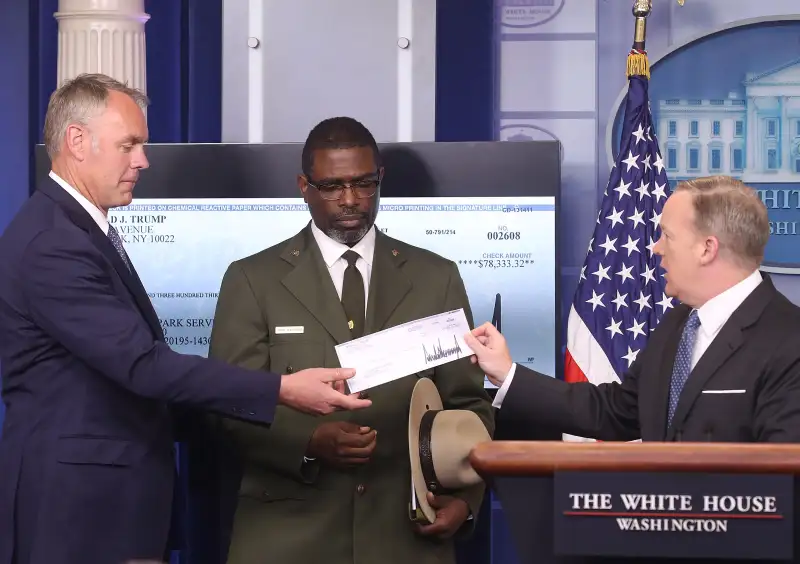 Mark Wilson, Getty Images
President Donald Trump donated his first quarter salary to the National Park Service on Monday, fulfilling his campaign promise to give away the money he earns while in the Oval Office.
But his $78,333.32 gift makes up just a small fraction of what the Interior Department would lose if Trump's budget proposal were approved.
The President's proposed budget would cut about $1.5 billion from the budget for the Department of Interior, which operates the National Park Service and other agencies.
The budget proposal does not disclose how much of the Interior Department's cuts would affect the National Park Service itself, which had a $3.1 billion budget for fiscal year 2017.
Trump's donation will fund the National Park Service's battlefield preservation efforts, a program that is currently $229 million behind in deferred costs.
While the President's donation won't make a large dent in that shortfall, officials from the Interior Department and National Park Service said they are thankful for Trump's gift.
"As a veteran myself, I am thrilled at the President's decision to donate the check he did today," Interior Secretary Ryan Zinke said.
The National Park Service manages the American Battlefield Protection Program, which is dedicated to protecting and preserving 25 historic battlefield sites around the country. The National Park Service budgeted $10 million in grants for the program in 2017.
Trump makes $400,000 per year as President, and has promised to donate his entire salary while leading the country.
Conservation activists and environmentalists criticized Trump's donation, calling it a "publicity stunt" in light of the substantial cuts he has proposed to the Interior Department.
"If Donald Trump is actually interested in helping our parks, he should stop trying to slash their budgets to historically low levels," said Michael Brune, executive director of the Sierra Club, in a statement. "This publicity stunt is a sad consolation prize as Trump tries to stifle America's best idea."
Representatives for the National Park Service and the White House did not respond to a request for comment.