5 Best Vision Insurance Companies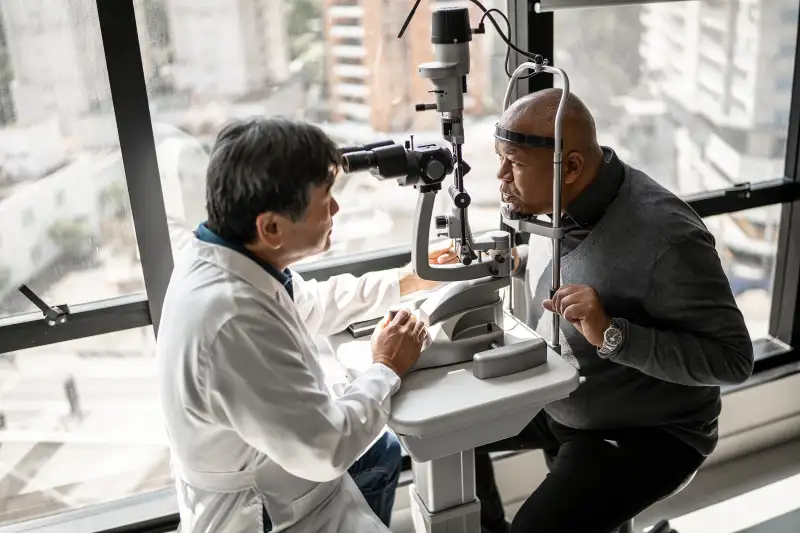 Our Top Picks for the Best Vision Insurance Companies
Vision Insurance Companies Reviews
Pros
Covers yearly eye checkups (after copay)
Offers annual stipend for eyeglasses, frames or contact lenses
Exclusive frames sourced from designer labels
$15 to $50 in laser vision correction discounts
Cons
Limited out-of-network coverage
Won't cover operations performed by out-of-network providers
Below average customer satisfaction ratings
Why we chose it: Davis Vision by VersantHealth offers three flexible plan options for individuals, couples and families: Essential, Classic and Premier. And family members have the freedom to visit different eye care professionals.
While Davis Vision doesn't include pricing on its website, its parent company VersantHealth advertises plans starting at just over $12 and going up to $24 per month, depending on the area. Members pay a small copay (typically $15 to $20) for an annual comprehensive eye exam and have up to $200 to spend on either eyeglasses or contact lenses once a year.
Depending on the policy you subscribe to, Davis Vision may give you discounts on LASIK procedures and specialty eyewear. And under its unconditional warranty, if your frames or lenses break within the first year after purchase, Davis will replace them at no cost.
On J.D. Power's 2022 U.S. Vision Plan Satisfaction Study, Davis Vision scored just under the industry average for overall customer satisfaction. However, this is based on responses from 1,247 vision plan members, an admittedly small sample.
Pros
Prices are comparable to those offered by competitors
Above-average customer satisfaction ratings
No waiting period for coverage to come into effect
Additional discounts on glasses and lens enhancements
Cons
Not all plans are available in every state
Does not coordinate benefits with Medicare
Why we chose it: One in four Americans use VSP to access eye care, which makes it the largest vision insurance company in the country. As such, the provider boasts a global network of over 40,000 eye care professionals.
VSP offers several plan options: Standard, EasyOptions, Enhanced and Eyewear Only. Plan availability and prices vary by location, but Standard coverage appears to be available nationwide and customers in certain states can get it for as little as $11.20 per month. You can sign up any time and your benefits can begin as soon as the day after you enroll.
Like most vision insurance providers, VSP covers lenses (single vision, bifocal and trifocal) but provides a discount for added features like scratch- and glare-resistant coating and progressive lenses. Additional discounts are available to eligible retirees, seniors and people with diabetes who are more likely to develop visual impairments.
Frame allowances with VSP vary by plan, yet most offer a $150 stipend for a wide variety of frames, $170 for featured frame brands and a 20% discount over the amount of your allowance. Since VSP doesn't coordinate benefits with Medicare, you cannot combine your VSP allowance with your Medicare frame allowance to cover your frames in full.
VSP received an above-average customer satisfaction rating in J.D. Power's 2022 U.S. Vision Plan Satisfaction Study, just under Aetna Vision and United Healthcare Vision.
Pros
Low annual deductible ($75)
Free yearly vision exam with dilation ($0 copay)
Free yearly hearing exam
Transparent pricing and instant online quotes
Cons
No refunds or cancellations during the first year
Low LASIK discount (5% to 15%)
Long waiting periods for dental work
Why we chose it: Humana Extend plans include both dental and vision coverage as well as hearing benefits. Coverage starts when you enroll, so there are no waiting periods for preventive vision exams, hearing exams or routine dental cleanings.
Monthly premiums for Humana Extend plans vary by location, yet options are available for just under $40. Pricing is straightforward and Humana's website has a simple interface that lets you quickly compare plans. The most basic option, Humana Extend 1250, covers dental procedures (basic, major and preventative) and comes with a teeth whitening allowance. You'll have to upgrade to the Humana Extend 2500 or 5000 plans to get a vision allowance for contact lenses or eyeglass frames.
If you choose the 1250 plan, you must wait six months for the policy to cover basic dental services and a full year for major dental procedures. With the more expensive plans, you'll only wait 90 days for basic services and six months for major dental services. Humana's vision benefits have no waiting period.
Humana's plans aren't as flexible as other options on our list. For example, once your plan is active, you can no longer cancel or request a refund. You must typically wait until after your plan's effective date to disenroll or terminate coverage. And because Humana views LASIK as an elective procedure, it doesn't cover the surgery. Instead, it offers discounts between 5% and 15%.
Humana wasn't included in the 2022 J.D. Power U.S. Vision Plan Satisfaction Study.
Pros
Accessible plans starting at $5 per month
Large network of over 70,000 in-network provider access points
No waiting period
Provides quotes online
Cons
If you're not in-network, benefits are severely limited
Premium plans can be pricey, especially for families
Why we chose it: EyeMed has an extensive network of providers and offers affordable vision plans starting at $5 per month and going up to $30 per month. Its higher-tier plans also include generous contact lens allowances.
EyeMed offers three plan tiers: Healthy, Bold and Bright. Healthy, its most affordable option at just $5 per month, covers an annual vision exam without a copayment and offers discounts on frames (35%), contacts (15%) and premium progressive lenses (30%).
EyeMed Bold provides a $130 allowance for frames or conventional contacts while EyeMed Bright offers a $200 allowance for frames or conventional contacts. Both plans have a $10 copay for exams and include an additional 20% off frames, 15% off traditional contact lenses (not applicable to disposable lenses), and a $210 allowance for medically necessary contacts.
While these plans cost between $5 and $30 per month for individuals, family plans are considerably more expensive. A household with two adults and two children can expect their monthly premium to be three times as high. Nevertheless, all plans come with discounts, including 40% off additional pairs of prescription eyeglasses, 30% off items not covered by the plan and 15% off the retail price of LASIK.
EyeMed is available in 48 states, making it a widely available option. However, it ranked last among competitors in J.D. Power's 2022 U.S. Vision Plan Satisfaction Study.
Pros
Significant price reduction for LASIK procedures
No age limits stipulated in any of its plans
Affordable copayments
Above-average customer service ratings
Cons
Not available in all states
Policies require a 12-month premium term commitment
Why we chose it: LASIK procedures are considered elective and aren't covered by most plans. This leaves individuals to shoulder between $1,000 to over $3,000 per eye for vision correction surgery. However, through its partnership with over 900 QualSight LASIK locations, United Healthcare (UHC) vision plan members can save up to 35% on this service and get a free consultation. This is the highest discount on vision correction procedures we've found.
UHC offers two vision plans. Plan A is for individuals who require either glasses or contacts, while Plan B is designed for those who require both. Policies include an annual eye examination with a $10 copay (in-network only), eyeglass lenses (including scratch-resistant coating), a $150 frame allowance, and contact lens fitting and evaluation. Prices vary by location but customers can expect to pay around $11 per month for Plan A and $15 per month for Plan B.
Those who bundle their vision plan with other insurance options from UCH — including dental, accident, hospitalization or critical illness insurance — can obtain additional discounts. Keep in mind, however, that UHC vision insurance is not available in Alaska, Massachusetts, Minnesota, Montana, New Mexico or New York and that some policies, including vision plans, require a 12-month commitment.
UHC has vision insurance underwritten by Golden Rule Insurance Company, which has received generally positive customer reviews. Moreover, UHC was among the best vision plan providers in J.D. Power's 2022 U.S. Vision Plan Satisfaction Study, bested only by Aetna.
Other vision insurance companies we considered
While the insurance companies below offer great benefits for those needing vision insurance, they didn't quite make the cut.
Pros
Available nationwide
Offers financial planning for retirement in addition to other investment opportunities
Has solid financial strength ratings
Cons
Doesn't list any discounts on its website
Extremely limited customer support hours
Negative customer reviews
Ameritas is a massive insurer that provides coverage to millions of people in the U.S. Most of its vision insurance policies don't have waiting periods and include an annual eye exam and access to vision care networks such as VSP or EyeMed. Customers also get a $130 frame allowance if they choose an in-network provider or a $70 allowance if they choose an out-of-network provider.
Ameritas has a low customer rating (1 out of 5 stars) on the Better Business Bureau and doesn't appear to respond to customer complaints on that platform. Additionally, some users complain of limited customer service hours (7 a.m. to 6:30 p.m), which suggests that clients in certain locations may not be able to receive the help they need when they need it. Lastly, Amerita's website lacks essential information, such as details regarding its claims process, and there appears to be a cost associated with filing electronic claims.
Pros
Customer service available over the phone, and through the mail, email and social media
Great customer service ratings
Solid financial reputation
Cons
Doesn't sell plans through independent insurance agents
Stand-alone vision plans not available everywhere
Aetna has strong financial strength ratings and was selected as the best vision insurer in J.D. Power's 2022 U.S. Vision Plan Customer Satisfaction Study. Aatna's vision insurance plans have no waiting periods, cover annual eye exams without a copayment and include a $130 allowance for frames or lenses, plus additional discounts. Nevertheless, vision plans are unavailable in Illinois, Kansas, Massachusetts, Missouri, New York, Virginia or Washington. Moreover, vision coverage in certain locations is only available as an add-on to Aetna's dental insurance plan.
Vision Insurance Guide
Here is some information to guide you through selecting a vision insurance plan and help you understand which policy will suit your needs.
What is vision insurance?
Vision insurance is a type of health insurance that covers various vision-related expenses like eye exams, glasses or contact lenses. Some companies even offer discounts for corrective treatments like LASIK.
You can purchase vision insurance as a stand-alone policy or an add-on to your health insurance policy. Regardless of how you purchase coverage, your monthly premium will vary depending on the insurance provider, the scope of the plan and your location.
If your vision insurance policy is an employer-provided benefit, your employer may pay the policy in full on your behalf or you may have to pay a portion of the cost.
How does vision insurance work?
If your employer offers vision insurance as a benefit, you'll generally be able to enroll in a policy during the company's open enrollment period or when you first become eligible for benefits.
If you are purchasing an individual plan, you can check with insurance providers that offer vision insurance, or with independent brokers who can compare plans from different providers and help you choose one that meets your needs. Once you have selected a plan, you'll need to provide personal information such as your name, address and date of birth, and pay the first month's premium.
Once the enrollment is complete, you'll receive an ID card you can use when you visit an in-network provider or shop online for a new pair of glasses or contacts. Remember that most vision insurance plans have a waiting period before you can use your benefits.
Most policies require paying a flat copay for exams. You also receive an allowance for frame purchases and lens replacements. The amount of your lens copay will depend on the type of lens you require. Policies generally cover single-vision, bifocal and trifocal lenses but not upgrades such as UV protection and scratch-resistant coating.
In most cases, vision insurance plans cover one eye exam per year and one pair of lenses per year. They also provide an allowance for purchasing frames either once per year or once every other year. These fees will be covered if you use a provider in your insurance company's network.
What to look for in a vision insurance policy
When selecting a vision plan, consider both your current and expected needs in terms of eye care so your policy can meet those needs.
Generous allowance for eyeglass frames and contact lenses
Look for an insurance plan that covers a significant portion or the full cost of purchasing new frames or contact lenses. This can also come as a dollar allowance to buy glasses and lenses. It may also include a wide range of frame options and brands. Some plans will cover more than one purchase per year.
A generous allowance means you won't have to sacrifice style or quality to stay within your budget when buying new frames. You'll be able to stay up-to-date with the latest technology and designs.
Full eye exam coverage
Many vision insurance plans cover the cost of an annual comprehensive eye exam, which includes tests to check the eyes' health and detect eye diseases such as cataracts, glaucoma and age-related macular degeneration. Full eye exam coverage can help detect early signs of those diseases and prevent blindness. Check with the specific insurance plan to understand what's covered and if any restrictions apply.
Easy accessibility
Look for eye vision insurance companies with good customer service reviews and a fast claims process with no waiting times. A good insurance company will have many agents available throughout the day to assist you should you have any emergencies or problems with your insurance. Otherwise, you may not be able to get the most out of your plan.
Bundling opportunities with your other insurance policies
When customers purchase multiple types of insurance from the same provider, sometimes known as "bundling," they are often eligible for discounts. This can lead to cheaper vision insurance options. Plus, it can save you the hassle of managing multiple policies and payments with different carriers.
Vision Insurance Companies FAQ
How much does a vision insurance plan cost?
Vision insurance can be obtained for as little as $6 per month and cost up to $75 per person yearly. Of course, costs vary by location and the scope of the vision insurance plan. And you also have to account for copayments or deductibles, which will change depending on the specific services you seek and the state in which you reside.
What doesn't vision insurance cover?
Any portion of an eye test classified as "medical" is not covered by vision policies. The loss of eyesight, presence of floaters, eye irritation, allergies, infections or eye tests as a result of diabetes are all examples of situations that are not covered by vision insurance.
Does vision insurance have a waiting period?
Many vision insurance plans have a waiting period. This means that, during that time, the plan won't pay for vision services included in the policy, including eye exams and the cost of glasses or lenses. Waiting periods vary by plan and may span anywhere from a few days to a few months.
Is vision insurance worth it?
Weighing your needs against the cost of vision insurance can help you decide whether this type of policy is worth it. If you value having a regular eye exam, the flexibility of switching up your eyeglasses and knowing that not all of the associated costs will come straight from your savings account, then vision insurance could be a good investment.
How We Chose the Best Vision Insurance Companies
We chose the vision insurance companies on this list based on the following criteria:
Monthly premiums: We selected vision insurance companies based on their monthly premiums and covered benefits.
Allowance limits: We considered the allowance limits each company offers for purchasing lenses and frames.
Availability: We evaluated the availability of each company's coverage in different locations.
Plan options: We looked at the variety of plan options each company provides.
Customer satisfaction: We factored in customer satisfaction ratings and reviews in our selection process.
Summary of Money's Best Vision Insurance Companies