Fast Food Drive-Thrus Actually ARE Getting Slower and Sloppier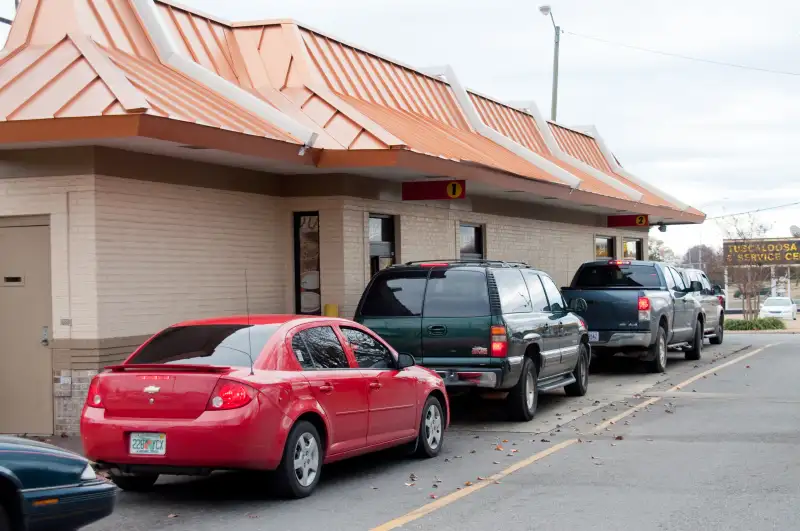 So perhaps the last time you hit the drive-thru at Taco Bell it took longer to get your Chalupa than normal, and it came with a Diet Pepsi instead of the Mountain Dew Baja Blast you ordered. If something like this has happened to you recently, know that you are not alone in your suffering.
According to a new study by the quick-service industry guide QSR Magazine, the accuracy of drive-thru orders decreased 5 percentage points this year versus last, while the comparative speed of drive-thru service also declined.
Order accuracy dropped from 89.4% in 2018 to 84.4% this year. The reasons cited for the growing inaccuracy, the study found, are the increasingly complex menu options at many chains, increasing pressure on speed, and, quite simply, longer lines of customers putting even more pressure on workers. Dinner was the time of day when customers were most likely to get the wrong order, and the worst offender was McDonald's. The drive-thru order accuracy champ, on the other hand, was Chick-fil-A.
Many fast food chains are taking steps to avoid screw-ups with drive-thru orders. For example, to try to get accuracy up, Taco Bell is investing in "a new kitchen display system, which will present the customer's order in more detail," QSR reported.
A quick turnaround on your order is, well, kind of the main point of fast food. Yet the study shows the average time it took to complete a fast food order is now up to 255 seconds, an increase of 20 seconds compared to a similar study in 2018.
Overall, Dunkin' has the fastest drive-thru experience, with the average order taking 216 seconds, "which perhaps can be expected in light of its simpler breakfast, coffee, and treats menu," QSR noted. Wendy's, Burger King, Taco Bell, and Carl's Jr. were all faster than average too, with orders typically taking 230 to 240 seconds to complete. The slowest fast food drive-thrus, according to the study, belong to McDonald's (284 seconds) and Chick-fil-A (323 seconds).
While the drive-thru experience has been getting slower for years, brands like Chick-fil-A (which has previously been noted for having the friendliest service) have embraced technology to help speed along the process. It is now common for a fast food employee to meet people in longer lines and take a customer's order and payment on a tablet, and Dunkin' has lanes reserved only for orders placed by mobile devices.
One complication that QSR found is that while companies are working to make lines more efficient, back-of-house operations tend to be lagging behind. For a while, the trend was to offer as varied a menu as possible to attract customers and stand out in a crowded field. But the kitchens and production lines weren't equipped to swiftly make a more complex order such as, say, anything on McDonald's now discontinued "food forward" Signature Crafted menu.
In order to speed things up, many brands are following McDonald's leads and simplifying the menu and, in Arby's case, making the production line more efficient.