Many Student Loan Payments Could Be Cut in Half Under Latest Biden Plan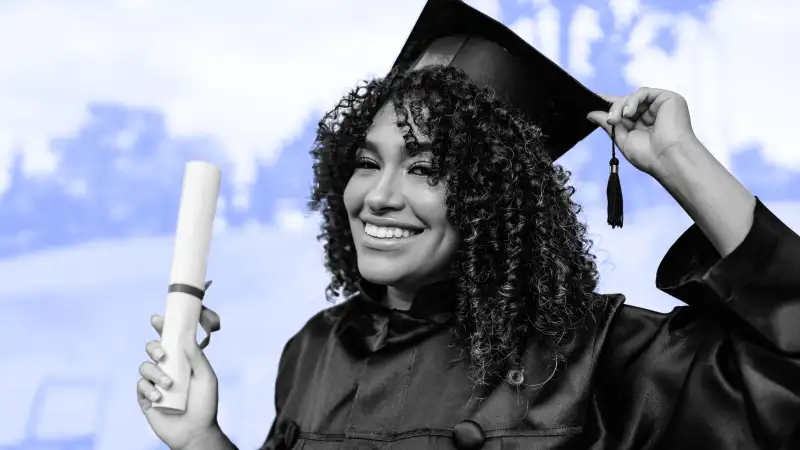 The Biden Administration is taking the next step toward introducing a more generous student loan repayment plan that could reduce payments for millions of borrowers.
The Education Department released more details about its proposed changes to income-driven student loan repayment plans on Tuesday. The changes — many of which had already been laid out by the administration — are designed to lower monthly payments for many borrowers and make a complicated program simpler and easier to access.
"We cannot return to the same broken system we had before the pandemic, when a million borrowers defaulted on their loans a year and snowballing interest left millions owing more than they initially borrowed," U.S. Secretary of Education Miguel Cardona said in a news release on Tuesday.
Under the proposed changes, the Education Department estimates that future student loan borrowers will see their lifetime payments per dollar borrowed fall by 40% on average, with lower-income borrowers seeing their payments per dollar fall by 83% compared to the plan the department wants to update.
These changes are separate from Biden's student debt cancellation plan, which would forgive as much as $20,000 in student debt for eligible borrowers and is stalled in the Supreme Court.
Changes to income-driven repayment plans
The new regulations proposed by the Biden administration would change the terms of the Revised Pay As You Earn (REPAYE) plan — the most recent iteration of an income-driven repayment (IDR) option for student loan borrowers. Income-driven plans set a borrower's monthly payments based on how much they earn and their family size, and they're designed to offer some loan forgiveness after a certain number of years in repayment.
The changes announced Tuesday would be wide-reaching, and one of the biggest would raise the threshold for payments by increasing the amount of a borrower's income that is protected from payments. Right now, borrowers must make monthly payments equal to 10% of their "discretionary income," which the federal government defines as income above 150% of the federal poverty guideline.
Under the new rules, that threshold would rise to 225% above the federal poverty guideline, meaning that families would be able to keep more of what they earn and have lower payments, too. The Education Department says the change would mean any individual borrower earning less than about $30,600 annually would be eligible for $0 monthly payments — a major increase from the $20,400 threshold for an individual borrower today. (For a family of four, the new threshold for $0 monthly payments would be $62,400.)
Another major change would cut the payment threshold in half for borrowers with undergraduate debt, from 10% of discretionary income to 5% of discretionary income. Borrowers with graduate loans would still pay 10% of their discretionary income, and the payment size for borrowers with both undergraduate and graduate debt would be a weighted average.
Alongside smaller payments, the proposal calls for a shorter timeline to forgiveness for people with smaller balances. Borrowers with an original loan of $12,000 or less — regardless of whether the debt came from undergraduate or graduate loans — would receive forgiveness after 10 years of payments rather than 20 or 25 years.
The government would also pay unpaid interest on a borrower's account, so balances doesn't grow if a borrower's monthly payments aren't enough to cover interest charges. Finally, it would make it easier for struggling borrowers to access plans that could help them more easily pay off debt by automatically enrolling delinquent borrowers in IDR plans and allowing borrowers in default access to IDR plans, too.
For the full list of proposed changes to the REPAYE plan, check out the Department of Education's fact sheet.
When will income-driven repayment plan changes happen?
Right now, it's not clear when these changes will be implemented, though the department said it plans to introduce some of them this year. A required 30-day public comment period will begin on Wednesday. After that, it's possible the details may change, based on the feedback.
Some critics of the proposed changes have warned that they will be too expensive: Maya MacGuineas, president of the Committee for a Responsible Federal Budget, said in a statement on Tuesday that the proposed changes to income-driven repayment, alongside costs associated with the student loan payment pause and blanket loan forgiveness will "stoke more inflation, increase recession risk [and] raise the cost of college."
"The idea of strengthening and reforming the IDR program is a good one, but the specifics of this proposal are a costly mess," she added.
In general, advocates for student borrowers received the changes positively, though many said they believe even more are necessary.
"The Administration's plan would reduce loan bills for eligible borrowers and fix several program flaws," the National Consumer Law Center said in a news release, "but misses opportunities to make repayment work for low-income borrowers."
More from Money:
How Student Loan Borrowers Can Prepare for Big Changes Coming in 2023
4 Ways Biden's New Student Loan Repayment Plan Could Help Borrowers
Millions of Borrowers Just Got a Quicker Path to Student Loan Forgiveness