How Would Bill Clinton Handle the Job of 'First Spouse'?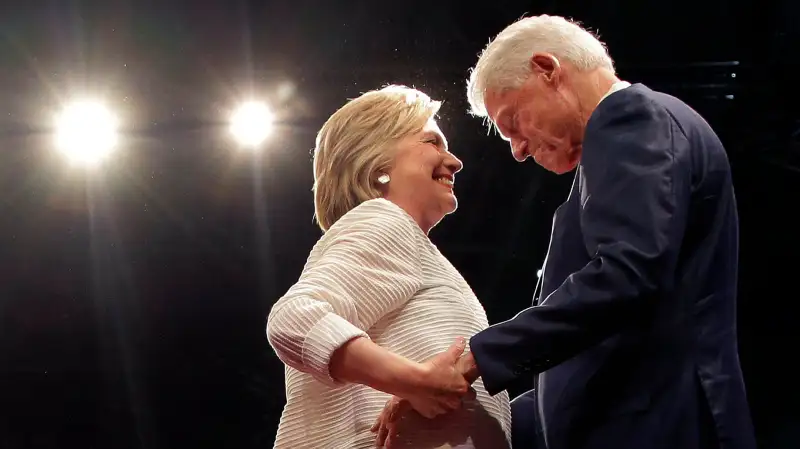 On Tuesday, Hillary Clinton secured the Democratic nomination for president. If she goes on to win the election this fall, she will make history as the first woman to hold the office. It would also be the first time a man—and a former president at that—has occupied the role of First Spouse (First Laddie? First Gentleman? First Mate? First Man?). That hasn't escaped Bill Clinton's notice. As NPR reported, when he was on the campaign trail with his wife in Iowa earlier this year he announced, "I want to talk about one barrier that has not been broken. I want you to support Hillary for me too. Because I want to break a ceiling. I am tired of the stranglehold that women have had on the job of presidential spouse."
What, then, would Bill Clinton's role as presidential spouse be?
During his presidency, the Clintons were the epitome of the political power couple—two Yale Law School graduates who worked well as partners. In a March 1992 debate between former California Gov. Jerry Brown and then Arkansas Gov. Bill Clinton, Clinton himself remarked that his wife would be a full partner if he became president, terming it a 'two for one' deal. Bill appointed her to lead the Task Force on National Health Care, one of his primary legislative initiatives.
Presumably, the same dynamic that applied during Bill's presidency would apply during Hillary's term in office. It must be noted—gender aside—he is the most overqualified First Spouse in history. In the Jan. 17, 2016, Democratic debate in South Carolina, Hillary said, "[His role] will start at the kitchen table and we'll see where it goes from there. I'm going to have the very best advisers that I can possibly have," she said. "You bet I'm going to ask for his ideas, I'm going to ask for his advice, and I'm going to use him as a goodwill emissary to go around the country and find the best ideas we've got."
Somewhat less clear is the question of how he'll handle his current jobs. Presently he is on the board of directors of the Clinton Foundation and a member of the leadership team for the Clinton Global Initiative, traveling the world giving speeches for an average of $200,000 a pop. According to a recent WSJ article, "Mr. Clinton has suggested he wouldn't put his work [with The Clinton Foundation] entirely on hold, including delivering speeches 'on the subjects I'm interested in.'" But, he told Bloomberg in June, "You have to be careful to avoid actual or potential conflicts of interest. We'll think very clearly about it and we'll do the right thing."
According to Nonprofit Quarterly in 2015, the Clinton Foundation reported contributions from 19 foreign governments, including Germany, the Dominican Republic, Bahrain, Taiwan, Jamaica, and Canada. During Hillary Clinton's term as Secretary of State, the foundation was required to get State Department approval of any new foreign government contributions, to guard against conflicts of interest.
Such conflicts aside, there is precedent for First Spouses retaining their position after their partners become world leaders—businessman Sir Denis Thatcher, husband of former British Prime Minister Margaret Thatcher, and banker Philip John May, married to current PM Theresa May, for example. (And of course, Hillary Clinton herself kept her job as a partner at Rose Law Firm while she was First Lady of Arkansas, making her the first First Lady of Arkansas to continue working while her husband was governor.)
Many past First Ladies have adopted causes and pushed for reforms about which they were passionate. The Clinton Foundation would essentially be part of Bill Clinton's platform while in The White House. That's where he parts company with previous presidential consorts. According to an April Vanity Fair article, "Clinton's aides said that if she wins, First Gentleman Bill Clinton will not take on all of the traditional duties of the First Lady, which include picking out floral arrangements and china; instead, Clinton will choose a very experienced social secretary to do the job." A President Hillary Clinton could also choose to delegate some of those tasks to their daughter, Chelsea, or another trusted person, as previous First Ladies have done.
Another wrinkle in carving out the do's and don'ts of First Spouse is that the position is ill-defined. Despite the Office of the First Lady being part of the Executive Office of the President, the role has no job description and no salary. So it's hard to say what constitutes a conflict of interest when one doesn't have an official mandate in the first place.
Of course, the president could do something about that. As Money has previously written, making the job of First Spouse—historically held by a woman—a salaried position in its own right would go a long way toward sending a message about wage equality. When we asked compensation experts to calculate what a traditional first lady should earn, based on the job functions she typically performs, they came back with a figure between $200,000 and $300,000.
The president's salary, $400,000, is set by an act of Congress, and any changes to it only go into effect with the next president's term. Article II, Section 2 of the Constitution states, "The President shall, at stated Times, receive for his Services, a Compensation, which shall neither be increased nor diminished during the Period for which he shall have been elected, and he shall not receive within that Period any other Emolument from the United States, or any of them." Assuming any salary for a First Spouse would be treated the same way, Bill Clinton would be out of luck. Except for this: In 2001 explainer on presidential salary in Slate, Sharon Gressle noted, "In September 1999, Clinton signed legislation to raise the president's annual compensation from $200,000—its level since 1969—to $400,000. It was a gift to future presidents that Clinton couldn't benefit from (unless Hillary gets elected)."