Meet the Man Who Dropped Out of College to Go Fishing and Is Now a Billionaire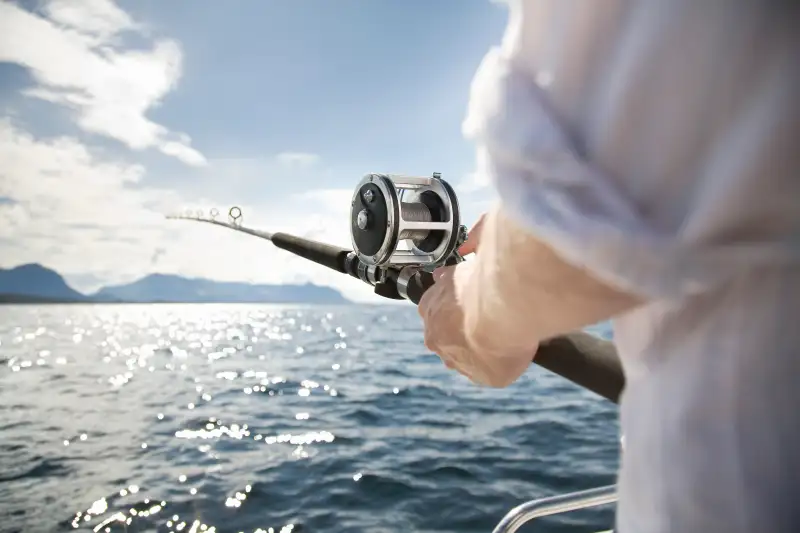 Tiina & Geir—Getty Images/Cultura RF
Alaskan pollock get a bad rap.
They taste perfectly fine, but are literal "bottom feeders," found on the ocean floor in the Pacific Northwest. Along with amberjack, tunny, tilefish, triggerfish, they're derisively referred to as "trash fish" by some.
But for the past 50 years, one man, who grew up far away from any ocean, has been turning these fish into a fortune that is now worth billions, according to a new Bloomberg report.
That man is Chuck Bundrant, who is the founder and majority owner of Seattle-based Trident Seafoods, and who is now worth at least $1.1 billion.
Trident itself had $2.4 billion in revenue last year and remains privately held, with 16 processing plants and 41 fishing vessels. It is the largest vertically-integrated seafood company in North America, Bloomberg reports, and also serves markets in China, Japan, and throughout Europe.
Some of its biggest customers are fast food chains. If you've ever ordered fish from McDonald's, Burger King, or Long John Silver's, there's a strong likelihood you've eaten a Trident product. Trident is also sold under its own brand name in supermarkets, with fish sticks and salmon burgers among the products offered.
Bundrant, who is now in his 70s, grew up in Evansville, Ind., and briefly attended college at Middle Tennessee State University. At the age of 19, he decided to spend a summer among fishing crews in the Pacific Northwest. This summer adventure ended up turning into "a 12-year journey across Alaska, aboard any ship he could find, discovering everything there is to know about fishing and crabbing along the way," according to company lore.
By the early '70s, Bundrant had made enough money and connections to build the Billikin—a 135-foot boat that Trident says was the first-ever to have crab cookers and freezing equipment onboard, so catches could be processed immediately and offloaded directly to wholesalers on shore.
From there, Bundrant and his partners continued to expand aggressively beyond crabbing into commercial fisheries. The big moment came in 1981, according to a 2008 Seattle Weekly article on Bundrant, when he courted a group of "skeptical" Long John Silver's executives in Akutan, Alaska.
"The fast-food execs were so impressed by the taste of Trident's frozen product, they thought it was fresh," the weekly explained.
John Tobe, the CEO of Long John Silver's, was also apparently unaware at first that what he was eating was pollock. "I brought Tobe into the mess hall, and he was pretty hungry. He was eating a lot of pollock and saying 'Wow! This is great cod,'" Bundrant recalled to a business publication in Indiana. "I said, 'No sir, that's pollock.'"
David Abbasian, a plant manager at Trident's Akutan location, told the Seattle Weekly that Long John Silver's signed a multi-million dollar deal with Trident that very same day. "That was the first big, big major contract to introduce pollock to the U.S. market," Abbasian said.
In building his empire, Bundrant gained a reputation as a tough boss. "In October 1978, a dozen members of his processing crew went on strike, demanding a raise from $3.45 to $6 an hour, according to records from the National Labor Relations Board," Seattle Weekly reporter Laura Onstot wrote. "Bundrant offered $4. When the strikers rejected that, he fired them, deducted the cost of transporting them to Alaska from their wages, and told them they were on their own to get back to Seattle." (The workers eventually sued and won a $30,000 settlement.)
Bundrant has also had the strong backing of elected officials.
In 1976, the state of Washington's long-serving senator, Warren Magnuson, and Alaska's senior senator, Ted Stevens, put together a bill that stopped foreign fishing boats from operating within 200 miles of the U.S. shoreline. "Without that legislation, Trident would be a much different and smaller company because [the pollock industry] would be dominated by foreign fishing fleets," a Trident exec told the Weekly.
Twenty-two years later, Congress passed another law that closed a loophole allowing foreign companies to get around the '76 law by registering as U.S. companies. "One of the bill's architects was Bundrant," Brent Paine, executive director of trade association United Catcher Boats, told Bloomberg.
Bundrant has tried to keep Trident a tight-knit family business. He is now suffering from Parkinson's disease, and his son Joe serves as CEO. The Bundrants take pride in recruiting heavily from within the company.
"We've promoted a lot of people who started at the bottom," Chuck Bundrant told Evansville Living a few years ago. "That's been the blessing of this company, to have people who started busting freezers, just like me."
Bundrant and Trident's charitable giving has included donations to victims of the 2011 Japanese earthquake, as well as groups supporting victims of Hurricane Katrina and Superstorm Sandy. And though he now resides in the Pacific Northwest, there is now a Bundrant Stadium at his high school alma mater in Evansville, as well as a Bundrant Media Center and a Schultheis Science Laboratory Classroom named for his in-laws.
Joe Bundrant declined to comment, other than to characterize Trident Seafoods as a "definitely private" company.