10 Billionaires With Surprisingly Frugal Money Habits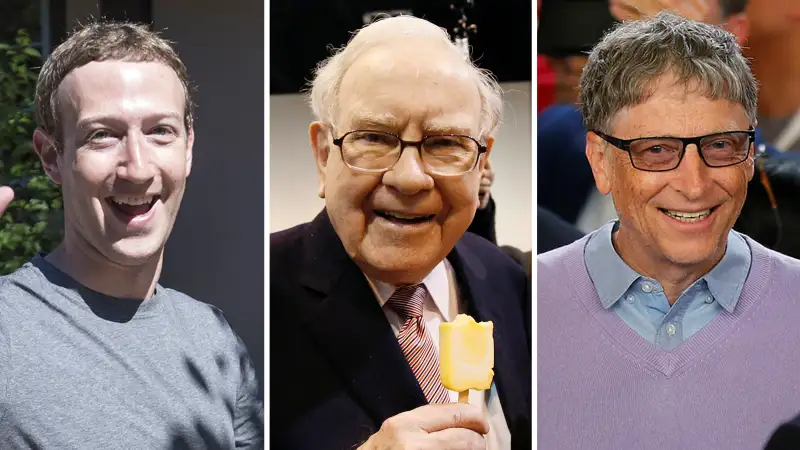 Reuters (2); Getty Images
As Belarusian-American chess master Charles A. Jaffe once claimed, "It's not your salary that makes you rich, it's your spending habits."
Not surprisingly, many of the wealthiest people on earth have distinct penny-pinching habits that have paved the road to their success and vast fortunes.
Incorporate some of these habits into your own life and perhaps your own net worth will grow.
1. Mark Zuckerberg drives a $30,000 car
Despite being able to buy a Ferrari for every day of the month, the Facebook founder drives a non-ostentatious Volkswagon GTI with manual transmission, which costs only $30,000. Other cost saving tricks: He reportedly married longtime girlfriend Priscilla Chan in their backyard, and the two were seen eating at a McDonald's during their 2012 Italian honeymoon trip. When Zuckerberg bought his most recent home in 2011, a $7 million house in Palo Alto, some called it "still well below his means."
---
2. Warren Buffett still resides in the same home he bought for $31,500 in 1958
Known as the 'Oracle of Omaha,' longtime chairman and CEO of Berkshire Hathaway Warren Buffett is one of the richest people on the planet. But he still lives in his 6,000 square-foot, five-bedroom stucco house in Omaha. He's described the purchase as "the third best investment I ever made." A similar five-bedroom house located next door went on sale in 2015 for a list price of ten 'A shares' of Berkshire Hathaway stock, equal to over $2.5 million today.
---
3. Bill Gates wears a $10 watch
Forget Rolex. Adorning Bill Gates's wrist is a $10 watch. And perhaps most frugally, Gates remains old-fashioned in that he still likes to wash the dishes at home every night for his family. Dishwashers use electricity after all!
---
4. Charlie Ergen, founder and chairman of Dish Network, still packs a brown-bag lunch from home every day
Denver Post via Getty Images
Of course eating out is super expensive. Dish Network founder battles those costs with a simple and inexpensive paper-bag lunch before work every day, consisting of a sandwich and Gatorade from home. He and his wife have lived in the same Denver house for over 20 years.
Until recently, the Dish CEO also stuck to company policy by sharing hotel rooms with colleagues while traveling for business. As Ergen once told the Financial Times, "My mom grew up in the Depression... I don't have a mahogany desk."
---
5. Carlos Slim Helú, Mexico's richest man, drives himself around town and to work everyday
Many who dream of being rich dream of a chauffeur. Not Mexican telecom magnate Carlos Slim Helú, who drives himself around town in an old Mercedes-Benz, buys clothes off the rack at his own retail stores, and for over 40 years, has lived in the same modest six-bedroom house in Mexico where he raised his kids.
---
6. Jim Walton works out of a plain old brick building in his hometown
Walmart scion and member of America's richest family, Jim Walton inherited the down-to-earth spending habits of his father, Walmart founder Sam Walton. These days, he runs the family's Arvest Bank, which boats assets of more than $16 billion, from the upstairs floor of a "plain old brick building." Despite his massive fortune, Jim Walton prefers pickup trucks to fancy sports cars; he reportedly drives around a rusting Dodge Dakota pickup that is over 15 years old.
---
7. John Caudwell, English businessman and co-founder of mobile phone retailer Phones 4u, cuts his own hair
This now-retired, self-made billionaire who built a British cellphone empire still maintains many aspects of a budget lifestyle.
He reportedly still cuts his own hair, refrains from buying expensive wines, and buys his clothes off the rack at British retailer Marks & Spencer. He once told Forbes, "I don't need Saville Row suits."
---
8. Amancio Ortega, founder of Spanish multinational clothing conglomerate Inditex, eats lunch with employees in the Zara cafeteria
The tycoon behind Zara still lives humble. Not only does Ortega live in a discreet apartment building with his wife, but he also frequents the same local coffee shop, in his home city of La Coruña, Spain, on a regular basis.
Known as the pioneer of "fast fashion," Ortega dresses very modestly given his status - with a uniform of a blue blazer, white shirt, and gray pants everyday. Perhaps most surprising, however, is that he still eats lunch alongside his employees in the company cafeteria.
---
9. David Cheriton, the 'Professor Billionaire' who teaches at Stanford University, reuses teabags
The New York Times/Redux Picture
Food can be a huge source of wasted money, as computer scientist and Stanford professor David Cheriton attests. He makes sure to save half of his meal for the next day when eating at an expensive restaurant. Instead of luxury cars, Cheriton prefers to ride his bike; when he does need to drive, he relies on his 1986 Volkswagen van or an old Honda sedan. He has also said that he only flies commercial, prefers jeans instead of expensive designer clothes, and even reuses his teabags.
---
10. Azim Premji, India's wealthiest tech tycoon, is said to monitor the number of toilet-paper rolls used by employees
Despite his success serving over five decades as chairman of Indian tech-services giant Wipro Ltd., Premji lives a surprisingly low-budget lifestyle and is extremely careful with his spending. The "bare bones billionaire" often takes a three-wheel auto rickshaw from the Bangalore airport when returning home from business trips. When traveling, he only drives secondhand cars - such as an old Toyota Corolla, flies in economy class, and stays at company guest houses instead of five-star hotels.
His well-known frugality also extends beyond his personal life. At Wipro facilities, he reportedly keeps close tabs on toilet-paper usage and always reminds employees to turn off the lights when leaving their offices. As one worker anonymously told Bloomberg, Premji "makes Uncle Scrooge look like Santa Claus."