The Best Bank for Frequent Travelers Has No ATM or Foreign Transaction Fees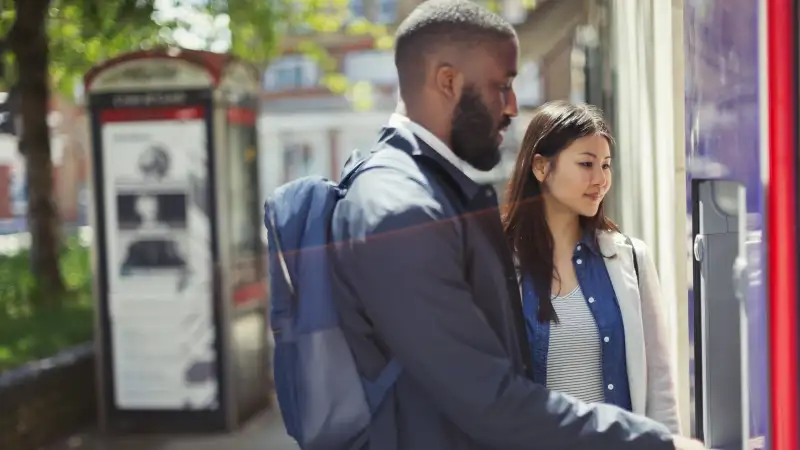 Caiaimage/Paul Bradbury—Getty Images/Caiaimage
For many travelers, spending money abroad can be tricky – and expensive. But it doesn't have to be.
There's a lot of preparation that goes into planning an overseas trip, but a lot of people forget to think about how they're actually going to spend money. What's more, your go-to bank back home is not necessarily customer friendly when it comes to international spending.
Illustration by Tim Boelaars
Travelers must often jump through hoops to avoid fees for everything from international debit purchases to drawing cash. "Those fees rack up," says Laura Bronner, who runs the External Expat travel blog.
Whenever you buy something abroad, many banks will often charge you a special fee for using your debit card outside of the U.S. Among the big banks in our universe, the median fee amounts to 3% of each transaction.
And when you can't use your card to make a purchase, you'll have to use local currency – and that means making ATM withdrawals, which incur their own set of fees. These fees typically range from $3 to $5, or a set percentage of the transaction amount. (What's more, when you withdraw cash you pay two separate fees – your bank will often charge you a fee, in addition to a fee charged by the ATM owner.)
"The ATM fees are the worst thing about most banks when you travel abroad," says Bronner, since people do still use cash a lot while traveling – especially if you're going someplace where cash is king.
The good news is that, if you choose the right bank, you can avoid most if not all of those pesky extra costs. Here are the best banks for people who frequently travel abroad.
---
Winner: Capital One
Why It Wins: In addition to being one of the rare banks that doesn't charge you for international purchases, Capital One 360 also has low fees across the board – with no monthly service or ATM fees either (although it won't reimburse you fees charged by the ATM owner). Customers also get 0.20% interest on their checking balances. Plus, Capital One has an excellent mobile app, which lets you pay bills online, deposit checks, or send money to other people's bank accounts for free.
Caveats: Make sure you're comfortable doing your banking on mobile or web – since this account is online only.
Key Terms:
Account: 360 Checking
Monthly Fee: $0

Foreign Transaction Fee: $0

Out-of-Network International ATM Fee: $0
---
Other strong options
Capital One 360 isn't the only bank in our universe with no foreign transaction or ATM fees. TD Bank's new 'Beyond Checking' account is the only other one that doesn't charge you for either kind of international fee. For this reason, it merits an honorable mention; however, in order to get these benefits and avoid the $25 monthly fee, you'll need to maintain a whopping minimum daily balance of $2,500 in the account.
Another account that deserves mention isn't from a traditional bank at all but discount brokerage Charles Schwab. Its High Yield Investor Checking Account earns 0.40% interest, has no monthly fee, and also doesn't charge you for foreign transactions. While some banks offer free ATM use while abroad, the ATM owner will often still charge a small fee separate from your bank. Schwab is the rare account that offers unlimited ATM rebates on these fees as well – paying you back for all ATM charges you incur worldwide. That makes Schwab popular with many travel experts. But there is an important catch. You'll have to open a Schwab brokerage account first.
---
Methodology
To pick our winners, Money consulted our database of banks, provided by FindABetterBank.com, an account shopping website published by Novantas. That database includes the 100 largest brick-and-mortar banks, and for this analysis, we considered banks that had over 800 branches or a presence in at least 9 states. Account terms and bank information were originally sourced from FindABetterBank.com in August 2018. Money independently fact-checked terms in May.
The banks surveyed were: Bank of America, Bank of the West, Bank OZK, BB&T Bank, Capital One, Chase, Citibank, Citizens Banks, Huntington, HSBC, Fifth Third Bank, First Citizens, KeyBank, M&T Bank, PNC, Regions Bank, Santander, SunTrust, TD Bank, U.S. Bank, Wells Fargo, and Woodforest National Bank.
To determine winners, Money considered minimum-balance requirements, monthly fees, foreign transaction fees, international ATM fees, mobile capabilities, and any other travel perks offered.