These Are the 10 Richest American Sports Team Owners — and How They Made Their Billions
Money is not a client of any investment adviser featured on this page. The information provided on this page is for educational purposes only and is not intended as investment advice. Money does not offer advisory services.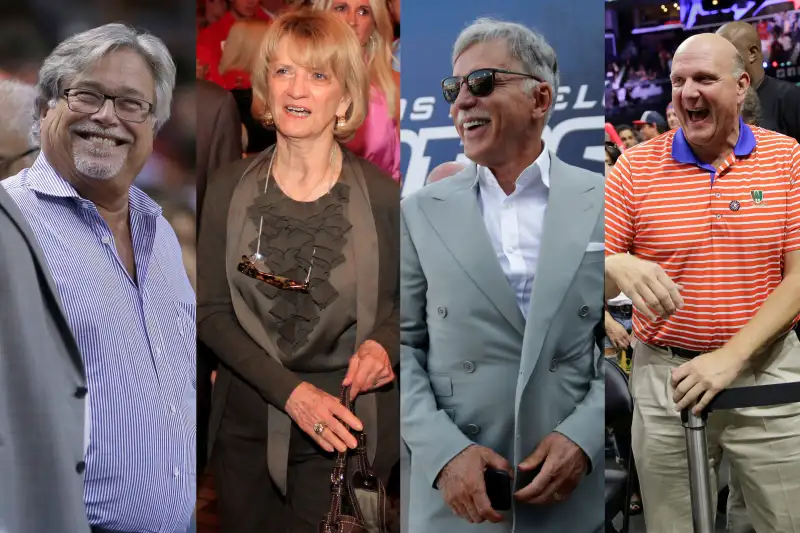 Shutterstock (3); Reuters
While mansions, yachts, and shiny cars have all become common symbols of wealth, some of America's wealthiest billionaires prefer to indulge in a different kind of luxury: buying their very own sports teams.
America's richest sports team owners live in a world upon themselves. In fact, the ten richest are global elites, hailing from the ranks of the world's 350 richest people. Many built their fortunes from the ground up, and a majority purchased teams several decades ago and have since presided over significant franchise growth. Combined, the ten richest American sports teams owners have a net worth of more than $130 billion. (However, that's still not enough to beat Jeff Bezos's $155 billion fortune.)
So who are these people and how did they enter this exclusive world?
To find out, Money used net worth numbers from the Bloomberg Billionaires Index as of Monday, August 27 to rank the 10 richest Americans who own sports teams.
We then used publicly available information to find the original purchase price of each team and compared it to the most recent Forbes team valuations to determine the amount each owner has profited since purchasing their teams.
---
1. Steve Ballmer — $40.8B Net Worth
Andrew D. Bernstein—NBAE/Getty Images
Team: Los Angeles Clippers ($2.2B valuation)
How He Made His Billions: After dropping out of Stanford University in the '80s, Steve Ballmer joined Microsoft as the company's 30th employee. He worked his way up, eventually serving as Microsoft's CEO between 2000 and 2014. To this day, he remains the largest individual shareholder of Microsoft with the majority of his net worth derived from his 4% stake in the company, according to Bloomberg.
Team Revenue: Ballmer purchased the Clippers in 2014 for $2 billion, the most-ever paid for an NBA franchise at the time. Since then, the team's value has increased by 10% or about $200 million.
---
2. Paul Allen — $26.4B Net Worth
Jonathan Ferrey—Getty Images
Teams: Seattle Seahawks ($2.4B valuation), Portland Trail Blazers ($1.3B valuation), and part-owner of Seattle Sounders FC ($295M valuation)
How He Made His Billions: Microsoft spun out one other billionaire sports mogul: Paul Allen, who co-founded the software giant with Bill Gates in 1975. Allen left the company in 1983 and has since reduced his holdings in Microsoft, collecting over $20 billion in the process, according to Bloomberg.
Team Revenue: Allen purchased the Trail Blazers in 1988 for $70 million. Today, the team is worth $1.3 billion, earning him a 1,757% profit.
He also bought the Seahawks in 1997 for $194 million. Since purchasing the team, Allen has made a profit of over $2.2 billion.
---
3. Micky Arison — $11.4B Net Worth
Issac Baldizon—NBAE/Getty Images
Team: Miami Heat ($1.7B valuation)
How He Made His Billions: Born in Tel Aviv, Micky Arison immigrated to the U.S. as a young child. His sister, Shari, still lives in Israel and holds the title of richest woman in the country.
Arison's wealth comes from the family business: His father, Ted, co-founded the cruise company Carnival Corp. In 1979, Arison became the CEO of Carnival, growing the fleet from three ships to more than 100 before stepping down in 2013. Today, Arison serves as chairman of the company, which is now the world's largest cruise ship operator, according to Bloomberg.
Team Revenue: Arison took control of the Miami Heat in 1995 from his father who paid $33 million in expansion fees to become a co-founder of the basketball team in the late '80s. With a valuation of $1.7 billion today, the team is worth more than 50 times what his father paid.
---
4. Philip Anschutz — $11.2B Net Worth
Dave Sandford—NHLI via Getty Images
Teams: Los Angeles Galaxy ($315M valuation) and Los Angeles Kings ($215M valuation). Part-owner of Los Angeles Lakers ($3.3B valuation), Hammarby IF (N/A), and Los Angeles Sparks (N/A)
How He Made His Billions: Philip Anschutz built a fortune investing in oil, railroads, telecom, real estate, sports and entertainment. He is also a co-founder of Major League Soccer and has supported the league financially since the 1990s.
Team Revenue: In 1995, Anschutz paid $113 million for the Los Angeles Kings hockey team. That investment has netted him around $100 million.
He took control of the Los Angeles Galaxy soccer team for $26 million in 1998, and has made a profit of over 1,000% (nearly $300 million) since.
---
5. Stephen Ross — $10.3B Net Worth
Miami Herald—TNS via Getty Images
Team: Miami Dolphins ($2.6B valuation)
How He Made His Billions: Stephen Ross is chairman and founder of The Related Companies, a global real estate development firm that he launched in 1972 with a $10,000 loan from his mother. The company is worth more than $50 billion today. The billionaire also owns Equinox (the parent company of SoulCycle).
Team Revenue: Ross spent a cool $1.1 billion to purchase the Miami Dolphins in 2008. With the team's current franchise value, he's more than doubled his investment, making a tidy profit of $1.5 billion.
---
6. Stanley Kroenke — $7.8B Net Worth
David Price—Arsenal FC via Getty Images
Teams: Los Angeles Rams ($3 billion valuation), Arsenal FC ($2.3 billion valuation), Colorado Rapids ($135 million valuation), Colorado Mammoth (N/A)
How He Made His Billions: Stanley Kroenke is among America's top five largest land owners, with close to two million acres of ranches across the U.S. and Canada. He founded his namesake real estate business in 1983, which has built numerous shopping centers and high-rises.
Kroenke's biggest asset, however, is his sole private ownership of Arsenal FC, one of England's top soccer teams. He also has stakes in other sports teams, including a professional eSports team. His wife and Walmart heiress Ann Walton Kroenke owns the Denver Nuggets and Colorado Avalanche.
Team Revenue: In 2010, Kroenke purchased the majority of the Rams for a sum of $450 million. He moved the team from St. Louis to Los Angeles six years later, increasing the team's value and netting him a $2.5 billion profit.
While he's been a majority shareholder since 2011, Kroenke recently spent over $700 million — in a 2.3 billion franchise valuation — to buy the remaining 30% stake of Arsenal FC from rival Alisher Usmanov. The move gives him complete control of the club and its future profits.
---
7. Daniel Gilbert — $7.4B Net Worth
David Liam Kyle—NBAE/Getty Images
Team: Cleveland Cavaliers ($1.3B valuation)
How He Made His Billions: At 56, Daniel Gilbert is the youngest billionaire on this list. Much of his wealth comes from his role as chairman of Quicken Loans, the largest home mortgage lender in the U.S. He co-founded the company in 1985, sold it to Intuit for $532 million in 1999, and bought it back three years later for $64 million.
Since then, he has moved its headquarters to Detroit and greatly expanded the company.
Team Revenue: Gilbert bought a majority stake in the Cavs in 2005 for $375 million. With his 72% ownership, he's still bagged over $500 million in profit given the franchise's current valuation.
---
8. Marian Ilitch — $6.5B Net Worth
Teams: Detroit Tigers ($1.2B valuation), Detroit Red Wings ($700M valuation)
How She Made Her Billions: As the second richest self-made woman in America, according to Forbes, Marian Ilitch built her fortune as a pizza entrepreneur. She co-founded Little Caesars with her husband Michael in 1959 when the couple invested their life savings of $10,000 to open their first store. It is now one of the largest pizza chains in the U.S., with over $3 billion in sales annually, according to Bloomberg.
Ilitch took control of the business, as well as other family assets, when her husband died in February 2017.
Team Revenue: Ilitch purchased the Detroit Red Wings with her late husband in 1982, paying $9 million for the hockey team. That's a whopping 7,677% return on investment since then.
They purchased the Detroit Tigers in 1992 for almost $85 million from fellow pizza magnate and Domino's founder Tom Monaghan. Given the current franchise value, that's over $1.1 billion in profit.
---
9. Richard DeVos — $6.2B Net Worth
Orlando Sentinel—TNS via Getty Images
Teams: Orlando Magic ($1.2B valuation), part-owner of Chicago Cubs ($2.9B valuation)
How He Made His Billions: Richard DeVos, father-in-law to education secretary Betsy DeVos, founded Amway with a high school friend in 1959. The Michigan-based company's health, beauty and home products are sold in more than 100 countries, and the business recorded revenues of over $8.5 billion in 2017.
Although he retired in 1993, DeVos is still senior chairman of RDV Sports, which owns the Orlando Magic. The current CEO, Alex Martins, manages the day-to-day business of the company. In 2015, DeVos and his family also bought a minority interest in the Chicago Cubs.
Team Revenue: DeVos broke into major sports ownership in 1991 when he bought the Magic. He spent $85 million for a team that has returned a profit of over $1.1 billion.
---
10. Charles Dolan — $5.5B Net Worth
Theo Wargo—This content is subject to copyright.
Teams: New York Knicks ($3.6 billion), New York Rangers ($1.5 billion), New York Liberty (N/A)
How He Made His Billions: Charles Dolan is the founder of Cablevision Systems, which was one of the largest cable companies in the U.S. He also founded HBO during the early 1970s and sold it to Time Inc. Today he owns substantial stakes in both AMC Networks and Madison Square Garden Co., a sports and media company.
Although Dolan is retired, he is still the family patriarch and ultimate owner of the family's economic assets. His son, James, is the CEO of MSG Co., running the company day-to-day as well as the sports teams under its ownership.
Team Revenue: Dolan has netted a monumental $3.3 billion profit from the New York Knicks, which he bought for $300 million in 1997.
He also spent $195 million for the Rangers that same year, earning over $1.3 billion from that investment.