Meet the 28-Year-Old Cryptocurrency Founder Who Just Paid $4.57 Million to Have Lunch With Warren Buffett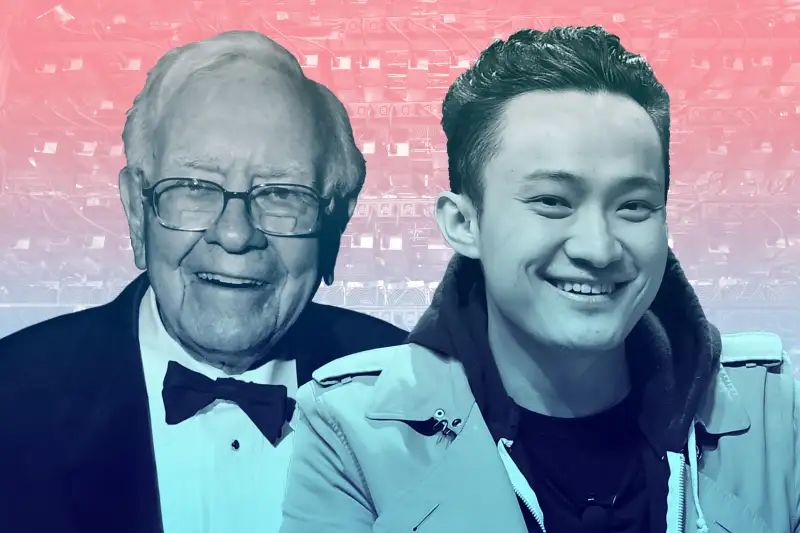 Photo illustration for Money by Sarina Finkelstein; Getty Images (3)
Cryptocurrency founder Justin Sun just paid $4.57 million to have a private lunch with famed investors Warren Buffett. But persuading the Oracle of Omaha to soften his stance on crypto might not be easy.
Sun, a 28-year old Chinese entrepreneur, created Tronix – also known as Tron or TRX token – in 2017, according to Bloomberg. Based in both Beijing and San Francisco, it's currently worth about $2.5 billion.
Sun is also the chief executive of peer-to-peer streaming service BitTorrent, which Tron acquired for $120 million last year. Tron describes itself as giving users direct access to apps and other content by combining "blockchain approaches with innovations in peer-to-peer sharing and other technologies." Earlier in his career, Sun had founded Peiwo, a Chinese app similar to Snapchat.
Sun's bid was almost 40% higher than the $3.3 million paid for a lunch with Buffett last year. The Oracle of Omaha has held the auction for 20 years to raise money for San Francisco-based charity Glide, which helps both the city's homeless and victims of domestic violence.
While a leader in cryptocurrency, Sun told Bloomberg he trades traditional stocks and hopes to learn more about Buffett's value-investing strategy at the lunch. "I'm looking forward to meeting a true pioneer in investing," he said. "I'm excited to talk to Warren Buffett about the promise of blockchain."
Sun, who can bring up to seven guests with him to the private lunch, said in an open letter that he plans to choose some of the most influential figures in the crypto community to accompany him and help change Buffett's mind on the subject.
In that open letter, Sun said he "firmly believe[s] that with the right communication and understanding, Buffett will change his overall stance on cryptocurrency and blockchain, allowing this new investment strategy to become integrated into his overall portfolio."
Of course, Buffett might be a tough sell. He famously predicted last year that "cryptocurrencies will come to bad endings" and even referred to Bitcoin as "rat poison squared."