5 Things to Buy Before the Blizzard Buries Your House in Snow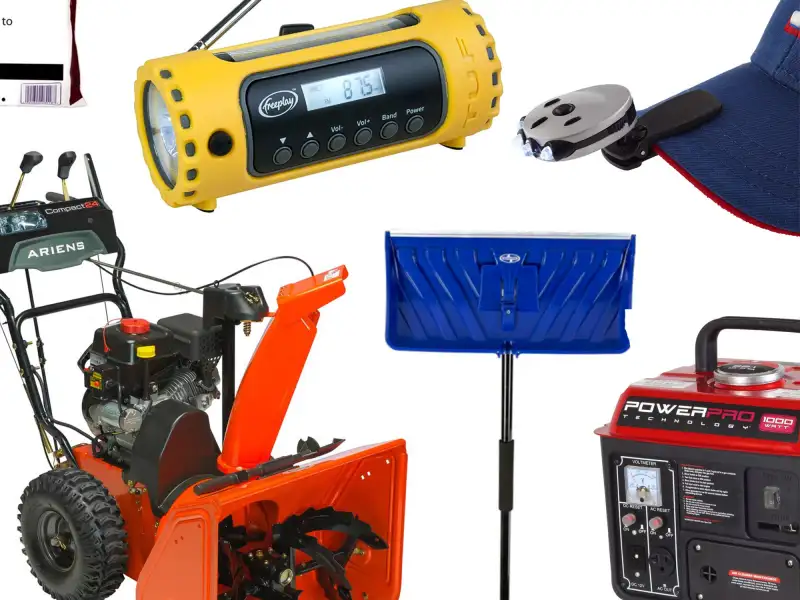 Hold onto your hats... and gloves, and snow shovels. While we assume you've stocked up on bread and milk (if you also stocked up on wine, we won't judge) in advance of the nor'easter scheduled to wreak late-season winter havoc along the Eastern Seaboard, we'd also suggest a run to your nearest home-improvement store.
This was a mild winter for large swaths of the country, and many of us didn't get into batten-down-the-hatches mindset earlier in the season. So you might not have your blizzard preparedness supplies at the ready. If you can make one more store run today, here's what to get.
Snowblower. Hopefully you have a functioning snowblower already, because if you're in the storm's path, chances are these could already be sold out. But if you want to be prepared for next time, or think this blizzard might be the beast that kills your current machine, this gas-powered Ariens snowblower is top-rated by Home Depot customers. At $899, it's not the cheapest piece of snow-removal equipment out there, but more than 1,000 customers vouch for the ability of its 208cc motor to get the job done. If you're too late to buy one for this storm, it could be worth shopping for one later in the spring, arguably the best time to find deals on snowblowers because stores put them on clearance to make space to summer merchandise.
Snow shovel. You're still going to need a shovel to clear snow from smaller areas like your front steps. It can be a tricky balancing act to find one that's sturdy and won't break during record-breaking snowfall, but not so heavy that you throw your back out. This 24-inch snow shovel ($32.99) does double duty with an ice chopping blade at the end of the handle, and at just 3.5 pounds, is lightweight enough for easy handling.
Ice melt. Once you get that snow and ice off you're front walk, you're going to want to keep it ice-free. These ice-melt pellets will melt snow and ice even when temperatures are as low as -15 degrees.
Alternately, if you have dogs and are worried about a salt-based compound hurting their paws, these salt-free crystals ($16.26) melt down to -2 degrees.
Generator. Generators aren't cheap, which is only one of the reasons that the night before a blizzard, when discounts will be unlikely and you'll feel pressured to buy whatever is available, probably isn't the best time to shop for one. That said, this 1,000-watt portable, gas-powered generator from Power Pro Technology ($115.15) will at least get you through in a pinch without breaking the bank.
While you're at it, don't forget to pick up a spill-proof gas can like this five-gallon container ($35.79) so you have fuel to power your shiny new generator if the snowstorm knocks out your power.
Flashlights. If the lights do go out, this handy flashlight ($5.99) clips onto the brim of a baseball cap for hands-free LED illumination. For something a little brighter, the rechargeable battery in Freeplay's combo flashlight-radio ($62.99) can be powered one of three ways: Plug it in, use the hand crank or put it out in the sun, where its solar cell can charge the device. Check out our list of the best flashlights.
We've included affiliate links in this article. Click here to learn what those are.