Ride Like a Master of the Universe in This New BMW Sedan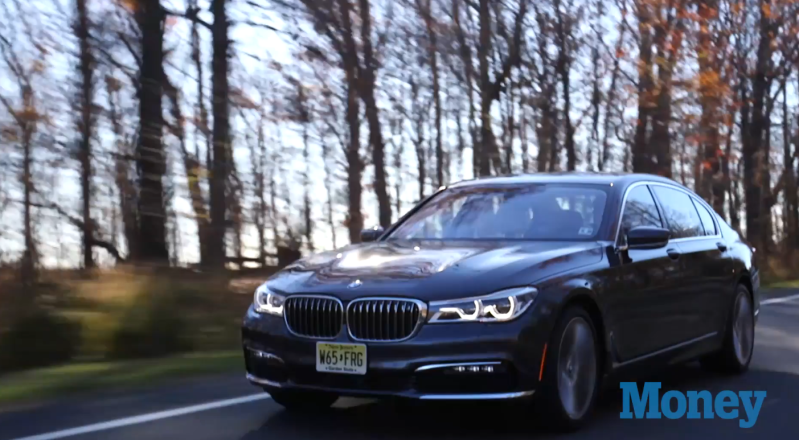 Of all the places to start a review about a BMW, the right rear passenger seat is not the spot that comes to mind. BMWs are for drivers. And engineered for drivers. BMW is about road feel and tight steering and responsiveness.
But I have to start from the back of the 750i xDrive, especially our model with its super-duper executive package, which includes a chair that somebody at BMW seems to have swiped from Lufthansa's business class. There's even a pull-out tray table. Push a switch on the panel—or on the removable tablet in the rear center console—and the front seat moves forward and a footrest drops down so you can swing your feet into comfort mode. The chair has a "vitality" exercise function to keep you limber enough for business combat. I felt so good I was ready to launch a corporate takeover. Surely, there must be a mergers and acquisitions app on the tablet, since I can control just about everything in the car with it. That includes an optional air purifier, should one of those deals sour.

Weighing in at about $97,000 for openers—and Money's test model with the executive seat package and other goodies sent the price toward $130,000—the 750i is a vehicle for people so driven they eventually get driven around. BMW's executive chariot has a long wheel base, but it's been made less weighty through the use of a carbon core and aluminum. The power plant is a 4.4-liter, twin turbo V-8 that effortlessly generates 445 horsepower. No heavy lifting required. Your driver is going to be one happy camper.

If you decide to take the wheel and drop into the lushly appointed pilot's chair, you have another choice to make: Do you still want to be the boss, or let the 750i xDrive handle the sitch? This is not autonomous driving, but it is as close as you can get to it at the moment. Depending on the option package, the car will look ahead and adjust the handling and steering for changing road conditions. There's adaptive cruise control that will brake for you as needed, lane-departure prevention (just try to drift; see what happens), and a traffic jam assistant to keep you out of harm's way. And of course the 750i xDrive parks itself—you've got better things to do. Indeed, the brainy key fob can actually park the vehicle while you stand outside and observe—although that feature isn't available in the U.S.A.

The autopilot modes leave you freer to play with the infotainment system, and here BMW has a gimmick: gesture controls. Using one or two fingers—and in metropolitan New York City a lot of people use one finger while they drive—you can turn the radio up or down, answer the phone, or decline the call, and set up a custom command. Want the music louder? Circle your index finger clockwise. Really, you don't look like an idiot.

Forget all the gimmickry, though, and remember that you are driving a monster Beemer that has plenty of passing power as it mows down road noise and vibration as you go from zero to sixty miles per hour in 4.3 seconds. You are, of course, someone on the move. And this car is proof.