Meet the Dodge Hellcat, a Growling Piece of Fun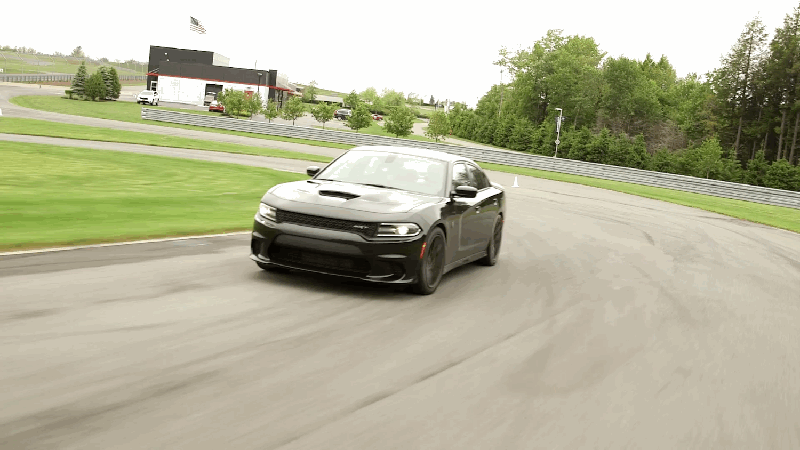 Do you throw the kids in the back and go drag racing with them on the way to Grandma's? Do you try to get out of the drive-through window at Starbucks in under half a second? I'm not really sure what Chrysler was thinking when it greenlighted the 707-horsepower Dodge Charger SRT Hellcat. And I'm really sure I don't care—because this car is one growling piece of fun.
Yes, the Hellcat bolts off the line like a cheetah locked on an antelope, as in 0 to 60 mph in 3.5 secs. Your trip to 100 mph takes just a trice longer. Feeling the g-forces, which you can track on the instrument panel, just adds to these briefest of pleasure trips. Chalk it up to the 6.2-liter, supercharged V-8 Hemi engine. It's the biggest power plant to wear the Hemi badge in a production car—by comparison, note that NASCAR is running at 725 hp this season. A few more horses and you and Dale Jr. are trading paint, right?
Not really. Let's face it: You're not going to spend most of your time driving over the speed limit, and certainly not at 200 mph. Even on a track, this beastie will spend most of its life under 150 mph.
The big surprise in this package—and a genius rationalization for buying one—is that the badass-looking Hellcat is an absolute pussycat at highway speeds. The car is relaxed, comfortable with its lower-speed self. Why? The tach is reading 1,200 rpm, meaning the engine isn't breaking a sweat, even if you are getting twitchy to floor it. When you combine with the car's racing suspension and powerful Brembo brakes, you actually get the ultimate cruise machine: a rock-solid and quiet ride. And those seats. Money's test car, a don't-mess-with-me shade of black, had tan leather seats that reminded me of a beautiful baseball glove. It was like sitting in the pocket of a classic leather Wilson or Spalding, but ready to be slung forward like a Nolan Ryan-Randy Johnson-Aroldis Chapman fastball.
Drawbacks? Sure. Feed the kitty with high-test gas and you'll get maybe 20 mpg on the highway. We averaged in the mid-teens. And in addition to feeding those horses all that gasoline, you'll pay close to $100 per horse for the Hellcat version, which in our test car included extras such as a power sunroof and a very good Uconnect 8.4-in. touchscreen infotainment system. But what the Hellcat—that's the price of unstinting, unrestricted, and unusually plush power.