New Chevrolet SS Is a Muscle Car Disguised as a Midsized Sedan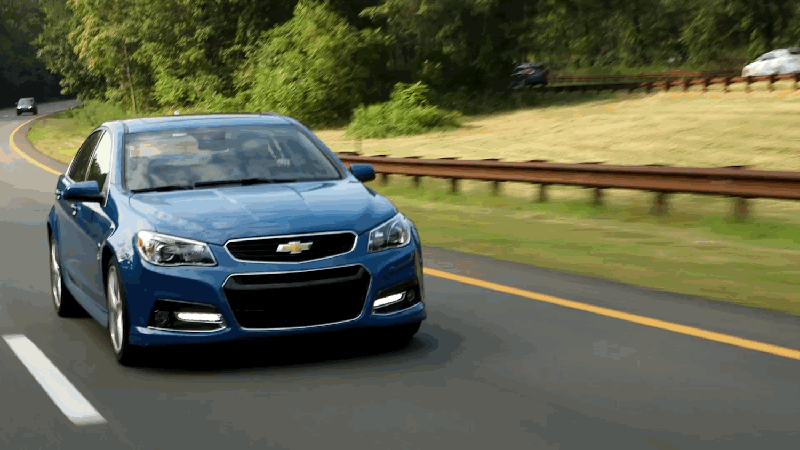 When Dale Earnhardt Jr. won the Sprint Cup Series race at Daytona in July, he was driving a Chevrolet SS. Or at least something that resembled it. NASCAR's race cars are sheathed in fiberglass molds that resemble actual production cars. Underneath, though, the engines are in some ways exquisitely hand-crafted throwbacks from another era.
So is, in some respects, the production Chevy SS that you can buy. When Detroit muscle ruled, the SS, as in Super Sport, was Chevy's way of playing tough against Pontiac GTOs, Olds 4-4-2s, and pumped-up Dodge Chargers and Darts. Although the SS badge appeared on everything from Impala to Nova to El Camino, the baddest SS models belonged to the Chevelle—a midsized body that could be stuffed with Chevy's 396-cubic-inch, big-block V-8 engine. Equivalent displacement today: 6.5 liters. The pinnacle was the 1970 model, available with the LS6 model engine, a 454-cu.-in., 450-horsepower beastie that is still coveted by collectors.
Read Next: This BMW SUV Is Faster Than A Porsche
Chevy has not only brought the SS back; it's also brought the car over—from Australia, where GM's Holden subsidiary assembles it. In Australia it's sold as the Commodore. In the U.S., the Down Under-made SS is powered by a 6.2L, 415-hp. V8 engine, and in the 2015 model, there's another blast from the past: an optional six-speed manual transmission. It's not something you're likely to see on a midsize American sedan. All you need is a Hurst shifter and you're back in the 1970s. Granted, it's been awhile since the Beach Boys dominated the pop charts and Chevy ruled the streets, but the 2015 SS is something to welcome.
Understand that the SS, in its everyday life, is very much the well-behaved midsized sedan. Money's test model, despite a lovely color called Perfect Blue, was not one that would stand out in a crowd of race machines like the Challenger. The styling isn't aggressive. The SS is, instead, a grown-up sports car: it has no need to comb back its pompadour and cruise for an illegal drag race. If you want a sports car that screams middle-aged crisis, this isn't your symbol. You can drive the SS to church and no one will think you have sinned.
Read Next: Buick's New Encore Will Change Your Mind About Buick
The SS offers magnetic ride control that makes it behave in the bumps, an unfussy, very functional infotainment cluster, and a passel of safety features including lane departure warning and forward collision alert. There are comforts like heated and air conditioned seats. The car even has a back seat that's actually useable by humans. On the highway, you wouldn't think you're in a muscle car; but the way it handles, you know better.
That said, any time you want to hot rod it, the SS is ready to serve your inner Junior. Its rear-wheel drive is matched with a limited slip differential for peeling out, which you can do—zero to 60 miles per hour in a nothing-to-sneeze-at 4.5 seconds. And six on the floor, oh my. Admittedly, I didn't find this stick the silkiest manual transmission I've ever driven, but that may be because I'm a little out of practice. Too many paddle shifters these days. At $47,650, our test model SS isn't exactly a screaming value. For instance, you can get lots of oomph—and less comfort—out of a lower-priced Camaro; or you can get crazy speed out of the Corvette, but at a much higher price. The SS splits the difference quite comfortably, which makes it appealing in its own right.