Buick's New Encore Will Change Your Mind About Buick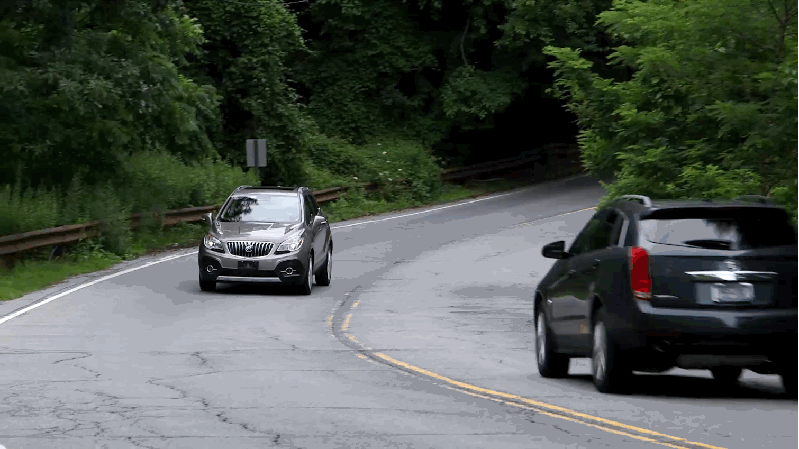 Since its own corporate revival, GM has been working hard to reposition Buick as brand that we should take seriously. And not without reason: The company sells more than three times as many Buicks in China as it does here, so the badge is important globally. It's just that car buyers here have long memories, and their memory of Buick is that it's been all marketing and not very interesting metal.
Encore is one of the models out to reverse that notion, and it's making headway. The small SUV's sales were up 21% in May, making Encore Buick's top model, accounting for 30% of sales. You can look at it as a gutsy decision, since Buick unleashed Encore into one of the most competitive segments of the auto markets. There's Honda's CR-V, Mazda's CX-5, Ford's Escape, Chevy's own version, called Trax, and Nissan's Rogue, to name a few.
Can Encore compete with this excellent group? In a word, yes. That is, it can compete but it can't necessarily win. But that's all right with Buick. It just wants a chance to be considered in such good company. And Encore has earned that right, courtesy of some nice styling. It's a curvaceous little number with the classic Buick grill but frills such as blue halogen headlamps. Inside there's a really great adjustable chair, the better to enjoy a ride that you have to admit is smoother and quieter than you'd thought it would be. One reason: The Encore has an active noise cancellation system. Our test model, a front-wheel drive Premium Group number, ($31,755; entry level models start at about $24,000) came with a good collection of safety systems: forward collision alert, lane departure warning, blind spot and rear cross traffic alert. The navigation system, though, was annoying, and the middle console, a jumble of buttons that were less than helpful. Intuitive, it's not. There's also an 4G LTE Wi-Fi hotspot available.
Where Encore comes up a little short is under the hood. It's powered by a turbo-charged, Ecotec 1.4-liter engine. While that sounds like it has some oomph, it's so wimpy at 138 horsepower that Buick doesn't even bother to list it on the dealer's invoice. Can't say I blame them. You can measure the acceleration on this thing with a calendar, although it does get a thrifty 28 miles per gallon combined mileage, which is one of the only benefits of the smaller engine. To be fair, Encore is really designed to be a city/suburban getabout. And by that measure, it gets about its business fairly well.
You Might Also Like:
Behind the Wheel of the New Chrysler 200
New Subaru Outback Rides Smooth in Rough Conditions
Honda's Adorable Little SUV Is This Summer's Hottest New Car