New Subaru Outback Rides Smooth in Rough Conditions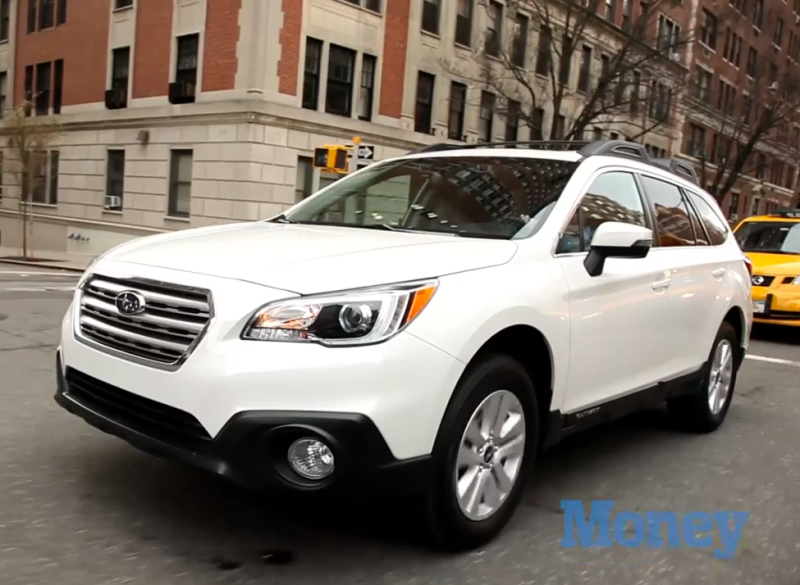 The streets are slick with snow as I write this, which makes me a little peeved because I wanted to take the 2015 Subaru Outback on a little sleigh ride. The company and the car's many fans love to tout the Outback's all-wheel drive capability under lousy conditions. But the days we tested the Outback were just dull, dry and cold.
Nevertheless, the latest model of this popular five-passenger wagon brought us some cheer. This newest Outback is a little bigger, a little sleeker — the base of the windshield slopes 2 inches longer than previous models, for instance — and still very much a value play in the wagon/small SUV/crossover market. It's yet another reason that Subaru is going to have another record sales year in the US. (It was the only car company whose sales didn't drop during the Great Recession.)
Outback owners are active types. The Outback's roof rack isn't just for decoration; it's going to be used a lot, for everything from skis to camping gear to kite boards. These folks like to play rough and get their Outbacks muddied. But one of the nice parts of the new Outback is that it doesn't ride rough. Quite the opposite: This is a very comfy cruiser that is surprisingly quiet on the highway. When the road gets rockier, there's also a Vehicle Dynamics Control system to keep you on the right track. There's a switch called X-Mode, a traction control system that includes a setting to more or less optimize gearing and braking for controlling the vehicle on steep descents.
The Outback has some other interesting gadgets for the driver. A rear-view camera is standard, but there's an option on some of the higher-priced trims called EyeSight: forward-facing cameras on either side of the rearview mirror that are part of a package of active safety devices including adaptive cruise control, lane departure warning, and frontal collision warning. The car will brake for you if it senses that a collision is imminent. In terms of the more conventional stuff, the Outback's dashboard is relatively simple and unfussy; its navigation and information systems, with a 6.2-inch screen, don't require an advanced degree to master. It's a dashboard not trying to impress you; it's one that's trying to help you, which is the point that I wish other manufacturers would get.
You can get into an Outback for about $25,000 for the basic model, the 2.5i. The larger, 6-cylinder, 3.6R model adds another $8,000 to the base price. There are three available trim packages on the 2.5i .
The Outback isn't much of a powerpusher. The standard 2.5 liter Boxer four-cylinder engine throws out 175 horsepower delivered through a continuously variable transmission. The CVT — that means there are no fixed gears, unlike most car transmissions — helps deliver both power and efficiency: up to 33 miles per gallon on the highway, which used to matter way back in 2014. You are not going to be making high-speed passes in this car, but that's not the point. The Outback is built for utility and comfort, not speed. Indeed, the car's a little bigger this year, giving you a couple of extra inches of shoulder room up front. The rear seats are set back far enough to allow actual adults to sit in them comfortably. But if you are true a Outbacker, it's the cargo room that makes you sit up, and in this model there's more: 35.5 cubic feet in the back, which stretches to 73.3 cu. ft. with seats flat. Bring all your toys.