This BMW SUV Is Faster Than a Porsche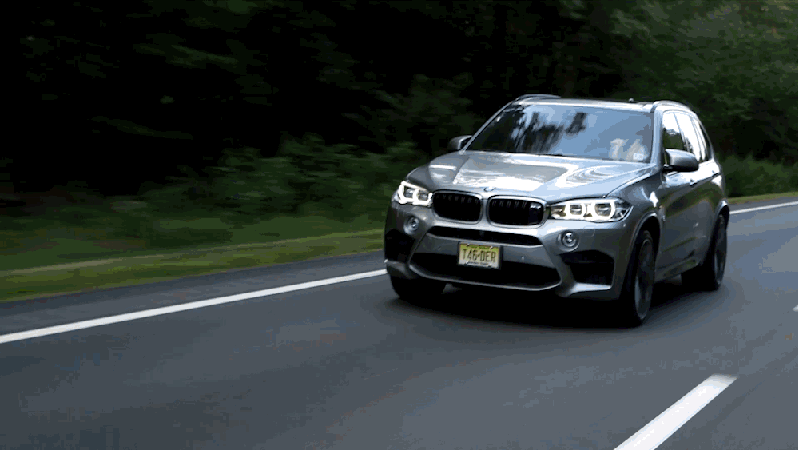 A Porsche Carrera 911 pulls up next to me at a stoplight.
I'm sitting in an SUV, yet I have an impulse to lower the window and call out the 911's driver. Because my SUV is faster than his Porsche.
The SUV in this case is the BMW X5 M . And while the curvy 911 may produce 350 horsepower and go from 0 to 60 miles per hour in 4.4 seconds, the X5 M does that in 4 ticks flat. Crazy. And given the X5 M weighs in at more than 5,000 pounds, you need a lot of engine to produce that kind of acceleration. How about 567 horses out of an 8-speed, twin-turboed, V-8?
There doesn't seem to be much logic in BMW's handing an SUV to its performance car division, other than, "Here, guys, make something ridiculous." After all, the X5 on which it's based is a perfectly pricey luxury $54,000 SUV. Job done.
This SUV defies a lot of conventions. It's sumptuous, powerful but even a bit delicate—exactly what you don't need in a car of such utilitarian purpose. Still, you sit in the gorgeous leather chair, which includes inflatable side racing baffles that any performance car would have, you punch the pedal and in a nanosecond—the time it takes for your head to bounce off the headrest—you forget you're in a family car. That is, assuming your family can stump up $100,000 or so to get in an X5 M. (Our test model hit $115,000 with options.) The competition in this part of the market is sparse, with a souped- up Range Rover HSE ($94,445) and the Mercedes GL63 AMG ($119,450) being in the (gated) neighborhood.
Since the XM 5 is on two missions, let's divide the workload. As a luxury SUV, it lacks nothing. The exterior design is elegant without trying; inside, the powered, 18-way multi-function chairs are there to insulate your backside from life's bumps. The rear seats are equally cushy, and there's plenty of headroom. The cargo compartment is expansive, and accessible by a two-piece, semi-clamshell hatch—the top of the hatch automatic, the bottom not, for some reason. There's an optional Bang & Olufsen surround sound stereo at $3,700 that features a pop-up speaker on the top of the dash. You also get BMW's infotainment/navigation system, and frankly, you can have it. Not my fave.
That said, you won't necessarily care where you are. In the X5 M, you can see the bumps coming and hear the wheels go over them, but the car does a great job in damping the vibration—unless you want to amplify your road feel. The X5 M allows you to tune the ride, as you can with other M models. This dynamic mode allow you to set steering, acceleration, handling, and suspension to your taste and comfort level.
Set everything to Sport Plus and you no longer are driving an SUV. When I smashed the pedal coming out of a toll booth, the result in response and power was staggering—even though I thought I knew what was coming. And what SUV has a launch mode? Suffice it to say that passing is greatly simplified. Should you need to stop quickly, massive brakes are available to do the job. Biggest quibble? The blind spot warning lights are not very visible in bright sunlight or glare.
It's quite an astonishing piece of automobile to tote your family around in, and it ought to be at this price. Although I'm not sure you should let your kids in such a vehicle. Give them this kind of ride at a young age and they will be demanding Bentleys when they get old enough to drive.
You Might Also Like:
Get Behind the Wheel of a New Porsche…for Just $300
For About $78,000, You Can Buy an 'Entry Level' Maserati