This Man Makes a Living Designing Sets for People Like Lin-Manuel Miranda and Lady Gaga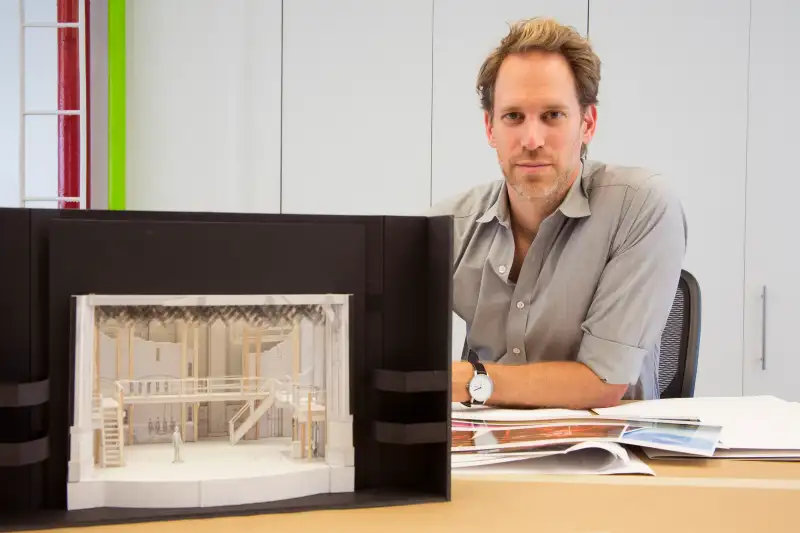 Photograph by Sarina Finkelstein for Money
There's a big, comfy couch in the middle of David Korin's midtown Manhattan office that's sat some of the most influential entertainers in the world.
Lin-Manuel Miranda, who hired Korins to design the set of Hamilton, sunk into its cushions when his blockbuster play was still in it's infancy. Bruno Mars came to Korins before appearing on Saturday Night Live and the American Music Awards. So did Lady Gaga.
Their styles, and ideas, are all very different. But the process is basically the same.
"So much of my job is being a therapist," Korins says. "People sit on this couch, I sit on this chair. We have long conversations about what they're thinking, feeling, and what they want to accomplish. And it just forms."
Korins' has spun this brand of "therapy" into a career as one of the most prolific set designers in the business; a behind-the-scenes guy who's had an invisible hand on many of the most popular productions on Broadway (Dear Evan Hanson, Annie) and live TV (Grease Live, Bravo's Watch What Happens Live). Anything with a stage, really: If you went to Bonnaroo this year, you probably stood under the giant, sequined arch Korins designed for the festival. Coachella, Lollapalooza, and Outside Lands have also showcased his work.
Photograph by Sarina Finkelstein
On a recent afternoon this fall, Korins was working out the finishing touches of Bond 45, a Times Square institution that just reopened on 46th Street in Times Square, across the street from its original location.
"Everything has become a live event," he says. "I've been hired to do museums, and parties in people's homes. Weddings used to be, you rent a hall, and do a thing. Now people say, 'I have this image.' It becomes something with production value."
Korins grew up loving music and performance. He dabbled in theater in high school, and in college, he worked as an intern at a theater festival, and was enchanted by all the moving parts, and the sheer number of people, it takes to make a piece of theater come to life. When he came across a set of illustrated theater anthologies called American Set Design, he knew he'd found his calling.
"I had this really big 'aha' moment, where I realized that everything in the world needed to be designed," Korins says. "Furniture, clothes, experiences. Everything."
The average pay for set designers varies widely, with most professionals making between $40,000 and $80,000 a year. Being a jack of all trade pays off — Korins declined to give his salary, but as a brain behind some of the most lucrative productions Broadway has ever seen, many of which come with royalties, he's certainly made it.
His design starts with extensive model building, but these aren't middle school dioramas. Through his own his own design studio, David Korins Design, he employs a handful of people who help him craft handmade models of big productions, built to scale. Early versions are deceptively quaint — for example, plastic earring backs were used as the draft pulls behind the model of Bond 45's tiny bar, as well as the chandelier bulbs that dangle above Warpaint's Barbie-sized stage. "Windows" are tiny pieces of tape. "Brick" is just painted plastic.
Photograph by Sarina Finkelstein for Money
By the time the models are fashioned into shrunken replicas of real-life productions, the labor and materials run Korins' studio thousands of dollars, he says. The more intricate ones, like a Hamilton model that spared no rope, lantern, or pulley, cost more than $10,000.
Of course, that's nothing compared to the actual productions. A typical Broadway show costs between $300,000 to $800,000 to design, according to Korins. Major musicals can top $1 million.
Machines heap on additional costs.
"Anything that moves, or has a motor, has another number attached to it," he says. "Just to keep it running."
Korins' world, like everybody else's, is becoming much more tech-driven. The Hamilton set, which came from an idea Korins pitched when he interviewed for the job, uses a pair of rotating turntables to spin actors during pivotal plot points. Many of the concerts he's worked on, like Kanye West's 2011 festival circuit, were showy, digital affairs. Even Bond 45 has a technology component: in one part of the restaurant, video screens blast real-time footage of Italian beaches, mountains, and sunsets.
Photograph by Sarina Finkelstein for Money
Technology is helping storytellers engage their audience in powerful new ways, but it can't tell the whole story. His models do a much better job at that.
"That's the laundry basket from Annie," Korins says, pointing to a collage of his favorite pieces mounted behind the couch in his office. "And there's 'Chairy' from the Pee Wee Herman Show on Broadway. These are the greatest hits of our career."